As Windows 11 has arrived, I come with the top Windows 11 laptops for you. A laptop that operates Windows 11 without any problem must be up to date with the latest hardware. If you have a laptop that lacks the hardware requirements of Windows 11, then you should consider purchasing Windows 11 laptops.
Also, read:

Should I Buy a New Laptop for Windows 11 or Wait for its Release on My Laptop? 

Windows 11: Minimum Requirements for Upgrading to Windows 11 

What are Windows 11 Features, Price, Compatibility, and Release Date?

How I Choose the Top Windows 11 laptops?
To create the list of Windows 11 laptops, I have researched about them and compared their specifications across the web to offer you the top laptops operating with Windows 11.
With the official release of the Windows 11 OS, laptop manufacturers can't provide their devices having Windows 11 yet. So, it is better to say Windows 11 laptops will be available in the upcoming weeks.
However, I have considered some critical features to choose Windows 11 capable laptops. Besides the usual features, Windows 11 laptops are comparable in terms of GPU, storage, and design.
What to Consider When Choosing the Best Windows 11 laptops?
Apart from the usual features, you need to consider some specific requirements while choosing Windows 11 laptops. Here are some of the needed requirements.
Processor speed
To run Windows 11 without any problem, processor speed is a very important point to consider. A processing speed should be fast enough to run any laptop smoothly.
A minimum 1GHz processor with a dual-core is mandatory to run Windows 11. However, new laptops already have faster speed and a greater number of cores. So, don't worry.
Surely, the processor I choose will be capable of operating Windows 11 as well as delivering a smooth laptop experience.
System Memory
Your device should have 4GB of System Memory to run Windows 11. System memory is not only the Random Access Memory, but it also allocates the size of the elements that run Windows 11 properly. So that, 4 GB of your HDD or SSD should also be available.
System Firmware
System firmware is extremely important to run OS with UEFI secure boot feature that increases security levels. Windows 11 works only with UEFI. In the list of Windows 11 laptops, this factor is considered too, so you don't have to worry. Just select the laptop as per your choice.
TPM Capability
Trusted Platform Module (TPM) is an important element to set up Windows 11. TPM is needed due to having new security levels in Windows 11.
TPM is a microcontroller. It is tailor-made to secure hardware from a variety of cryptographic keys which are integrated into the system.
Internet Connectivity
All laptops are capable of internet connection. You need an internet connection to download and run Windows 11 for the first time on your old device. Even for the new laptop, an internet connection will be needed.
The Best Windows 11 Laptops that You Can Buy
There are many Windows 11 capable laptops available in the market. I have listed down the name of the Windows 11 laptops considering the above factors.
Recently, Dell XPS 13 and Microsoft Surface Laptop 4 are the top two picks. Apart from that, this list has included some other worthy Windows 11 laptops. You can expect to see more Windows 11 laptops in days to come.
1) DELL XPS 13
The Dell XPS 13 has been one of the best laptops for a long time. The latest model is powered by the 11th Gen Intel Tiger Lake processor which is already capable of Windows 11. The latest edition of XPS 13 offers a gorgeous display with a small chassis, nice build quality, and an excellent keyboard and trackpad.
The new Dell XPS 13 OLED model feels like a stellar ultraportable. It comes at a premium price. With a 13.4-inch OLED display, it offers 1080p, 2K, and 3.5K resolution. The battery consumption for the OLED model is 8 hours and 11 hours for the LCD model.
Specifications
Display: 13.4 inches OLED and LCD
Resolution: 1920×1080, 3840×2160, and 3.5K
CPU: 11th-Generation Intel Core i3-i7
GPU: Intel UHD to Intel Iris Xe
RAM: 8GB to 16GB
Storage: 256GB to 2TBGB SSD
Weight: 2.64 pounds
Pros
✅ It offers a gorgeous and immersive display.
✅ Overall performance is great.
✅ It has a slim body with an attractive chassis.
Cons
❎ Battery life could be better.
❎ Although the webcam offers 720p quality the picture is impure.
2) Samsung Galaxy Book Pro 360
The Samsung Galaxy Book Pro 360 is an excellent 2-in-1 laptop, totally optimized for Windows 11. It offers a lovely thin and light design with slim bezels. It has an impressive super AMOLED display with an S Pen stylus. 11th Gen Intel processors with Xe graphics make this laptop a strong contender in the list of Windows 11 laptops.
Galaxy Book Pro 360 can handle all of your tasks. But, don't expect an intensive gaming experience on it. It delivers a great 13.5 hours battery life. A highly portable device along with a thin and sturdy design.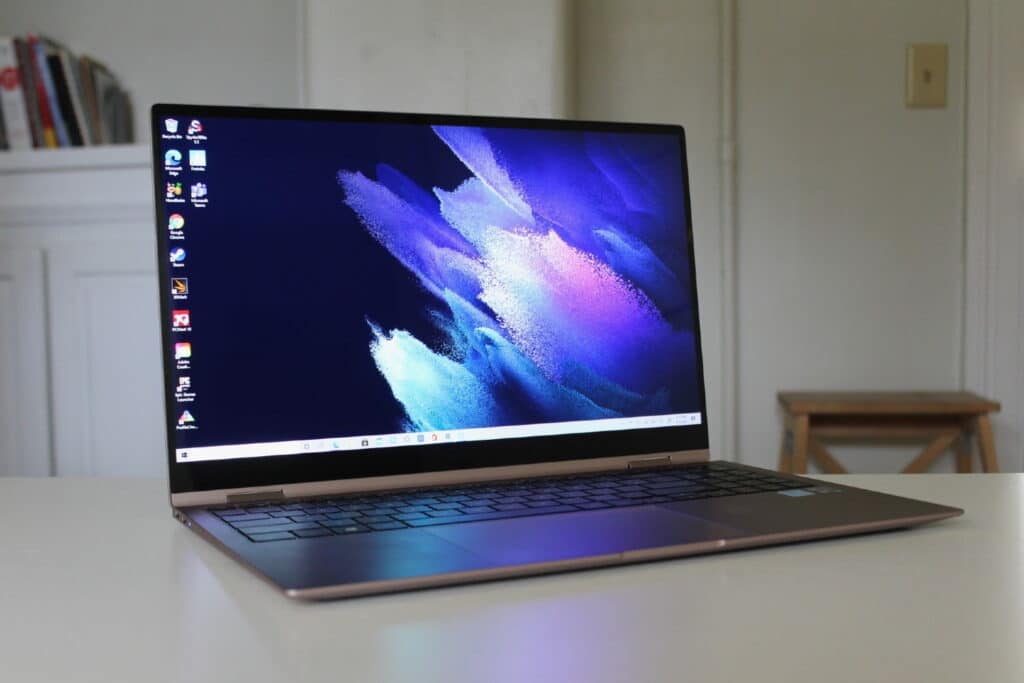 Specifications
Display: 13.3-inch or 15.6-inch Super AMOLED
Resolution: 1080p
CPU: Intel Core i7
RAM: 8 to 16 GB
Storage: 512 GB to 1 TB
Weight: 3 pounds
Pros
✅ It offers a beautiful 1080p display with thin bezels.
✅ Delivers a decent battery life.
✅ Provide a comfy S Pen stylus with an excellent inking and convertible experience.
✅ Comes with an outstanding AMOLED display.
✅ Useful Samsung software with strong performance.
Cons
❎ The screen is a little bit dim, it could be brighter.
❎ Bad webcam, mediocre speakers. Only FHD resolution and lack of 16:10 aspect ratio.
3) HP Spectre x360 14
HP Spectre x360 14 laptop is worth a look when you want to purchase the Windows 11 laptops. It is made of CNC-machined aluminum. The 2-in-1 powered laptop delivers 1000 nits of brighter display along with several customization options.
It offers a chiclet-style keyboard to give you a great feel while typing. A Tilt pen is useful for writing, taking notes, and more. HP provides four speakers with audio boost software to deliver excellent sound quality and stylus controls.
Even the Spectre x360 14 is not cheap at delivering ports. It offers two USB-C ports for charging and connectivity, a USB-A port, 3.5mm headphone jack, Micro SD card reader, Bluetooth 5.0, and Wi-Fi 6. It delivers more than 12 hours of battery life.
Specifications
Display: 14-inch OLED touchscreen
Resolution: 1920 x 1280 FHD and 3000 x 2000
CPU: Intel Core i7-1165G7
GPU: Intel Iris Xe integrated graphics
RAM: 8 GB to 16 GB
Storage: 256GB to 1 TB M.2 SSD
Weight: 2.95 pounds
Pros
✅ Steller 3K, 2K display with 3:2 aspect ratio
✅ Quad speakers to deliver an excellent sound quality
✅ Intuitive touchscreen and pen controls
✅ Wi-Fi 6 connectivity
✅ Offers a big 66Wh battery
Cons
❎ Very expensive.
❎ Offers limited connectivity ports on lower-priced models
❎ No LTE connectivity
❎ Touchpad seems slightly loose
4) Razor Blade 14
In the list of Windows 11 laptops, the Razer Blade 14 is another Windows 11 capable laptop. It is ideal for gaming and very easy to carry around. Powered by a powerful AMD Ryzen 9 5900HX with an NVIDIA GeForce RTX 3080 GPU, and a 165Hz refresh rate display, the Blade 14 is a beast.
It is a compact powerhouse laptop with an ultra-thin design, ultra-fast performance, and vapor chamber cooling for long gameplay. It offers 12 hours of battery backup in which you can web surfing for about 6 hours of battery life.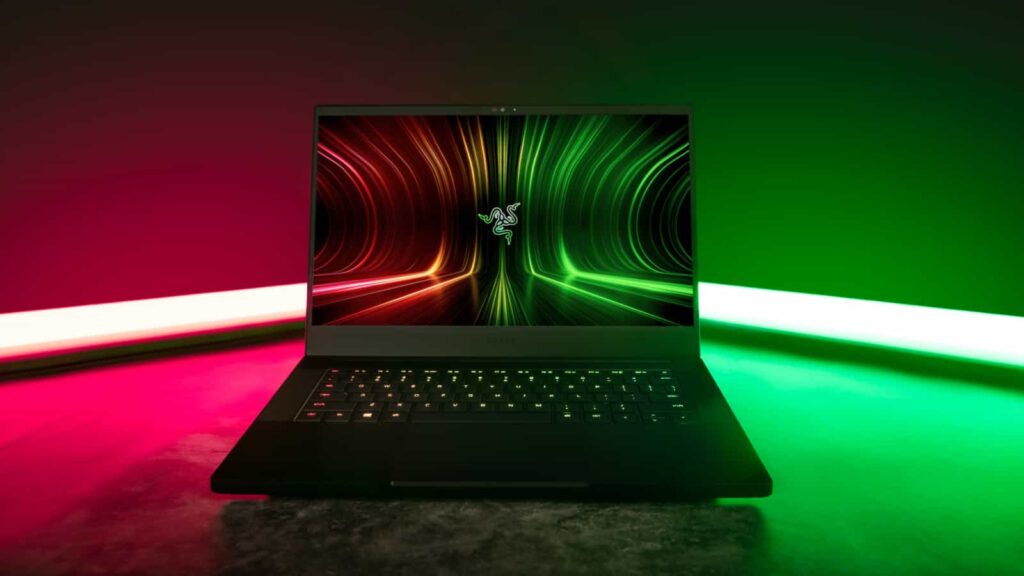 Specifications
Display: 14-inch
Resolution: Up to QHD at 165 Hz refresh rate.
CPU: AMD Ryzen 9 5900HX
GPU: Up to Nvidia GeForce RTX 3080
RAM: 16 GB
Storage: 1 TB SSD
Weight: 3.92 pounds
Pros
✅ Provide a stunning 4K OLED display
✅ Offers an excellent gaming performance
✅ Compact design with premium build quality
✅ Outstanding audio
✅ Plenty of ports
Cons
❎ Cramped keyboard
❎ Software oddities
❎ Very expensive
5) Lenovo Yoga 9i
The Lenovo Yoga 9i is a great 2-in-1 Windows 11 capable laptop with the latest Intel Tiger Lake CPUs. In the race of Windows 11 laptops, it offers plenty of RAM and SSD storage space to make it more capable of operating Windows 11. In terms of ports, it has 2 number of Thunderbolt 4 ports, 1 USB-A port, and a headphone jack.
It is one of the best 2-in-1 laptops with a colorful display, amazing rotating speaker with Dolby Atmos system, good battery life with 60Whr (17 hours of standby), and fast performance. It also offers an attractive keyboard and stylus support. The display could be brighter.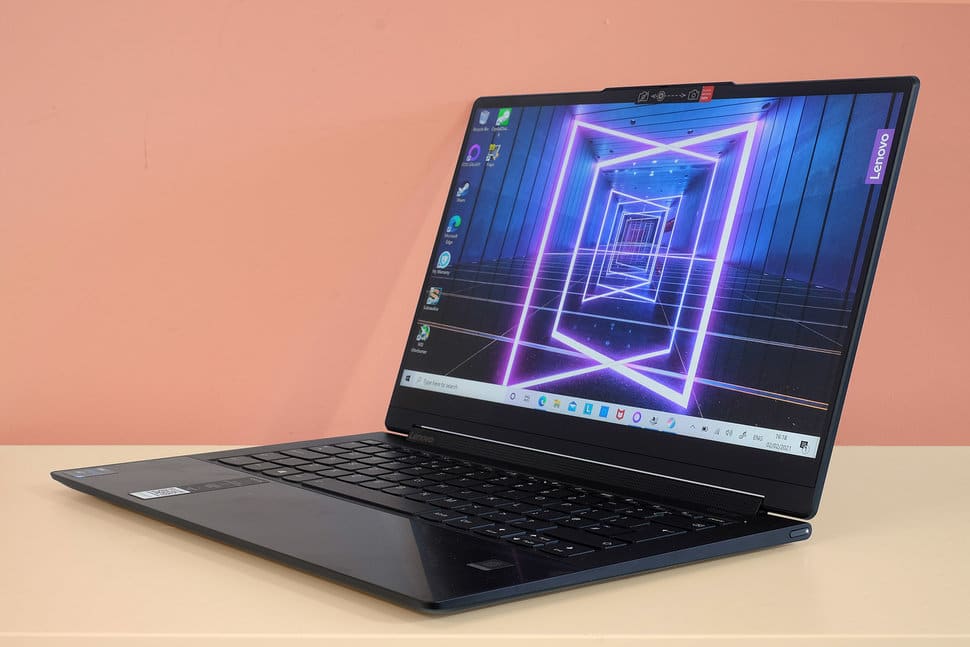 Specifications
Display: 14-inch
Resolution: 1080p
Processor: Intel Core i7-1185G7
RAM: 16GB of RAM
Storage: 512GB SSD
Weight: 3 pounds
Pros
✅ Offers a colorful 1080p display
✅ Hundreds less than competitors
Cons
❎ It provides limited ports.
❎ There is no IR webcam.
6) Microsoft Surface Laptop 4
The Microsoft Surface Laptop 4 is an excellent option in the list of Windows 11 laptops. With a lovely rectangular and industrial design, it holds one of the best laptop keyboards. It comes in a 13-inch model and a 15-inch model with the latest Intel and Ryzen mobile processors. You will get an option to choose from. Both are Windows 11 capable laptops.
The Surface Laptop 4 also delivers a lovely 3:2 aspect ratio display. Working with Windows 11 on this laptop would be a boon in terms of productivity. It offers Windows Hello with an IR camera for face recognition. In addition, this laptop provides decent quality speakers, 150 nits of brightness, and nearly 15 hours of battery life.
Specifications
Display: 13.5-inch touchscreen
Resolution: 2256 x 1504
CPU: 11-Gen Intel Core i5/i7 | Ryzen 5/7 4000-series
GPU: Integrated Intel Iris Xe or Radeon graphics
RAM: 8GB to 32GB
Storage: 256GB to 1TB SSD
Weight: 2.79 pounds
Pros
✅ Offers a gorgeous, light, and slim design
✅ Provides a superb keyboard and touchpad
✅ Delivers great speakers
✅ Offers a good battery life
Cons
❎ It should be a better webcam and more ports (no Thunderbolt 3.0 port)
❎ Thick bezels are seemed disgraced
❎ Absence of Dolby Vision and anti-glare display
7) Acer Aspire Vero AV15-51-75QQ
Made of stunning PCR materials along with the compact and boxed design, Acer Aspire Vero AV15-51-75QQ is a versatile laptop in the list of Windows 11 laptops. Powered by Intel Core i7-1195G7 with Iris XE graphics, it delivers a great performance.
It offers a standard but responsive 15.6-inch FHD LED-backlit IPS display. You will get reproductive color and accurate visual effects. In terms of ports, it provides 1 USB Super Speed 10 GB/s Type-C port, 2 USB Super Speed 5 GB/s Type-A port in which one is for power-off charging, 1 USB 2.0 Type-A port, 3.5mm audio jack, and HDMI 2.0, Ethernet.
It offers Wi-Fi 6 and Bluetooth 5.0 for connectivity. Also, it has a fingerprint reader. Also, it delivers 7.5 hours of battery life for uninterrupted service.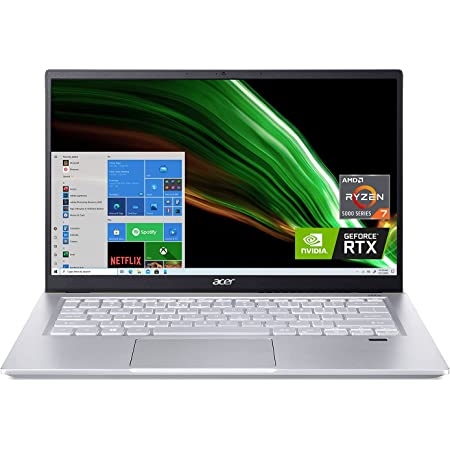 Specifications
Display: 15.6-inch IPS
Resolution: 1920×1280
CPU: Quad-core Intel Core i7-1195G7
GPU: Intel Iris Xe
RAM: 16GB
Storage: 512GB PCIe NVMe M.2 SSD
Weight: 4.0 pounds
Pros
✅ Funky, eco-friendly design
✅ Preloaded with Windows 11
✅ Approachable price
Cons
❎ Short battery life
❎ Dim display
❎ Keyboard quirks might annoy you
Final Words on Windows 11 Laptops
As per the minimum requirements of the Windows 11 system, these above-given laptops are Windows 11 capable laptops. The manufacturers assured that the laptops are already capable and will get the new OS.
If you are thinking to buy a new laptop for Windows 11, then you must go for one of these Windows 11 laptops. Also, share this article to help others to get the best Windows 11 laptops. Comment below if you have any suggestions on buying a Windows 11 compatible laptop.
FAQs on Windows 11 Laptops
1) Do laptops come with Windows 11?
Windows 11 has launched in late 2021. So, it will take a few months to be available officially on laptops. The rollout of the upgrade to Windows 11 will begin in 2022.
2) Is Windows 11 free?
Microsoft has announced during the Windows 11 launch that all the Windows 10 users will get free up-gradation to Windows 11.
3) How many GB of storage is required for Windows 11?
Minimum 64 GB of storage should be available in your laptop to upgrade to Windows 11. Windows 11 will take up 27 GB of storage. However, additional storage is required for downloading the updates and features.
4) Can we use Windows 11 now?
Either in late 2021 or the beginning of 2022, Windows 11 upgrade will be delivered to qualifying devices. Depending upon the time, the device will get Windows 11 update.
Officially you can not use Windows 11 until the end of full support from Microsoft – no sooner than 2025. But, you can get the ISO files of Windows 11 on the internet. From there you can download and try Windows 11. But it will be risky for your device.
5) Does Windows 11 use less RAM?
The minimum RAM is required to run Windows 11 is roughly double the amount of RAM that of Windows 10. As the display resolution and DirectX has also been increased.
6) Is 4GB RAM enough for Windows 11?
In short, 4GB RAM is suitable for running Windows 11. Technically, Windows 11 can be operated nicely with more than 4GB RAM.
7) Is Windows 11 better for gaming?
Microsoft Says, Windows 11 is a Great Gaming OS. Even it gives an open invitation to the gamers by telling them that "if you're a gamer, Windows 11 was made for you."
8) Can HP run Windows 11?
HP is upgrading its portfolio to enhance the features of Windows 11. Currently, HP offers Windows 11 to their HP ENVY, HP Spectre, and HP Pavilion portfolios.