Does your mobile's battery drain quickly? Don't worry as we bring a list of tips to extend Android battery life. Today's smartphones must execute more difficult jobs than ever before. Processors have become more powerful, and displays have become larger, to meet rising demand.
Unfortunately, lithium-ion batteries have not advanced as much. As a result, you must rely completely on software capabilities to extend battery life. Here are some helpful tips to extend Android battery life and maintain general battery health.
Also, Read...

21 Best Android Tricks and Hacks You Should Try
List of the Tips to Extend Android Battery Life
Have issues with Android's battery life? Use these tips to extend the Android battery life of your smartphone. We have prepared a list of 9 tips to extend android battery life, you must try.
1) Turn On Power-Saving Mode
Turning on your phone's power-saving mode is the quickest approach to conserve the most battery life (Battery Saver). Most phones have it on the Quick Settings panel, or you can access it by heading to the Battery section in Settings and turning on Power saving. You may configure the power-saving mode on a Samsung phone to perform the following: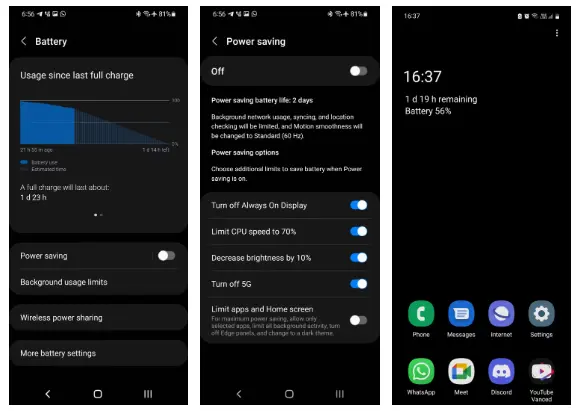 Turn off Always On Display: Although always-on displays are useful, they always keep your screen on and consume your battery by their very nature.
Limit CPU speed to 70%: By limiting CPU speed, apps will take slightly longer to launch and load while using less power.
Decrease brightness by 10%: The battery usage decreases as the screen brightness increases.
Turn off 5G: Yes, 5G is speedy and handy, but it also consumes a lot of battery power. When you wish to save battery, choose 4G.
Limit apps and Home screen: This battery-saving function is the strongest of all and may more than quadruple your battery life. It does this by the following actions:
Restricts all auxiliary activities
Disables Edge panels
Establishes a gloomy theme for the whole system (with a solid black wallpaper)
The refresh rate is lowered to 60Hz
On the Home screen, just a few (up to eight) applications are permitted.
Turns off the app drawer
You may also check out affordable smartphones with unlimited battery backup here: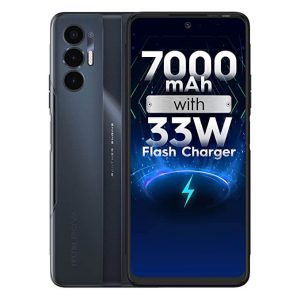 Tecno POVA 3 Smartphone with 7,000 mAh Battery
2) Switch to Dark Mode
If your phone has an AMOLED screen, going to a dark theme will significantly increase battery life. Backgrounds with deep blacks allow AMOLED screens to spend less power since they may deactivate individual pixels.
This may be used in a variety of ways. You may use a dark background, set a system-wide dark theme, and enable dark mode for Android applications such as WhatsApp, Twitter, YouTube, Gmail, and many others.
3) Turn Off Location Services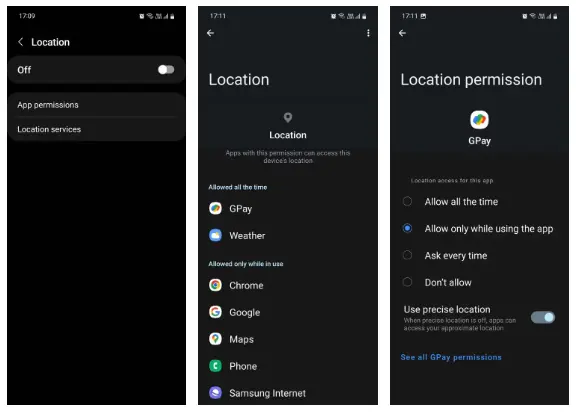 Turning off the location feature on your phone is one of the best methods to conserve battery life. You should also remove the location permission from any programmes that don't always need it. By doing this, you prevent such applications from using the service in the background and further conserve battery life.
To do so, click to Settings > Location > App permissions. All the applications that are allowed to use location are listed here. Select 'Don't allow or 'Allow' just while using the app when you tap on an app that doesn't require the service at all.
4) Limit Apps Running in the Background
The majority of the apps you use remain active even when you quit them. This is where Android's app-specific battery features come into play. You can prevent an app from accessing the battery in the background with a simple switch.
To do so, go to Settings > Apps and touch on an app to access its settings, such as Instagram. Tap Battery and then Restricted on the app info screen.
If you have an older phone, you may also use Greenify, a third-party app. This prevents programmes from eating resources in the background. However, on contemporary devices, we advocate utilising the native functionality because it works better than third-party alternatives.
5) Manually Disable Screen Pixels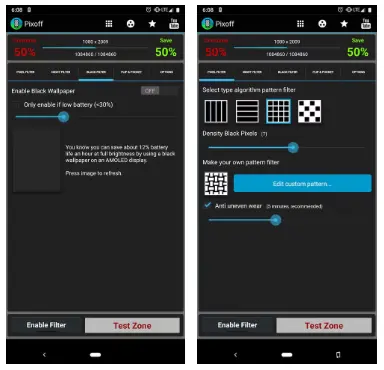 If deeper gradients make you uncomfortable, you may manually turn off pixels with the third-party programme Pixoff. The programme may also immediately disable half of the pixels by using one of the predefined grid patterns.
You won't see much of a quality decrease unless you're viewing a movie or other HD content, especially if your screen is 1080p or above. Only a few manufacturers, like Samsung, offer the option to lower the display's resolution.
6) Disable Background Data Access
Similarly, you may disable cellular data access for apps that you believe should not be using it in the background. Apps can't load new files or function in the background if they don't have internet connectivity. As a consequence, battery life is extended.
To prevent an app from using cellular data in the background, navigate to Settings > Apps and pick an app. Tap Mobile data under Usage and turn off Allow background data usage.
7) Turn Off Automatic Wi-Fi
Since the Oreo release, Android has a function that keeps searching for available Wi-Fi networks even when Wi-Fi is deactivated. The service is surreptitiously draining the battery since it runs continuously in the background. To turn it off, adhere to these instructions:
Go to Settings > Connections > Wi-Fi.
Tap the three dots on the menu and select "Advanced."
Next, toggle off "Turn on Wi-Fi automatically."
If the option is greyed out and you are unable to disable it, you may need to enable location once to have access to it. After disconnecting automatic Wi-Fi, remember to switch off the location again.
You May Also Like,

8 Android Settings You Should Change Right Now
8) Monitor Misbehaving Apps
If an app doesn't function as intended, your battery life may be severely impacted. Anything from a glitch to a purposefully hostile background feature might be the culprit. Visit Settings > Battery and device care > Juice to verify this and touch on the battery consumption graph to see which applications have used the most battery.
The battery should be monitored for a day to determine whether it increases if there is an app you don't use frequently. Alternatively, you may force-quit the programme and try again. Get rid of it and employ an alternate if nothing works out.
9) Change Your Sync Settings
Notifications are critical. However, if you find them annoying and despise the constant stream of pings, you should disable auto-sync entirely. That way, you'll only see updated material when you launch an app and actively refresh it.
Because applications will not continually refresh themselves in the background to give you new information, you will save a lot of battery life. You may stop auto-sync on your Samsung phone by going to Settings > Accounts and backup > Manage accounts and turning off Auto-sync data.
Last Words
You can do a tonne of things to extend the battery life of your Android phone. It's advisable to turn off all of the background programs and services you may not even require because, as you can see from the list above, a large number of them are constantly running.
Relying on your phone's battery saver and using your phone less generally can help you get the longest battery life possible. To avoid being tempted to pick up your phone once again and see what's new, you might also want to switch off alerts while you're at it.
That's all for today. I hope these tips will be helpful for you to extend your smartphone's battery life. Please share this article with others to aware them of the tips to extend Android battery life. If you know more tricks and tips to extend Android battery life, let us know in the comments. Also, share your user experience with these given tips.
Frequently Asked Questions
1) Why is my android battery draining so quickly?
Here are some of the most common: There are too many push messages and alarms depleting the battery. There are far too many apps that make use of location services. There are far too many programs operating in the background.
2) How can you make your phone battery last longer?
If you want to extend your phone's battery life, read this article. I'm sure you will be helpful with these tips.
3) Which app drains more battery?
Dating and social networking applications are those that use up the most battery. Among the top 20 worst offenders were apps like Facebook, WhatsApp, Linkedin, Snapchat, Instagram, and YouTube.