In our busy lifestyle, we don't have proper time to cook food. But to keep ourselves fit, we need to eat home-cooked healthy food. A tasty cooked food requires a lot of time as well as effort. Numerous best kitchen gadgets have been launched to make our lives easier and save time to solve this purpose.
We have listed only the best kitchen gadgets that will surely make your day-to-day life more manageable and smoother. You will not get bored in your kitchen anymore.
Blender, juicer, and cooker are not on our list cause these are available in everyone's kitchen. We are talking about some unique but must-have products in the kitchen to save time and be very helpful. Check the list of best kitchen gadgets below.
Also, Read ????

Best Laptops for Animation and Video Editing for Content Creators in 2021

7 Top-Performing & Best Wireless Headphones Under 10000 INR (136 USD)

Gamer? Check Top 10 Best Gaming Headphones Under 2500!

15 Cool Tech Gadgets On Amazon India That Will Impress You Straight Away!
Top 5 Best Kitchen Gadgets 2021
Here is the list of the top 5 best kitchen gadgets are given below:
1) Automatic Egg Boiler
We regularly take eggs for breakfast or with any other meal. Doctors advise us to eat 1 to 2 eggs per day with a normal health condition. But the boiling of eggs is a little headache. It takes time and effort.
Here the survival comes with an automatic egg boiler that helps boil the egg automatically without any stress and tension. It comes as one of the best kitchen gadgets on our list.
If your family is big, then you can buy a big capacitor boiler. It comes with a stainless steel heating plate and three modes of boiling: hard, medium, and easy. At a time the boiler can boil 6 eggs.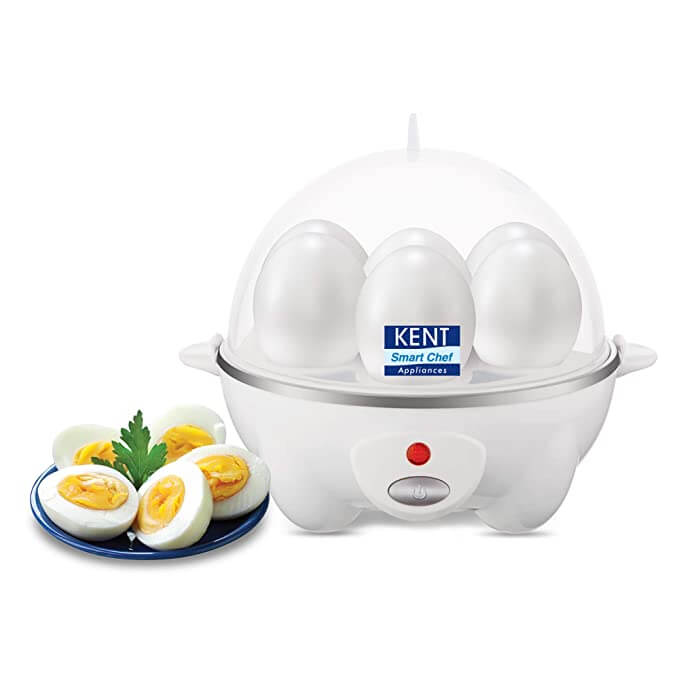 Only in one touch, you can start it, and the boiler will automatically go off when the egg boils appropriately. Also, the eggs do not get cracked by the heat or pressure.
Put the egg in the appliance, add a sufficient amount of water, close the lid, select the mode and start the process. That's it. The price differs from brand to brand and also with features from Rs. 400 to 1,500 (5 to 20 USD).
2) Electronic Weighing Machine
When you want to make a cake, the right portion and weight of the material help to bake a delicious cake. Now doctors also advise taking the right weighted food.
From fruits to rice, everything is to be weighed before eating for good health. So an excellent electronic weighing machine is necessary nowadays.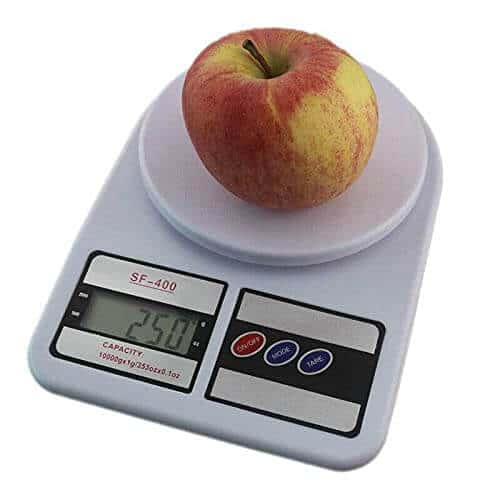 It is a battery-operated machine as one of the best kitchen gadgets. With an automatic switch-off facility to save energy. The largest 10 kg weight capacity can be weighed and can detect small fractions. You can put the product on the surface and get the weight.
For liquid or powder or other products, switch on the machine and put a bowl or required container. Then, subtract the bowl's weight, add the product to it and count the weight.
The size of the machine is small and plastic coated, and the price range varies from Rs. 300 to 1000 (4 to 13 USD).
3) Pesticide Purifier
We all know that fruits and vegetables are full of toxic chemicals and pesticides. These toxic elements are very harmful to our health and affect our organs badly.
Washing with water helps to remove the upper dirt of the vegetables and fruits. Now you can effortlessly remove the pesticide from the fruits and vegetables with the help of an electric pesticide purifier.
The purifier comes with a medium-size container and a lid. Pour 3/4 water in the container and add sufficient fruits and vegetables into it. After closing the lid, connect with electricity and switch on the button.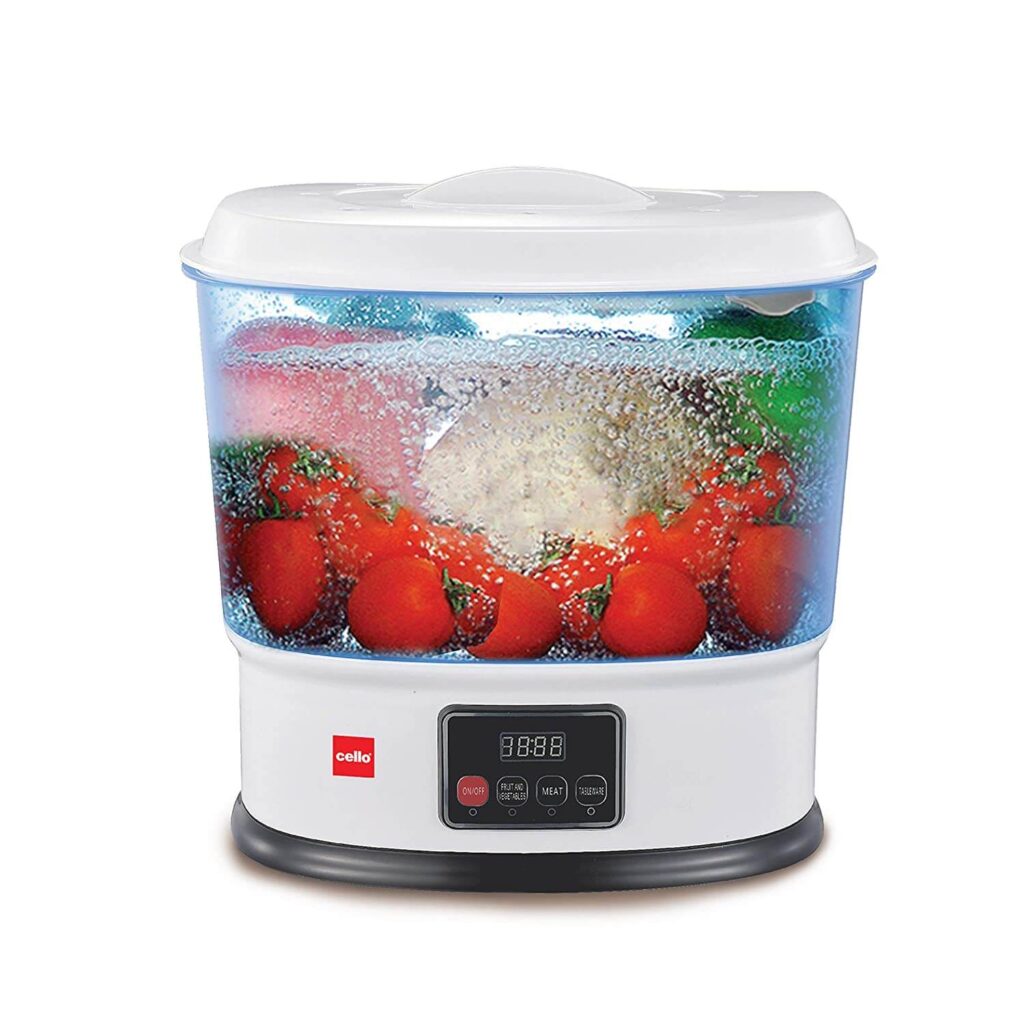 It requires some time, and the product will remove germs and chemical toxins 100% effectively with ozone technology. Besides fruits and vegetables, you can also clean lentils, rice, grains, meats, baby's milk bottles, and cutleries. The product's price varies from Rs. 2,000 to 5,000 (27 to 67 USD).
Also, Read ????
4) Portable Coffee Maker
We all have a fascination with beverages; choices are between tea and coffee. Both are our day-to-day life essentials. The coffee lovers are very choosy and believe in their taste buds only. So a good portable coffee maker is a good choice for them as one of the best kitchen gadgets. It takes less time and less effort to make a fantastic cup of coffee.
These coffee makers are also trendy kitchen gadgets. In the market, there are numerous coffee-making brands available.
The portable coffee maker comes with a tiny machine and a 600-milliliter container. You can make a maximum of five cups of coffee at a time. The filter portion has two holes; one is for coffee powder, and the other is for water.
You have to add coffee ingredients inside the container and then close the lid to switch on the machine. The coffee container will fill with raw black coffee after 8-10 minutes. You can enjoy it raw, or you can add coffee mate as per your taste buds.
The price starts from Rs. 1000 to as high as you can effort. You can choose a good coffee machine as per your interests.
5) Air Fryer
We all want a lean body in this competitive fitness world but don't want to compromise enjoying delicious foods. Oil is the main component of tasty food which you must avoid for good health. So, an air fryer is a perfect option where you don't need to add an excess level of oil but must fry food. It is among the best kitchen gadgets nowadays.
It comes with a frying basket where you just put the food with some greasing of oil. Then set the time and the temperature and wait until the food is fried perfectly.
You don't need to worry about the excess cooking because it will automatically turn off when the timer stops. It also has a smoke vent from where the extra smoke releases. You can also grill, bake, and roast. It is easy to use and keeps your kitchen clean and fresh.
The price range starts from Rs. 4,000 (50 USD) and goes as high as you want.
Let's Wrap Up on Top 7 Kitchen Gadgets
These amazing gadgets will surely save you time and effort. Make sure you get a good product so that it lasts longer and has 1 -2 years of warranty on the product. Try to buy a good reliable brand online or offline which is great for you. Don't forget to comment with your views and suggestions. For more such amazing content keep visiting enchan-trixto.com. Thank You!
Read More ????
Best Kitchen Gadgets 2021 – Frequently Asked Questions
1) What are the best kitchen gadgets?
There is no clear answer to this. All gadgets are important. However, we feel that automatic egg boilers, coffee makers, air fryers, and pesticide purifiers are the affordable best kitchen gadgets in 2021.
2) What is the best brand of kitchen accessories?
The best brand of kitchen accessories is Borosil, Hawkins, LaOpala, Prestige, Milton, etc.
3) What is the price of the 5 best kitchen tools?
Their price starts from Rs. 300 and ranges up to Rs. 5,000. These gadgets are quite affordable.
4) What kitchen gadgets do you need?
Time is the most important factor in cooking. So the gadgets that save a lot of time in the kitchen are needed like coffee maker, egg boiler, air fryer.
5) How can I reduce kitchen time?
You should use electrical and automatic kitchen gadgets to reduce kitchen time. Other than that proper planning, ground spices earlier, use the right utensils, etc. Some small and smart steps can reduce kitchen time.