Computers are most likely to be affected by malware or viruses. In such situations, a Bootable Antivirus tool always comes to your rescue. These Antivirus tools are scanners that are used in the infected machine to scan the drive of viruses.
These Bootable antivirus tools are created from a special CD/DVD. You need to use them to start your computer since a virus usually breaks down that part required to start the computer.
The simple way of using these bootable antivirus tools is to download the antivirus from any provided website and later, copying it into a removable CD or DVD. In case your computer is fully down, you might need another computer to do this work. Once inserted, it will clear your computer of any malware.
Below given are the 12 best Bootable Antivirus Tools that you can use to overcome such malware problems.
List of 12 Best Bootable Antivirus Tools
Listed below are the 12 options of Bootable antivirus tools that you can try out on your pc.
Windows Defender Offline – Bootable Antivirus Tool:
Windows Defender is a bootable virus scanner that sports a full user interface. The Microsoft company has made this tool so that one can use it offline without starting the operating system. Being one of the best bootable antivirus tools, it has several exclusive settings that can customize our scan.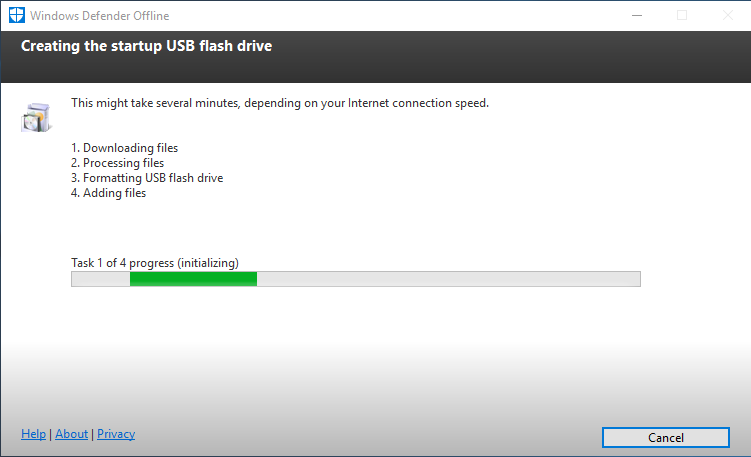 The updated virus definitions can be directly downloaded from the disc. It also views the quarantined files and can omit the files, folders, and extension types from the scans.
The Windows Defender antivirus tool is a graphical UI presentation and not a text. However, you will have to download it as an EXE file instead of an ISO file.
This tool supports quick virus scans, full virus scans, and custom scans. Thus you have the privilege to choose the files that are to be scanned.
The tool, downloaded from a link, can be burnt into a disc or a USB device. Therefore, no image-burning software will be necessary. The tool can remove even the highly persistent malware such as rootkits.
This is one of the most customizable bootable antivirus tools on the list. It is a bootable USB antivirus Malwarebytes that provides you with several options like –
Letting you choose the folders you want to scan.
Booting specific sectors that have particular hidden malware and file-less objects or even the entire drive.
These bootable antivirus tools can also be used to scan files that have certain extensions and specific exclusions. A plus point of this tool is that it uses both graphical and text-only modes for the programs.
You can also set the tool to detect the malicious items automatically from the computer or even alert you about a detected malware. There is also an option to scan archives, check installation packages and scan OLE objects.
You can even choose among the three types of modes for deep scanning using Kaspersky. The reason for the Kaspersky Rescue disc's downfall is that it is larger (around 600 MB) than the other bootable antivirus tools. Therefore, it might take more time than the others to get downloaded.
Besides being antivirus software, Comodo also consists of a free bootable antivirus program. This Bootable USB Antivirus Malwarebytes program is used to recover any disc or USB drive. The size of this file is just 50 MB, comparatively less than any other antivirus software or best rescue disk.
It also provides you with an option to choose between GUI or plain text interface. However, the program interface of the GUI is much easier to use.
These bootable antivirus tools can be installed on the computer using a USB device/Disc. They also check for updates automatically.
The antivirus consists of three types of scans, namely, smart scan (checks virus-like rootkits in memory and other system folders), full scan, and custom scan (allows you to choose the individual folders that are to be scanned).
A drawback of this antivirus is that the custom scan makes it difficult to choose between the individual files and folders that are to be scanned. The desktop-like interface of the Comodo Rescue Disc – Bootable Antivirus Tools makes them easily accessible, unlike the other antiviruses.
This Dr. Web LiveDesk is customizable antivirus software that focuses on scan specifications like directory and file size exclusions and upper limits to measure the time length for scanning a file.
It is a bootable antivirus that scans viruses for Windows and Linux. It is featured to detect issues like adware, dialers, jokes, and hack tools.
The software undertakes several configurable settings like choosing the actions for Dr. Web bootable antivirus tool to undertake when an infected or suspicious file is found.
It also checks for updates automatically. You can even set a particular duration for Dr. Web to scan one single file. The size of this file is 800 MB, larger than any other software.
The software antivirus can be downloaded both by a USB device or a Disc, but either of them will take more time.
Because the software is updated directly, you can reuse any program in the future. All you need to do is update the program before using it.
This software can only be created using another software of the same Avast product. The company provides you with free antivirus, which saves the cost of buying any.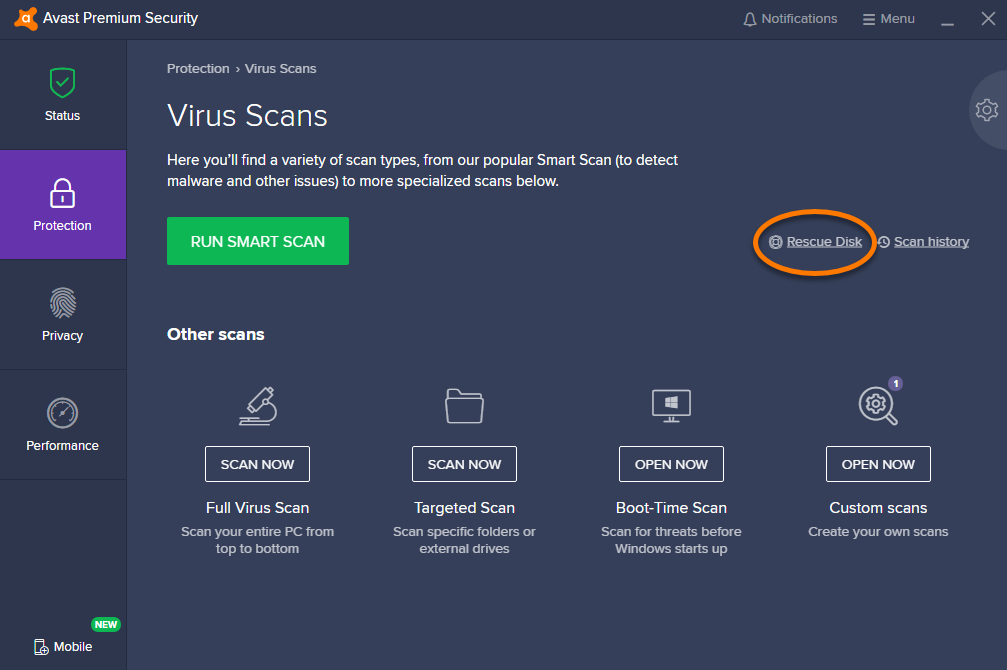 This bootable antivirus tool is very simple to use and is specially designed for new learners and slightly more advanced students. The customization options for this tool are not much because it wanted to make itself suitable for beginners.
The options for Avast Rescue Disc include scanning selective folders or running a complete scan. It will detect any malicious insiders and review them so that they can be manually handled.
This file is comparatively smaller than the other antiviruses. It is also handy for existing Avast customers and takes less time to download (a small file of 500 MB). For those who are thinking of buying a new antivirus, this tool is going to serve your purpose.
The only drawback of Avast Rescue Disc is that it lacks advanced options and can only be used by someone who has already been an Avast customer.
The Panda Cloud Cleaner Rescue is a program that can scan a computer without running any processor. This Best Rescue Disk prevents the entry of any other virus into the computer. But before that, you need to have Windows on your computer. The system will not start if it does not have Windows to boot it.
One must install the Panda Cloud Cleaner ISO disc before starting the computer. Only then, the antivirus will shut down every processor running in the computer to terminate the virus.
The small size of the tool (200 MB) acts as a bonus to it. Here also, you can choose the files that require scanning.
However, this tool can be a problem when you need to remove a virus that is rooted deep inside. In such cases, even booting Windows will not help you. You may need to try other bootable antivirus tools that can work even without Windows.
Bootable Antivirus Tools – Adaware Live CD:
One of the reliable antivirus software is the Adware Live CD. It is a free antivirus scanner that uses a full interface for desktop-based programs. You can also create a CD or a USB drive for scanning your troubled computer.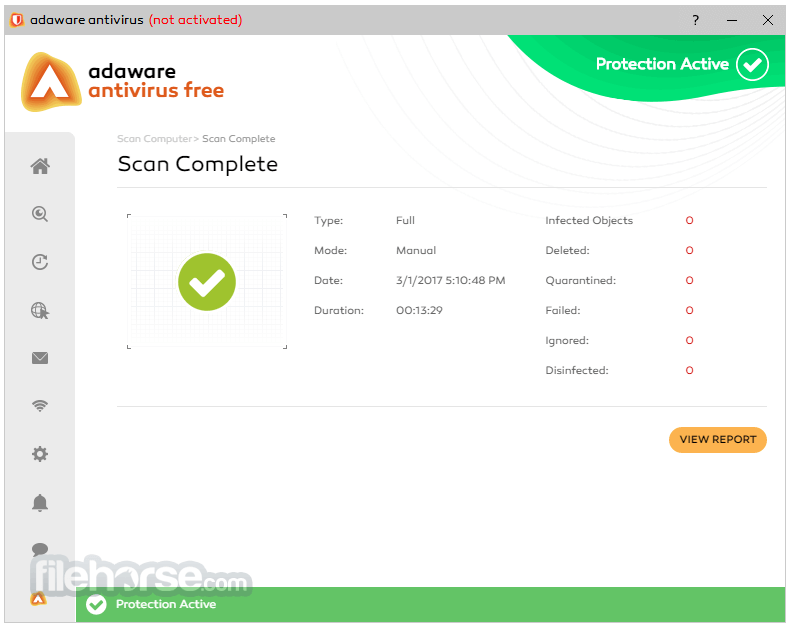 It has customization features that provide you with an option to scan specific folders only. It has multiple scanning types. Therefore it can run a quick scan to check the boot sector for the virus. It can also update the definitions before scanning.
However, the operating system needs to be Windows 7 or newer for the tool to work. Unlike other bootable antivirus tools, this tool can scan only folders and not specific files.
Another drawback of this tool is that the file size is very large, at least 1GB. Thus, it may not be approved by many users. But besides such complications, this bootable antivirus tool is very easy to use.
ESET SysRescue Live:
The ESET SysRescue Live is one of the best tools to scan the antivirus. It can be installed on a CD, USB key, or DVD and offers easy to navigate GUI. Eset Rescue Disc's desktop environment is also similar to Windows.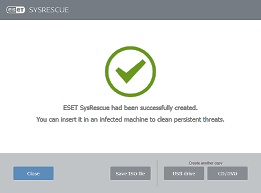 It undertakes two types of scans – Smart scans and Custom scans. The smart scans allow you to scan the restricted areas of the system that have the chances of being malware affected.
On the other hand, the custom scans run in-depth scans not only for certain areas but also for the entire computer.
The advanced settings of one of these best bootable antivirus tools involve particular scanning items (like e-mail files and archives) along with exclusions. They offer setting time limits for scanning larger files.
A unique feature of this antivirus tool is to check defects in the disc analysis tool and do a memory test for checking the RAM errors.
The ESET SysRescue Live bootable antivirus tool is the smartest of all. There are very few chances for it to miss out on any malware that is harming the computer.
The Avira Rescue System is one of the handiest bootable antivirus tools you can use to make your system malware-free. It is very easy to install and requires a CD or a USB drive.
It also comes with additional equipment like a web browser, a registry editor, and a disk partitioning tool- all under a standard graphical interface.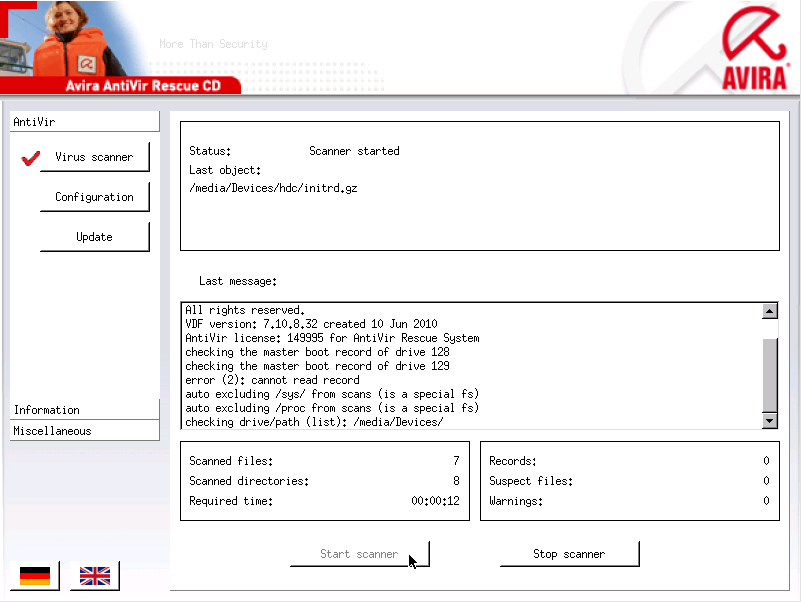 Like the Adaware Live CD, it can scan the entire folder and not a particular file. During the scanning, the compressed files can be unpacked and checked with added protection.
This file is specially designed for beginners so that they do not miss anything while learning.
However, the users have claimed that the updates are not done regularly. This can be a threat to new malware. Also, the size of the software is comparatively larger (670 MB). This is also one of the cons of this antivirus software.
Bootable Antivirus Tools – Anvi Rescue Disc:
The Anvi Rescue Disc is easy to use bootable antivirus to scan the entire system or certain folders. It consists of three main scans and two-section scans (for the program). The Anvi Rescue Disc is one of the Best Rescue Discs but does not have any custom settings for the scanning.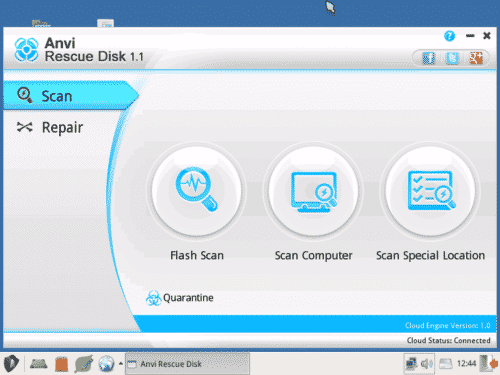 The antivirus can run either a quick smart scan or a custom scan to search for the hidden malware inside the system or a particular folder. This antivirus tool specifies that it can recover the corrupt registry issues that are caused by a virus.
It has a relatively small download size. Unlike regular antivirus tools, the Anvi Rescue Disc cannot scan specific files only. It will examine the whole drive at once. Despite this disadvantage, the Anvi Rescue Disc is one of the best bootable antivirus tools. It is worth giving a try.
Sophos Bootable Anti-Virus Tool:
The Sophos Bootable Anti-virus is a text-only interface that does not have many customization options. It also has one of the smallest file sizes that makes it even more convenient to use.
It usually consists of two types of scans- Recommended Scan and Advanced Scan. A Recommended Scan renames the infected files. It can also display the list of viruses found in the system for you manually.
The Advanced Scan, on the other hand, removes the trespassing virus from the system.
You can also remove the virus from the system manually using the Bash Shell option. But to do that, you need to know the location of these viruses. The antivirus requires you to answer several questions before downloading it.
Make sure you read the steps properly before downloading the antivirus tool, as it takes up to 360 MB of free space on your computer. This antivirus tool is good for low-powered devices.
Trend Micro Rescue Disk:
The Trend Micro Rescue Disc is an antivirus tool that does not have a graphical interface. This means you will have to navigate this tool using the navigation keys. The tool has a Barebones option. This option lets you run a quick scan of the entire drive.
Trend Micro Rescue Disc is one of the simplest bootable antivirus tools on this list. But even though simplicity in tech goods makes it easy to use, some users still prefer the advanced and customized options for the tool.
The Trend Micro Rescue Disc is one of the reputed antivirus tools in the industry. Yet, it is very simple and easy to use without any complications and lacks customization options.
Here also, you need keys to navigate this best rescue disc. An advantage of this tool is that it requires just 70 MB of space for downloading. This makes it one of the handiest bootable antivirus tools.
This bootable antivirus is also ranked highly with other testing sites like AV-Comparatives and AV-Test. Therefore, you can surely be confident about this tool.
Bootable Antivirus Tool – Let's Conclude
A series of viruses can damage the computer in various ways. A Bootable antivirus tool can be a strong weapon to combat such situations. It will be your constant companion in removing the malicious virus that harms the system.
The bootable antivirus tools mentioned above will not break the bank. They have provided several solutions to your problems.
It can sometimes be tricky to change the boot order of the computer. The users may also have to access their system using the BIOS. The BIOS is a setting of the device itself and is not bound by the computer's operating system. However, changing the boot order can vary from system to system.
---
Read More ????
Bootable Antivirus Tools – FAQs
1) How can I change my Computer's Boot order?
The keys for entering the BIOS are F1, F2, F10, Esc and Del. The F keys are always needed for this work. Once you have opened the BIOS, you can start navigating it. There you will find the CD-ROM device, USB Drive, Hard Drive, and Network Boot. Choose the device on which you have the antivirus tool and remove it to the top.
 2) Is boot time scanning better?
It is better as it detects the malware before it affects another app or before your OS (Operating System) gets fully loaded.
3) How can I make a bootable USB antivirus?
You can use a Kaspersky Rescue disc for burning the ISO into a USB Drive.
4) Are the bootable antivirus tools mentioned here are safe and genuine?
Yes, these bootable antivirus tools are safe and genuine. They are tried and tested.
5) Which are the best bootable antivirus tools or the best rescue disc?
All the above tools that are mentioned here are good:
a) Windows Defender Offline Bootable Antivirus Tools
b) Kaspersky Rescue disc
c) Comodo Rescue Disc Antivirus Tools
d) Avast Rescue Disc
e) Panda Cloud Cleaner Rescue
f) Anvi Rescue Disc
g) Sophos Bootable Anti-Virus
h) AVG Rescue CD
6) What antivirus is bootable?
A Bootable antivirus tool can operate on any system that is heavily corrupted and is unable to function properly.
7) Is VPN better than antivirus?
The truth is that a bootable antivirus tool is a software perfect to protect users from some threats which are online. While VPNs for PUBG Lite or for any other App are better in protecting users from others. Both bootable antivirus tools and VPNs do not compete with each other and instead, they work together.
I am a civil engineer by profession, and being hailed from a technical background, my passion for creative writing and art and crafts persisted in me since childhood. So trying my hand here!