Are you aware of the best Hamachi alternative if you are not completely satisfied with its service? If not, Enchantrixto Tech presents 10 Alternatives to Hamachi will surely be a help. Nowadays, Games are also getting advanced with upgrading technologies. So, many PC games are designed with local multiplayer support.
Hooking up to the Internet, the users can connect everyone's system to a LAN router to play multiplayer games with their friends together. If we are away from each other, then one of them has to create an online public server and hook up others.
Although a choice is always there while creating the server, the requirement of the router's port forwarding might not be possible for everyone. Hence, the need for a VPN for Gaming or software like Hamachi.
For this, the first name of Virtual LAN Creating software that comes into mind is Hamachi VPN. But the VPN has its share of flaws, hence the need for hamachi alternatives.
The Prices mentioned here may be subject to change on time to time basis. Though we will keep updating but request users to check official websites too for latest Hamachi Alternative pricing.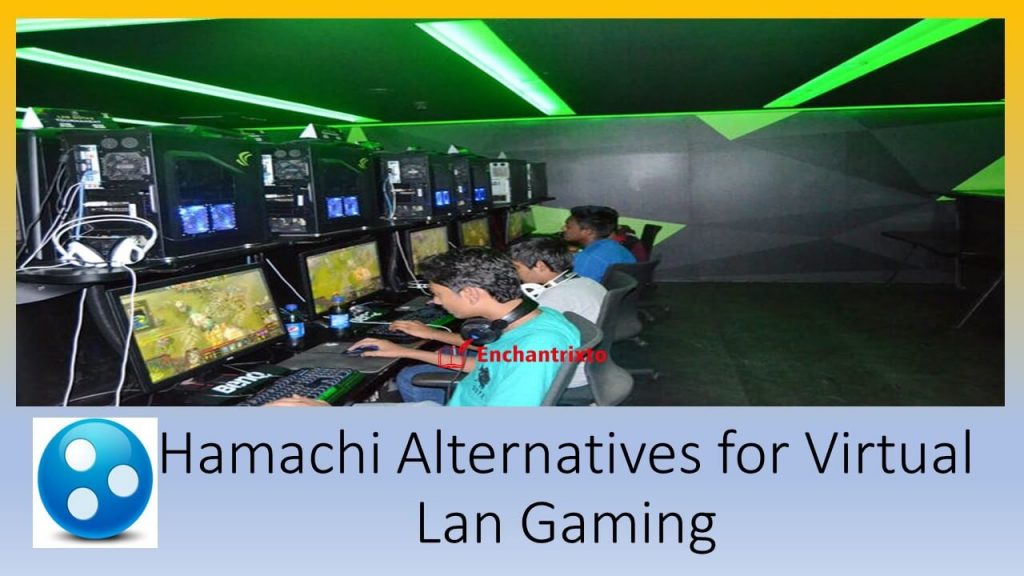 Hamachi Alternative: About Hamachi & Its Flaws
Here, we will share why Hamachi alternatives are very much needed for VPN users. Hamachi is a virtual LAN connector that establishes a LAN connection over the Internet. It makes a connection between the user's computer to the other PCs using LAN.
But Hamachi VPN has its driver-related issues. For paid Hamachi users, it runs in the background on computers generally. Previously, this feature was available to all Hamachi users but became restricted to non-paid users. Hence, the need for a Hamachi Alternative.
Is LogMein Hamachi Safe?
Hamachi VPN uses AES 256-bit encryption to protect data. However, there is a risk of breach of sensitive data. The security risks are common to all VPNs due to exposed services on remote machines. Behind a Firewall, no one can access it. Thus, one needs Logmein Hamachi Alternatives.
We think looking for alternatives to Hamachi is completely fine to enjoy maximum benefits. And we are sure even GameRanger users will be looking for GameRanger alternatives or ZeroTier Alternatives.
Though Hamachi has stated that it uses strong and industry-level algorithms to secure the data authentication. But the security isn't guaranteed. Hence the need for Hamachi alternatives.
There are a number of errors present in the documentation of existing client-server protocol. It was confirmed by the vendor and the pending corrections weren't confirmed yet. Hence, users are searching for the best alternatives to Hamachi VPN.
Due to facing a lot of lags and latency spikes the user can't get the real gaming experience. In such a case, we need to spot better and effective Hamachi alternatives. We from Enchantrixto Tech have listed the top 10 Hamachi alternatives and describe them one by one in my article. You can choose the best alternative to Hamachi easily.
The Best Hamachi Alternatives in 2021: Top 10 Options
Check the 10 Hamachi Alternatives to get rid of the features of Hamachi VPN like 5 member limited connections including the host system, and the other frustrating problems like driver issues, gaming lag, 100ms+ ping. An alternative to Hamachi will offer great gaming performance.
1) ZeroTier – Hamachi Alternatives
Although the name of ZeroTier might be new for you, it is a good Hamachi alternative that creates a private virtual LAN. It is a software like Hamachi that supports all types of operating systems like Android, iOS, Windows, Mac OS, and Linux. As an Open Source Software, ZeroTier is providing free Android and iOS apps.
The alternative to Hamachi VPN is delivering the capabilities of VPNs, SDN, and SD-WAN via a single system. This software like Hamachi is very easy to use, it doesn't need any port forwarding. Hence, it is one of the best alternatives to Hamachi.
The user will also get the support of a massive community because of being an Open Source. The user can buy the subscription pack to enjoy the extra help, and other benefits too.
ZeroTier as a Hamachi VPN alternative provides low ping, simple user-interface, and works extraordinarily in case of gaming as well as other VLAN features. This virtual LAN creator is one of the most straightforward and sophisticated.
Hamachi Alternative Price:
It is free to all for normal use.
For Professionals, the Plan is 49 dollar per month.
2) Alternative to Hamachi – Evolve
Evolve, as software like Hamachi, has the fastest-growing virtual LAN for gaming as the most exciting project of Virtual LAN Gaming. Evolve has become the primary choice as one of the Logmein Hamachi alternatives for many gamers. With the extra tunneling drivers and network adapters, Evolve has enhanced communication like Hamachi VPN.
Evolve features a rich overlay to work with thousand numbers of games and follows a Steam-like approach. The partnership of team Evolve and Green Man Gaming offers the user to purchase from the clients of Evolve in the game.
Usually Evolve features party mode and matchmaking. Now, with the all new upcoming version, Evolve 2.0 offers an integrated live streaming on the social media platforms like Facebook, YouTube, and Twitch. Also, Evolve has provided text and voice chat to their friends. Hence, it is a good Hamachi alternative.
Price of this Hamachi Alternative:
It is free to all users for normal use.
For premium uses, the user has to pay 4 dollars per month for this best alternative to Hamachi.
3) Hamachi Alternatives: GameRanger
GameRanger is another alternative to Hamachi and one of the most trusty as well as worthy virtual LAN gaming for the users. GameRanger offers a number of features which are literally unmatched at the level of security and stability provided by other competitors.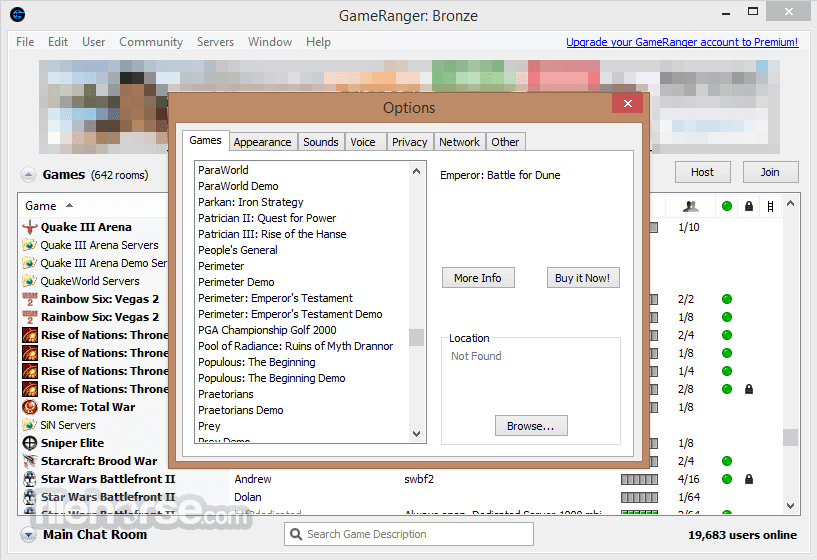 Where various drivers are utilized by other Virtual LAN gaming software for emulating LAN gaming, GameRanger as software like Hamachi does the emulation internally. The user will get high security with very low pings in terms of benefits. Thus, it is one of the best Hamachi alternatives.
The only drawback of GameRanger is that it works with its shortlisted games whereas Hamachi is used to play all types of LAN games over the Internet. By adding clients GameRanger supports the same. No one can find a simple alternative like GameRanger if it supports the game. We can also say Hamachi is one of best Gameranger alternative.
Price of this Hamachi Alternative:
This Hamachi alternative is free for all users to use normally.
Silver Membership costs 19.95 dollars per year.
Gold Membership costs 39.95 dollars per year.
4) NetOverNet – Alternative to Hamachi
NetOverNet delivers an essential solution to host private gaming sessions by creating a Virtual LAN. This simple and powerful alternative to Hamachi helps to connect multiple devices over the Internet.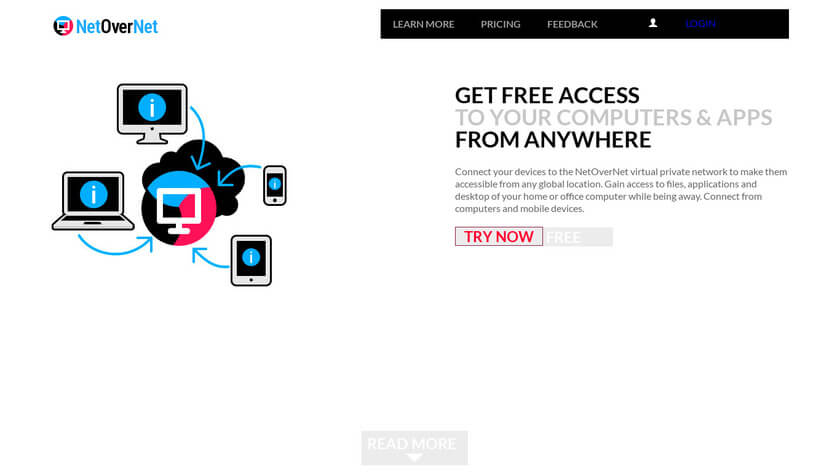 NetOverNet is one of the most efficient software for gaming mentioned in the list of Hamachi alternatives. And, this Hamachi alternative is also a simple VPN emulator for creating a user's VPN for gaming.
The users will get a maximum 16 number of clients only when they will purchase the advanced plan. NetOverNet works quite well in case of hosting the private LAN gaming sessions. Although it doesn't work as a public sharing.
NetOverNet – Hamachi Alternative Price:
This Hamachi alternative is free for all users to use normally.
Charges for basic use is 5 dollar per month
And the charges for advanced users are 10 dollars per month.
5) Wippien – Logmein Hamachi Alternative
There are some gamers who don't want to install massive software on their system to improve their gaming experience, Wippien is for them. The Hamachi vpn alternative uses the WeOnlyDo-wodVPN component to establish a Peer to Peer VPN connection with each of the clients.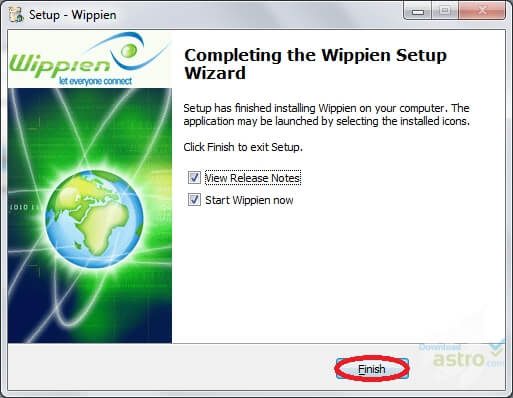 The app is free for all and also an open-source Hamachi alternative. This software works well with both the Gmail and Jabber accounts. The user can register only by using these two email services.
This alternative to hamachi doesn't support other services. Wippien can be used by the user directly in any multiplayer game. The size of Wippien is just 2 MB. So, it is one of the lightest VPN creators as well as an alternative to Hamachi.
Price:
As this Hamachi Alternative is an Open Source vpn, it is free for all users.
6) Alternative to Hamachi – FreeLAN Hamachi Alternative
FreeLAN, which is a generic VPN creator, is one of the most familiar software to many of the users. For creating a user's VPN, FreeLAN is the most famous, simple, and open-source software.
The user can customize and adjust FreeLAN according to their preferences on various topologies such as client-server, peer-to-peer, and hybrid for creating a network. As the software doesn't offer GUI, so users need to manually configure the configuration files of FreeLAN to run the application.
This alternative to Hamachi allows the user to play Games lag free. Also, the game ping doesn't get high suddenly during gameplay. Moreover, FreeLAN as a Hamachi alternative works as a free open-source extensive and straightforward VPN creator.
Price of this Hamachi Alternative:
This Hamachi VPN alternative is free for all users to use normally.
7) Hamachi Alternatives: SoftEther
"Software Ethernet" in short SoftEther is a free multi-protocol VPN software that is easy to use and most powerful. SoftEther as Hamachi Alternative is totally open-source like ZeroTier and supports Windows, Linux, Mac, FreeBSD, and Solaris.
This alternative to Hamachi also offers excellent features with flexibility. SoftEther has a pretty interface used as a resistance to highly-restricted Firewall by using SSL-VPN Tunneling on HTTPS, and passes through NATs and Firewall. SoftEther is a jam-packed VPN solution that offers AES 256-bit and RSA 4096-bit encryptions.
Price:
This alternative to Hamachi is free for all users to use normally.
8) Alternative to Hamachi: Radmin VPN
Radmin VPN is the best software as a Hamachi alternative for creating virtual VPNs of the user. There is no limit of the number of players to join in a server using Radmin VPN. A lot of players use Radmin VPN for providing high speed to play their favourite games through LAN.
This Hamachi alternative delivers up to 100Mbps speed. SoftEther also offers to the user a secure VPN tunnel. Encryption makes the connection private and safe.
Radmin VPN is free software with an easy setup process. This Hamachi VPN alternative manages the home tech as well as IT Pros and an excellent alternative option of Hamachi.
Radmin – Hamachi Alternative Price:
This is a free Hamachi Alternative for all users who want to use normally.
9) Hamachi Alternatives – P2P VPN
P2P VPN as Hamachi alternative offers a simple user-interface with basic features. It creates the VPN in an effective manner for the primary users. The open-source VPN is written in Java, so that it can be compatible with older systems too.
In 2010, this alternative to Hamachi got the last update. So that the user may face some bug issues and resort to some other services. P2P VPN, a free software, is recommended to play Counter-Strike 1.6, and other old-school games that are based on VPN.
Price of this Hamachi Alternative:
This free Hamachi alternative is available for users who want to use normally.
10) Alternative to Hamachi: Port Forwarding
Port Forwarding is a method of Virtual LAN simulation which is popular for playing a multiplayer game. The processing of Port Forwarding can be dull and differs from one router to another. Many manufacturers have found a solution on how they do port forwarding by their firmware.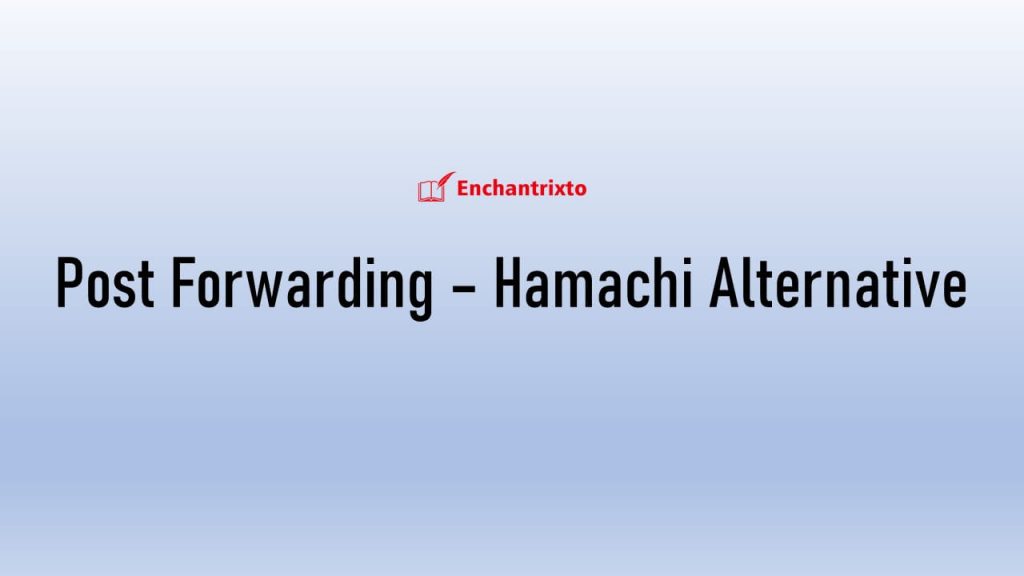 Generally, the following IP address 192.168.1.1 or 192.168.1.2 has to be entered in the settings of the router by the user for moving forward to the port forwarding process. Keep in mind that each game has its separate settings for port forwarding. This process is another Hamachi Alternative.
It is the only reason behind the less use of this method by the users. But the Port forwarding method as an alternative to Hamachi provides better connection speed to the user and allows unlimited number of users to join the server on the Virtual LAN.
Price:
Free for all users to use normally.
For paid service, you have to pay 30 – 99 dollars.
Hamachi Alternative: My Opinion
So, that's all for now. We have made sure that you don't have to worry about choosing the best Hamachi alternatives after reading this article. There are so many alternatives to Hamachi that you might be getting confused.
So in this comprehensive information, we at Enchantrixto Tech have provided the best Hamachi alternative according to their user experience and features.
At last, if you are being helpful with this article then please share this to help your fellow gamers and others who are searching for the best Hamachi alternative. Feel free to ask any questions or give any suggestions regarding the alternative to Hamachi and make a comment in the comment section.
Read More ????
Hamachi Alternative – Frequently Used Questions (FUQs)
1) Is Hamachi VPN good and flawless?
Hamachi VPN is really good but it is not flawless. You may face driver as well security features. Hence, the need for a Hamachi alternative.
2) Does Hamachi work with Minecraft?
Yes, Hamachi can be used to play Minecraft LAN. At first, you have to download Hamachi VPN. Then create a "server" on it. Now, send the IP address and the password of that server to join your friends and play together. After this, you will be able to join all of your friends or players in your group through Hamachi Minecraft server using Hamachi software.
3) How do you fix Minecraft with Hamachi?

The powerful Hamachi VPN is built for an average user. Due to some issues, many people are sharing their experiences about being unable to create a Hamachi Minecraft server using Hamachi and inviting their friends to join it. So, take a look at the solutions of fixing the Hamachi Minecraft server with Hamachi.
1.  Hamachi login details – Instead of doing copy-paste, if you try to enter the ID and Password of the server, there might be a chance of error as the user uses some special characters. So that entering the wrong login details leads to an error. Make sure about sharing the correct login details and do copy-paste instead of typing in case of login.
2.  No more than 5 computers – For the free version of Hamachi maximum 5 number of players can join a server. By port forwarding, you can bypass the limit of the Hamachi Minecraft server. Another way you can bypass the limit of the server, i.e. upgrade to the paid version.
The Standard plan costs 49 dollars per year that supports up to 32 players. You need to pay 199 dollars per year for the Premium plan which supports up to 256 players. And for supporting unlimited players, the user has to pay 299 dollars per year for accessing Multi-Network.
3.  Use the latest version – Always try to use the latest version of the application as well as the game. And, the user and their friends should have the same version of Hamachi, so keep it in mind. The upgraded latest version will bring new features and the patch fixes the bugs to improve functionality.
4.  Use the IPv4 addresses – If your IP address gets wrong, then you need to get an IPv4 address instead of IPv6. To get the right address go to the command prompt and write "find the IPv4 address." You can see the IPv4 address. Just copy it and paste it inside the 'server properties' file after the 'server-ip=' line without giving any spaces. Then save it as 'server properties' of the installed Minecraft.
5.  Firewall – During the installation of Minecraft, the user needs to allow a file in the Windows Firewall named 'jawaw.exe' to enable the game. To do so you have to open the Control Panel and search the Firewall.
Then click on Allow the app through Windows Firewall. After that click on the 'Change Settings' to enter the 'jawaw.exe' file both in the Public and Private column. In case of using any Antivirus, you have to allow it in the same way as the antivirus app. Hamachi Minecraft shouldn't be blocked from anywhere.
6.  No Mods – A lot of players use Mods in Minecraft to change their appearance and interaction in the game. Although it sounds cool it can because of issues and errors in LAN working.
7.  Set Network as private – During creating a new network, make it Private. To do so, open settings and click on Network and Internet. One of the above-given suggestions might resolve the error of the Hamachi Minecraft server not working with Hamachi.
4) Why can't your friend join you on the Hamachi Minecraft server?
Check whether the application version of you and your friends are matching or not. If not then use the latest and same version. Also take a look your IP address. It should be static and IPv4 not dynamic.
So, change it to static IPv4 address. And, disable the firewall not to block the Minecraft application. The following reasons can be cause of your friends not to join the Hamachi Minecraft server.
5) What are the flaws in Hamachi VPN and are the alternatives to Hamachi good and safe?
There is an additional risk of disclosure of sensitive data. The security risks are common to all VPNs due to exposed services on remote machines. Behind a Firewall no-one can access it.
But, to use the application you need to disable the Firewall, so it can be risky.
Though Hamachi VPN is stated that it uses a strong and industry level algorithms to secure the data authentication. But the security isn't guaranteed.
Hence, the need of Hamachi alternatives. The Hamachi alternatives are good and offer loads of additional features. You can definitely try them out if you love Virtual LAN Gaming.
6) Radmin VPN vs Hamachi, which is better?
If you talk about Radmin VPN vs Hamachi, obviously there are few differences. Take a look at the same below.
Radmin VPN vs Hamachi –
Hamachi Pros: You can chat with other users without having to use other software. This will enable you to chat with other players even if the game does not have one. Hamachi is available for both Linux and Mac OS.
Radmin VPN Hamachi Alternative Pros: Very low delay, real-time gaming experience, easy to use and create a gaming network, have own network for gaming, and provides a good IP address.
Radmin VPN may have a little edge over Hamachi VPN as a Hamachi Alternative. This is because of limited users with Hamachi VPN, driver issues, and gaming lag at times.
7) Zerotier vs Hamachi, which Hamachi Alternative is better?
If you talk about Zerotier vs Hamachi, Zerotier is slightly better than Hamachi with respect to flexibility and compatibility. It is a good option as Hamachi alternative. For more information check our blog.
8) Which is the best Hamachi Alternative for Minecraft?
Well, all of them are good in some ways or the other. These are – ZeroTier, GameRanger, FreeLan, Radmin, NetOverNet.
A freelance blogger and travel enthusiast!