If you are looking for an entry-level remote job, but don't know the right place to find it. Here's the list of websites for entry-level remote jobs that should help you. Let's check it out.
Many entry-level remote jobs are now accessible for folks who are just starting in their professions. Whether you're seeking customer service employment or programming work, the internet has plenty of options. This article includes a list of websites that provide a broad variety of possibilities across several industries.
Also, Read...

Complete Review on Udemy for Online Learning

Explore Prepp.in and Get Govt. Exam Guidance From the Safety of Home!
List of the Websites for Entry-Level Remote Jobs
We've compiled a list of websites for entry-level remote jobs for recent graduates or anybody looking for a flexible work schedule to kickstart their career.
LinkedIn for Finding Entry-Level Remote Jobs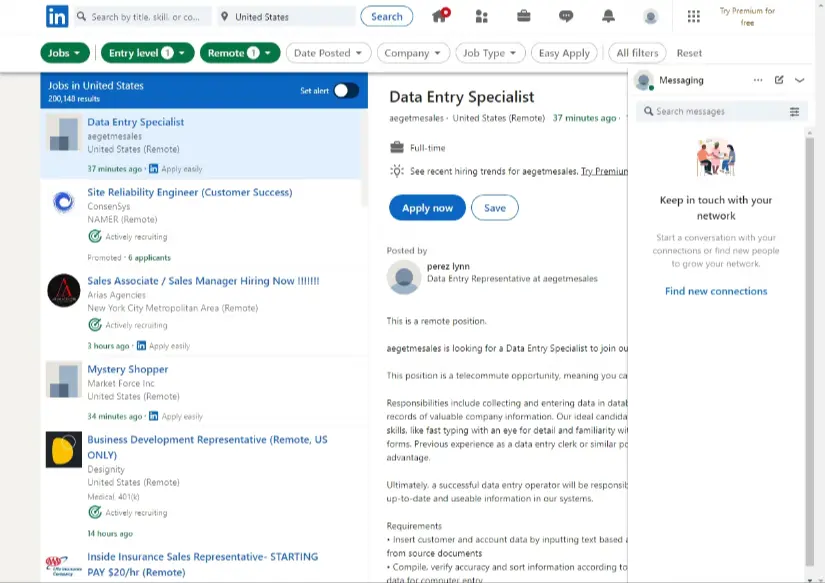 LinkedIn is a well-known website with a variety of tools for job searching and a sizable database of employment opportunities. You're likely to discover the ideal employment among the millions of job ads, many of which are remote. Additionally, it features a user-friendly interface and is simple to use.
The website makes it simpler to discover remote employment by letting you search for positions that match your interests and degree of expertise. You may look for jobs by business, keyword, or role title. Additionally, you may save positions and set up alerts to notify you when new positions that meet your criteria are listed.
LinkedIn Jobs is an excellent place to start your job search since potential employers will look at your profile and assess you based on what they see. If you have a thorough LinkedIn profile, you may have a better chance of securing remote work.
Indeed for Finding Entry-Level Remote Jobs
Indeed is a search engine that aggregates ads from job boards, corporate websites, and newspaper advertisements into a single, easy-to-use platform for finding your next job. Indeed, like LinkedIn Jobs, features an attractive layout that makes it easy to discover remote ads. You may rapidly search for jobs in your subject of study or utilize available criteria to locate the ideal job for you.
Through Indeed's filters, you may locate jobs based on various criteria, including experience level, pay range, date of posting, and more. The website provides a wide range of entry-level remote jobs, including marketing, graphic design, web development, and pretty much any other role you can imagine.
You may build a profile on Indeed and bookmark your favorite jobs for quick application in the future. You may add your CV to the website as well, which will put you at the top of the pile when a suitable chance arises. Additionally, Indeed offers templates and advice if you ever need to update your cover letter or resume.
Remote.co for Finding Entry-Level Remote Jobs
Remote.co is a website that specialised in listing remote employment. It provides a list of remote employment, tools for remote employees, and advice on living the remote work lifestyle. You may follow their blog for frequent updates on industry experts' newest career trends and thoughts.
Instead of having a list of random organizations hiring for remote work, Remote.co has developed a list of the finest companies for telecommuting based on what they consider top qualities.
The website includes resources to assist you in landing a job, such as a list of top businesses that are now recruiting globally and one-click application tools. Additionally, it offers basic company data like addresses and personnel counts.
FlexJobs for Finding Entry-Level Remote Jobs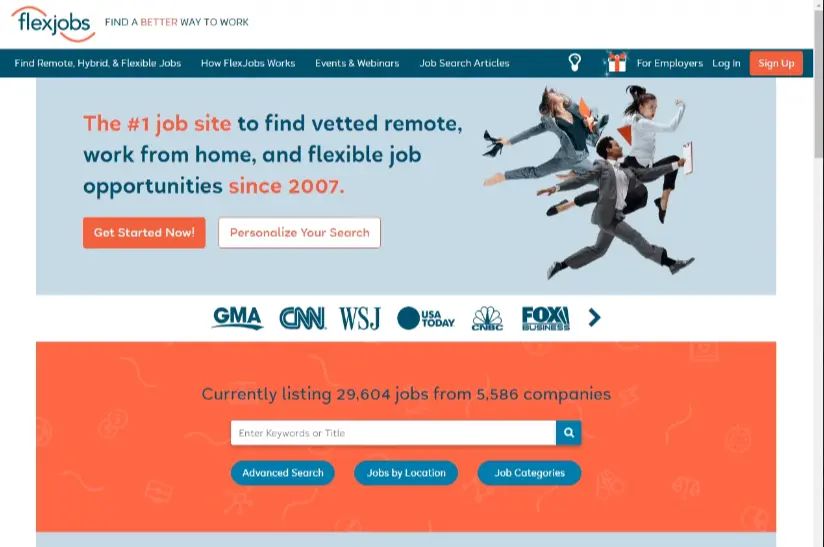 FlexJobs isn't free to use, in contrast to the other websites on our list. Freelance, part-time, and flexible full-time work are all included in their database. Job filters include kind, category, amount of experience, and others. Additionally, you have the option to apply right immediately or save a position that sounds like a good fit for later.
One of its biggest features is the vast database of meticulously structured entries on the website. Additionally, FlexJobs verifies the legitimacy of the positions.
The site has hundreds of entries in practically every field, including accountancy, web design, writing, and engineering. FlexJobs also has excellent customer service. If you need assistance locating a job or utilizing the internet, give them a call and they will gladly assist you.
AngelList for Finding Entry-Level Remote Jobs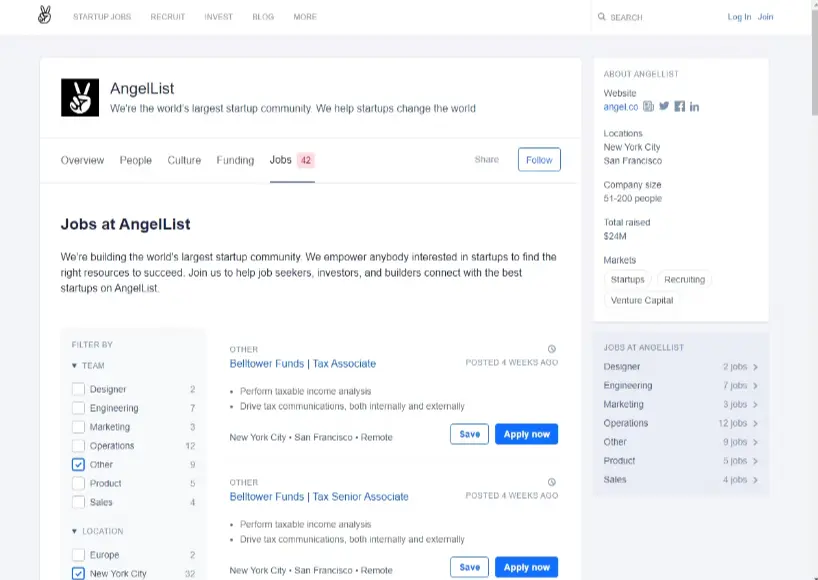 AngelList is essentially a network of investors, founders, and other startup professionals. Employees and employers can connect on the site.
AngelList is a fantastic resource for discovering entry-level employment since it allows firms to publish job postings and individuals to apply for positions. It's simple to use: just build a profile explaining your experience and skills, seek opportunities, choose the businesses you're interested in, and wait for their reply.
By using the site's advanced search, you may select jobs by area and industry and submit your application online. Software engineering, web development, and graphic design are all fields where you may find startup work. Additionally, it's among the top websites for locating freelance writing work.
Using this "fundraising platform for entrepreneurs, investors, and talent," people may present their talents and establish their brands. Therefore, it's a fantastic option for people seeking their next co-founder.
CollegeGrad for Finding Entry-Level Remote Jobs
CollegeGrad allows college students and recent grads to look for entry-level employment by region and scheduling preference. You may also complete your profile to assist recruiters in finding you.
Entry-level positions are available in a variety of areas, including sales, engineering, education, and finance. Begin by scanning the site's job listings for positions that are a suitable fit. You may limit your selections by searching for jobs by keywords or region.
Dice for Finding Entry-Level Remote Jobs
Technology employers and job seekers may connect through the career center Dice.com. The website emphasizes mid-level and senior-level professionals, although it also lists entry-level professional positions.
There are hundreds of job postings on the website, which you may search by region, keyword, and job title. Data analysts, programmers, and consultants are among the occupations available on Dice at the entry-level.
You may add a searchable resume to Dice, making it easier for companies to contact you. The website also holds career events and provides materials to assist job seekers in honing their talents. The organization also includes industry research papers to assist individuals who are considering a career transition or investigating which technologies are on the rise.
Wrapping Up
Working remotely allows individuals to do their duties in a setting that may be more comfortable for them while saving businesses money on expenses like rent and rates. For young professionals wishing to get their foot in the door and obtain some job experience, this might be a terrific option.
We hope you will be helpful with this list of websites for entry-level jobs. Please share it with others, so that every graduate can find a remote job easily. Don't forget to like and post your questions in the comments. Also, share your thoughts regarding these remote job-finding sites.
Frequently Asked Questions
1) Are remote jobs good?
Budget-conscious people might consider working remotely. Remote employees who work full-time annually save more than $4,000. Additionally, they make an average of $4,000 more.
Furthermore, 75% of workers who work remotely earn at least $65,000 annually, placing them in the highest 80% of all workers, whether they are located at home or in an office.
2) Is it easy to get a remote job?
Finding remote work is not difficult, but it is not the same as finding traditional employment. Some employment sites may be congested.
But if you're patient and prepared to always improve your talents, you'll have your chance to shine. You'll probably get very little (good) feedback at first.
3) How can I make money from home?
Freelancing in any field—copywriting, translation, graphic design, video editing, software development, or marketing—is a simple way to earn money. Numerous websites, both domestic and foreign, give teenagers the chance to get compensated for their talents.
4) Why is it so hard to get a remote position?
Finding a remote job is challenging due to competition. You will be competing with individuals from all around the world, not just locals.
5) How difficult is it to find a job right now?
As we get past the disruptive Covid-19-related constraints, other employment problems have surfaced. With a record number of job opportunities and a vast pool of skilled individuals prepared to accept employment offers, many firms are struggling to fill jobs.