Is the Oneodio Pro 10 a great choice as stereo headphones (wired) at 2,050 INR (28 USD)? Well, this honest Oneodio Pro 10 review is likely to answer the question. The headphone is not only cost-effective but offers amazingly crystal-clear music.
I purchased this amazing product (red in colour) on Amazon for just under 27 USD. The over-ear headset also comes with thumping and deep bass. I will share an honest review so that you can consider it as an option based on your preferences.
Purchase Attractive Stereo Headphones from the link here 👇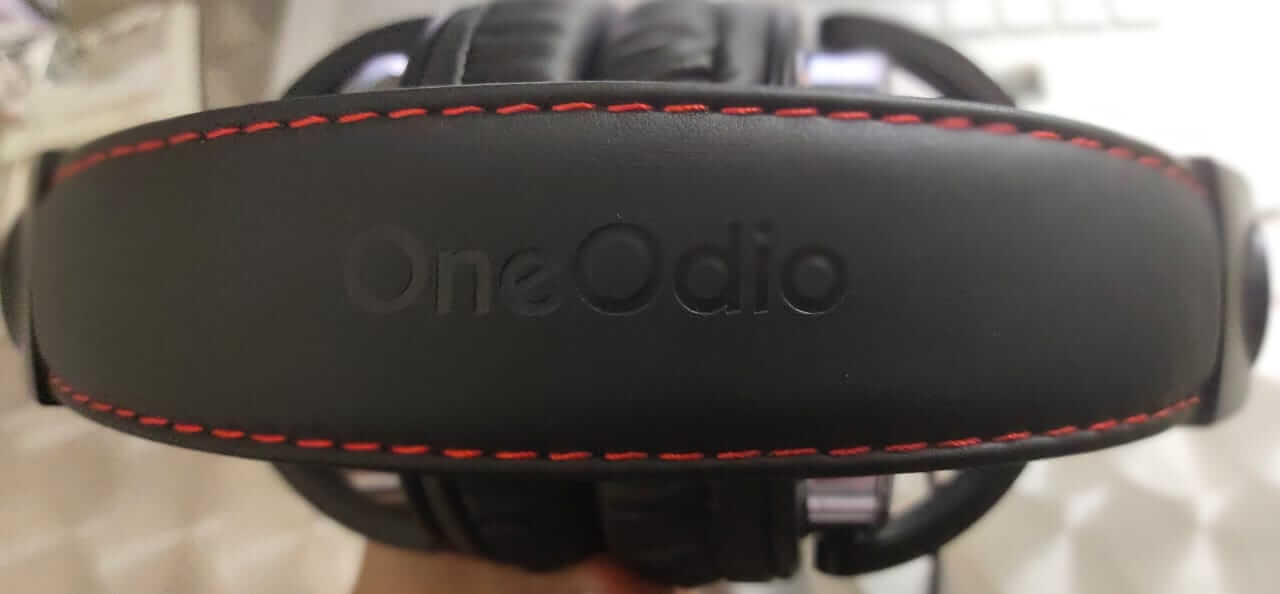 To receive Daily Updates on such useful information, join our Facebook Group and Telegram Channel here 👇

Facebook Page: https://www.facebook.com/enchantrixto

Facebook Group: https://www.facebook.com/groups/enchantrixto

Telegram Channel: https://t.me/enchantrixto
My OneOdio Pro 10 Review – About the Brand, Key Features, and Cons
In this Oneodio Pro 10 review, I will first start informing you about the brand, Key Features, 1 or 2 drawbacks (Which I am sure even some of the premium stereo headphones have), OneOndio Pro 10 vs Pro 50, and Oneodio Pro 10 vs A71.
For a much detailed comparison about various wired headphones from this company, also check here 👇

Studio Pro 50 vs Pro 30 vs Pro 10: Compare to Decide Better!
The Studio Pro 10 wired headset is a brand of OneOdio Technology. The focus of the company – "The Power of Music". Hence, the firm strives hard to offer music lovers the best music experience across the world through its products.
The company strives to design high-end stereo headphones at a reasonable and affordable price for music lovers on a tight budget. Its product, the Studio Pro 10 is one of the best-selling headphones on Amazon.
Oneodio Pro 10 Stereo Headphones: Key Features
Well, I was inclined towards getting a Boat 600 wireless headset or the Sony WF – XB700 TWS earbuds initially. But after knowing about the Oneodio Pro 10 features and its price in India, I bought this product from Amazon.
The headset comes loaded with features that will keep you enthralled. So, in this part of the review, there will be all the information on the product.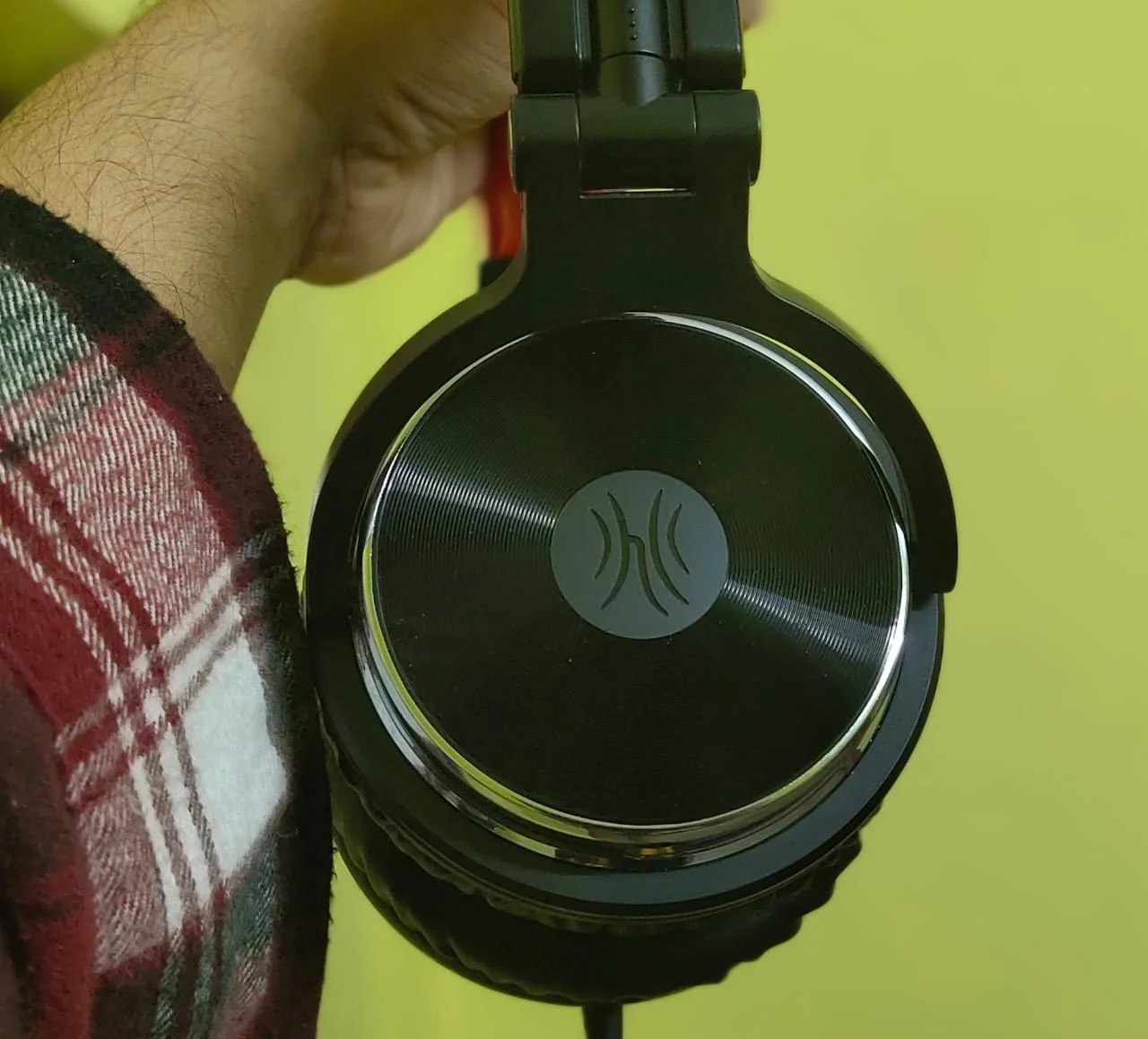 1) An Immersive Audio: While buying this wired headset, I was concerned about the quality of the sound on offer. But after using the product for three months, I am impressed with its clear sound and vocals with deep bass.
This is one of the stereo headphones which sports a large 50 mm neodymium driver for an immersive music experience. It has an impedance of 32 Ohms, Frequency Response of 20Hz-20KHz, max power of 30 mW, and sensitivity – 110dB +- 3dB. You will feel the treble as balanced. Overall, the sound quality is as good as some of the premium stereo headphones.
PS – But while playing certain songs, the sound quality of this headset may not be as great as the rest of the times.
Also, the inline microphone on the audio cable of this wired headset ensures to receive and disconnect calls. The call quality during normal and video calls is also good on these headphones. The noise cancellation feature is ok as well.
The sound quality on this wired headset is equally good while watching movies, and videos. And guess what, OneOdio Studio Pro 10 for gaming is also a feasible option.
You can play Video Games on Mobile or PC. You can listen to heavy metal, Punjabi songs, and Pop songs with deep bass. You can also listen to trance music or spiritual songs or Hanuman Chalisa hymns or other soothing things.
2) Google Assistant Feature: The headphone is also equipped with this feature. By long pressing the multipurpose button on the audio cable you can use the Goggle Assistant Feature. This makes one of the most versatile of all stereo headphones on a budget.
3) Minimum usage of your device: Well, the multipurpose button on the audio cable of the headphones can help you play or pause, move on to the next or previous song with ease. You can use them while receiving calls (single tap to receive and disconnect, long press to hold) too. This helps you to use your mobile or any other device as less as possible.
4) Good Build Quality for Max Comfort: Another, impressive feature of the Pro 10 is its near-premium build quality. See, under 2K bucks, it is hard to have excellent build quality or steel or aluminum finish in such wired stereo headphones. But here you will get good build quality even at a low budget.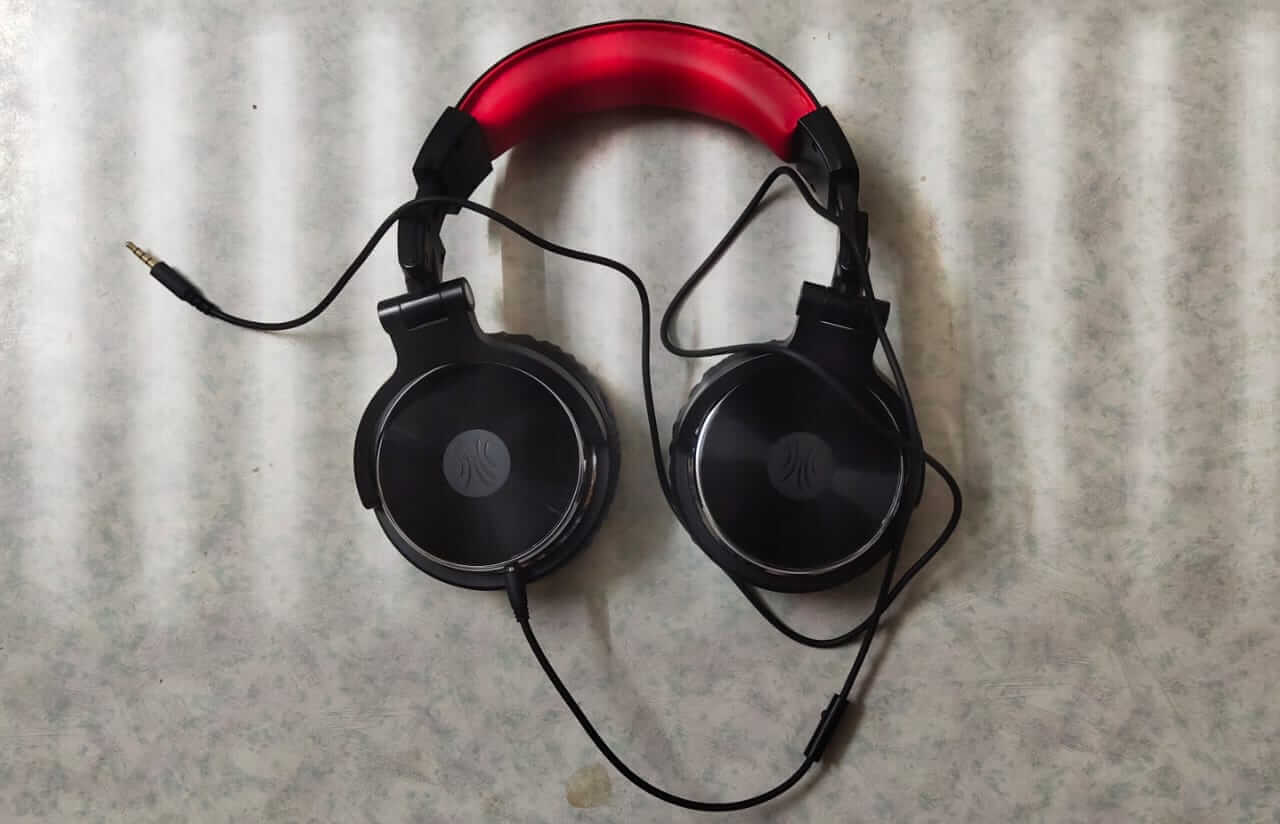 OneOdio Pro 10 has a premium quality plastic body, but the external body of the ear cups has a glossy steel finish. The headband is adjustable and has some metal finish on it.
Also, the headband is flexible and can be twisted. The Studio Pro-10 Over-Ear Headphone is foldable even with its large earcups, and you can carry it with you while travelling.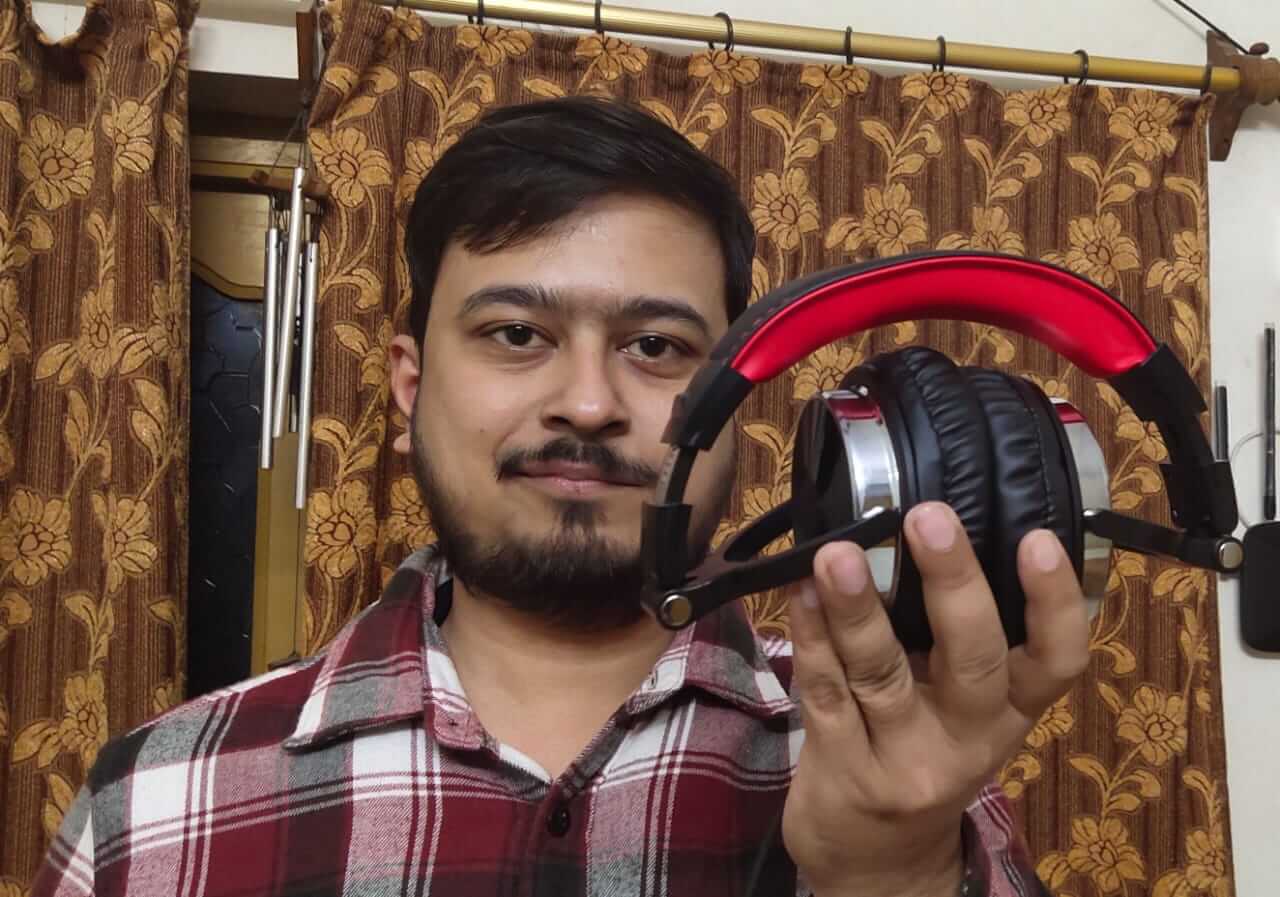 Inside the earcups, you will experience premium leather which will offer comfort for a long duration. Also, you will find soft padding on the inner side of the headband. The soft padding on this product will provide ultimate comfort. Hence, I will rate it among the best stereo headphones under budget from a comfort point.
You can wear these wired stereo headphones for 45 mins continuously (Longer after extending headband). After that, hang them around your neck and rest your head on the soft padding to relax.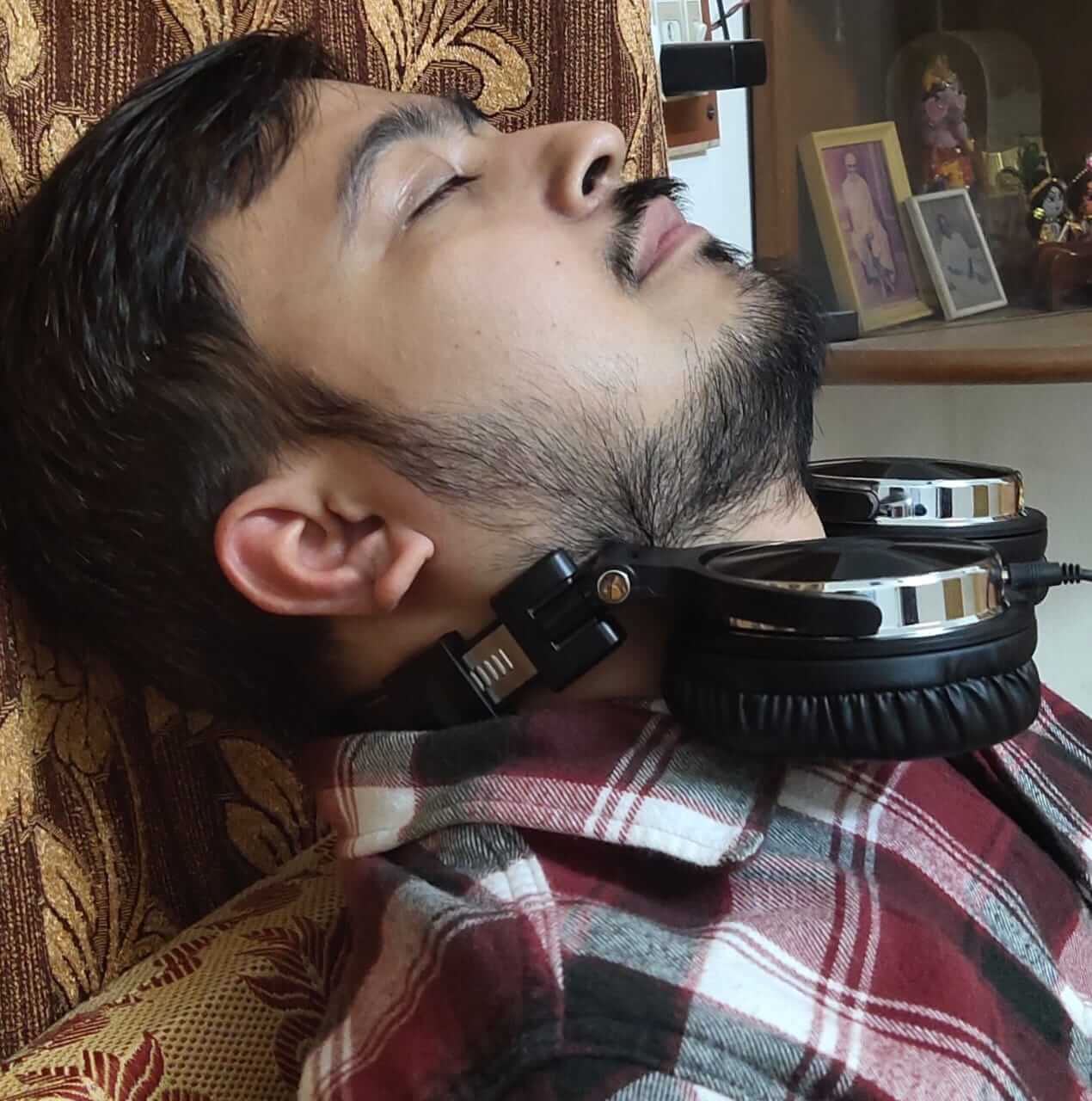 PS – You may feel a clamping force of the headband on Oneodio Studio Pro 10. One trick is to extend the headband a bit which will reduce the clamping force.
5) An Adapter Free Stereo Headphone: Another advantage of using this wired headset is that you will not need any adapter. The product comes with a 9.8-foot DJ-style cord that can access your TV or stereo easily from your favourite seating position. This is why it is among the best stereo headphones under budget.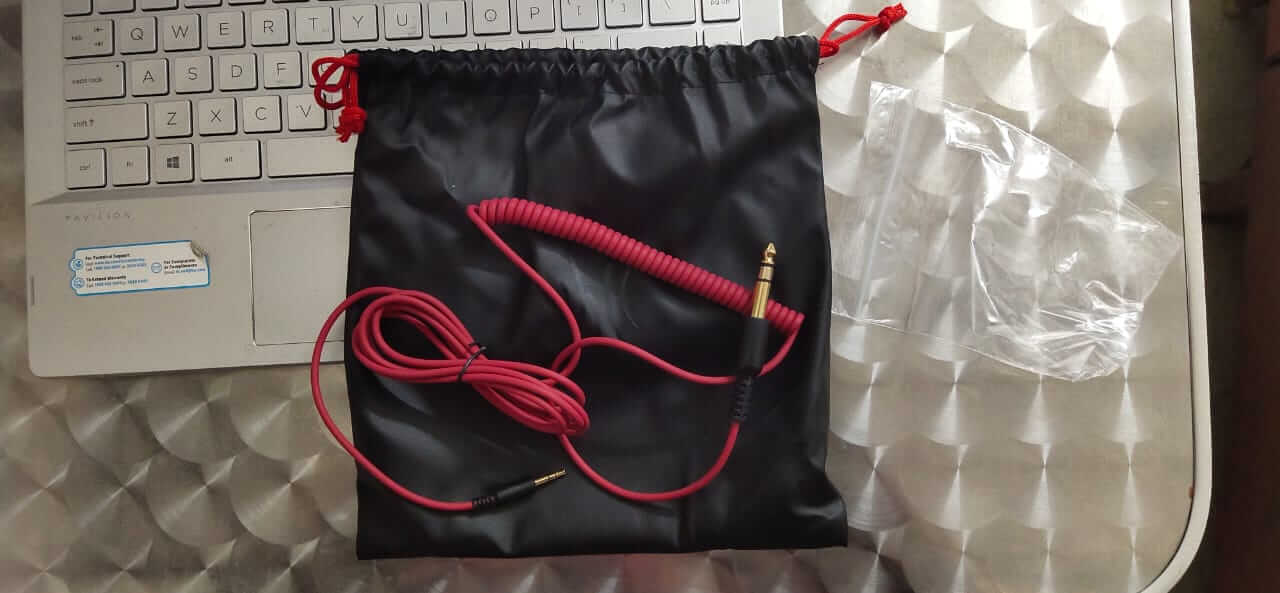 Oneodio Pro 10 wired DJ Monitor Headphone also comes with a standard 6.35mm plug and 3.5mm audio cable. Both the DJ cord and audio cable (with mic) are detachable, which increases the ease of using this headphone. Hence, it is amongst the best DJ monitor headphones at 2,000 INR.
Are You Convinced? Then Buy Pro-10 Stereo Wired Headset, click on the link 👇
If not yet convinced, check more on this DJ Monitor Headphone below👇
6) Single Side Monitoring: This feature makes it among the most sought-after stereo headphones (Wired) in this budget range. You can easily swivel the ear cups of the headset up to 90° for single-ear monitoring. This eases the usability of the product and ensures a fatigue-free music experience.
7) Studio Pro 10 Stereo Headphones can be used during Light Workout: Many opines that wired headphones may not be suitable for workouts. But Studio Pro 10 DJ headphones sit easily and comfortably on your head over the ear. The audio cable is of good quality with one multipurpose button and mic which reduces the use of your iPod or mobile phone.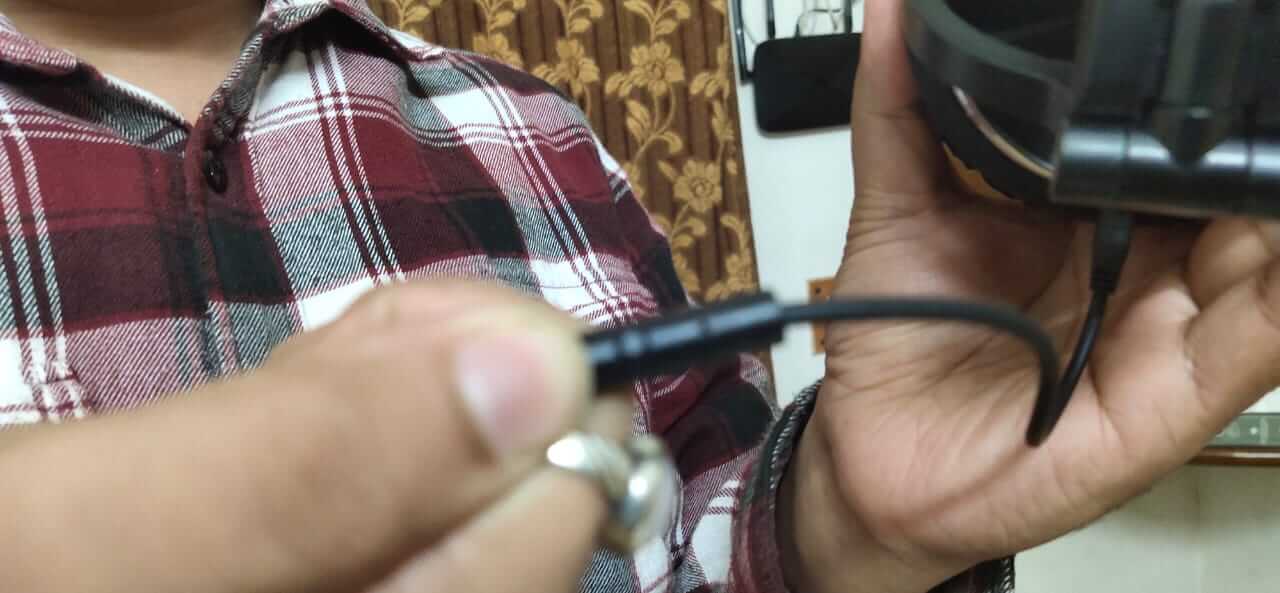 With just single tap on the button you can play and pause the music, with double tap at a time you can move on to next track and with triple tap to the previous one. Hence, it is one of the stereo headphones which can be used during light exercises at least.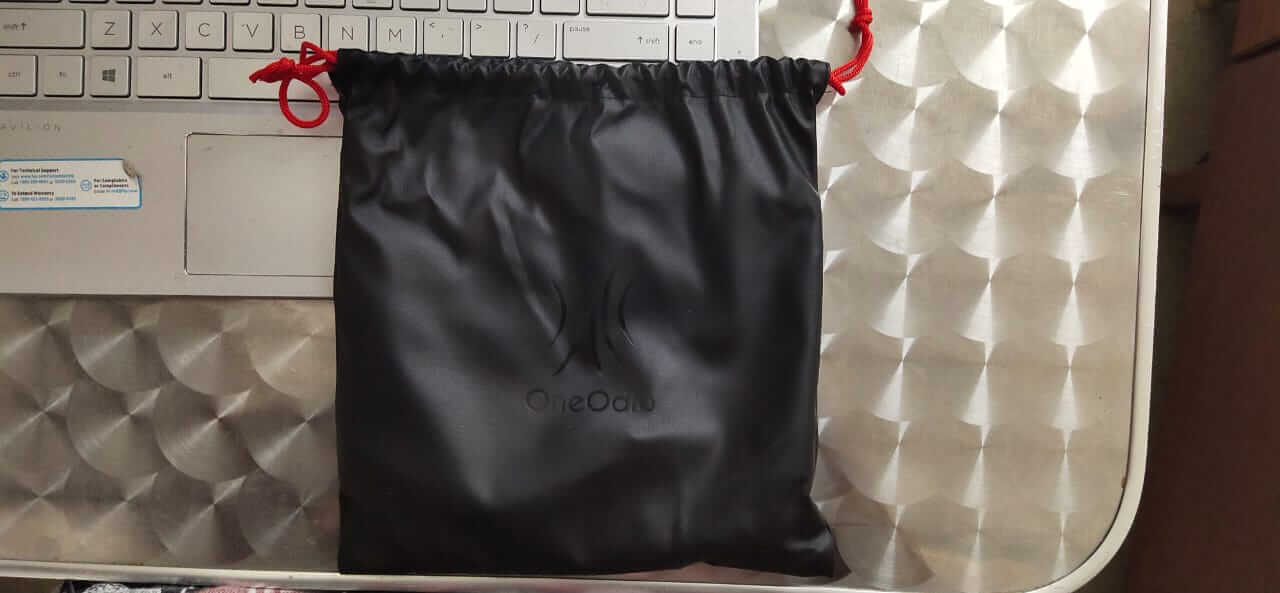 8) Compatible with almost anything: The product is compatible with most devices. My Motorola Revou Smart Tv does not have a headphone slot, so, couldn't connect the headset with the TV.
Apart from that, you can connect these Over-Ear Stereo Headphones to Android phones or iPads or iPods or iPhones, Laptops, and many other audio devices.
9) Share port Technology – This wired headset comes equipped with this technology which enables you to connect multiple headphones to one device using the empty 3.5 mm socket.
10) Is OneOdio Pro-10 good for mixing? – This is a DJ Monitoring Wired Stereo Headphone. Hence, users can use these headphones for mixing. The Pro 50 is slightly better though because of superior sound quality.
The reason why I rate these DJ monitor headphones among the best is because of their sound quality, strong durability, maximum comfort, and good flexibility while using them. These are the headphones you've been looking for.
OneOdio Studio Pro 10 Over-Ear Headphone Drawbacks
Well, after using the headphone for 3 months, few tradeoffs I can find. These drawbacks may not be that serious to you, but I thought of sharing facts with you which I felt while using it. Check them below:
Sound Quality – If the sound quality is the strong point of OneOdio Pro 10 Over-Ear Headphone, then it is also its weak point. Yes, it's true the bass and clarity may not be optimum for a few songs. The sound cancellation feature on this headset is also average. But overall, the deep bass, treble, and vocals are really good for this price range.
Clamping Force – I felt a slight discomfort after wearing this wired headset for 1 hour. But again the solution is to adjust the headband to ease off the clamping force. But some will prefer their headphones to sit tight on their head to use them during the workout.
Audio Cable – Along with the clamping force, the quality of the audio cable is a slight disappointment according to me. The quality of the audio cable could have been better on these wired stereo headphones.
No Volume Rocker – An additional volume rocker on the audio cable or on the headphone could have been useful. You would not have required to control the volume each time from your device.
Not for wireless lovers – Many may have questions like – Is the OneOdio pro 10 wireless? If you are for wireless headsets, then this Over-Ear Headphone is not for you.
Not Water Proof – Yes, if you are expecting everything within 2K bucks, then it is like asking for too much right! This wired stereo headphone is not waterproof, but it does not matter too much to me. Who will plug into the headphones with water around it?
Oneodio Pro 10 price in India
The headphone is available on the official website as well as on Amazon and Flipkart. The Oneodio Pro 10 price in India is given below:
Oneodio Pro 10 Amazon Price – 2,050 to 2,200 INR (Based on Color). I purchased the red coloured headset. Please note that there is another model priced at 3,200 – 3,800 INR. That is the Pro 50 model.
Oneodio Pro 10 Flipkart Price – 2,050 to 2,200 INR (Based on Color).
See, the prices will vary. So, please check the official price on https://oneodio.in/, and then compare with the Oneodio Pro 10 Amazon prices and Pro 10 Flipkart prices.
OneOdio Pro-10 Over-Ear Headphone – What's inside the box?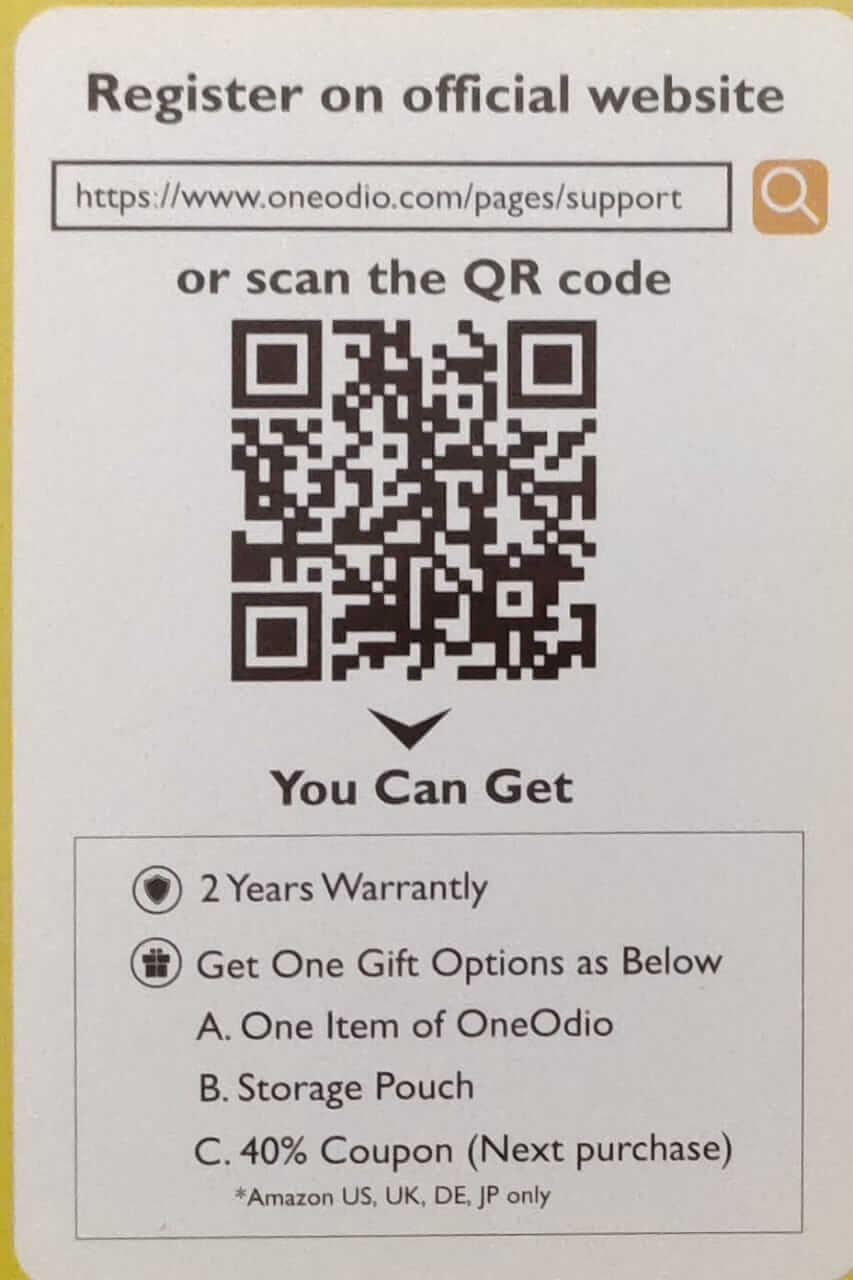 The beautiful DJ Monitor stereo headphone
3.5 mm audio cable
6.35 mm DJ cable
User Manual
2 years Warranty Card
Free Gift Card (Free Gift in exchange of writing a review on Amazon)
Carry Pouch
OneOdio Pro 10 After 7 Months
My wired headphone is holding up well. The audio quality in this stereo headphone good so is the build quality. But, as the Studio Pro 10 is slightly bulky, wearing this wired headset for long hours during summers may not be feasible. Also, it sweats a lot during the summers, which is also an issue while using the Studio Pro 10 Over-Ear Headphone.
Oneodio Pro 10 vs Oneodio Pro 30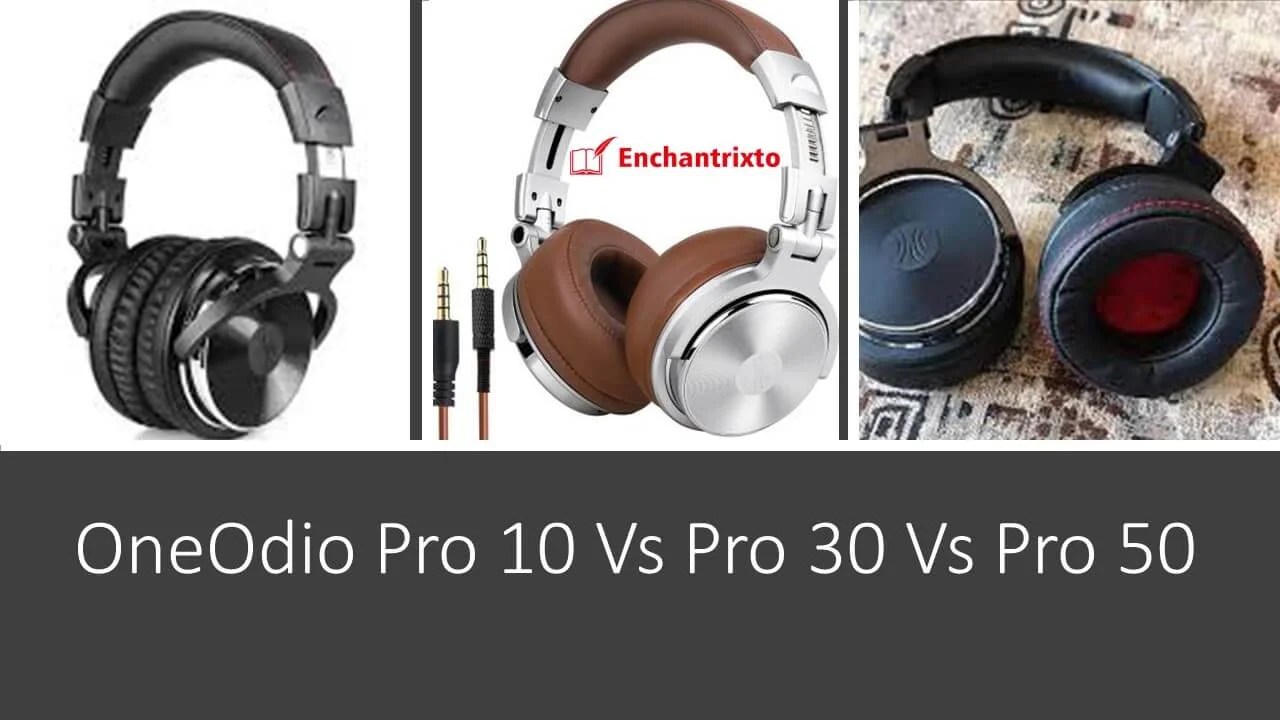 In my opinion, Pro-30 is a good choice with memory foam. Having said that a similar product i.e. Pro 10 is available at 2,050 INR (Approx).
Oneodio Pro 10 vs Pro 50
Well, if we talk about OneOdio Pro 10 vs Pro 50, then the audio quality of both these headphones is similar. But the major difference comes in build quality. OneOdio Pro 50 is much more premium than its predecessor.
A difference of about 1,000 – 1,500 INR does offer much softer cushiony ear cups and a sturdy and premium finish. The packaging is also much better in Pro 50 and it is more suitable for DJ Monitoring Purpose because of the deeper bass, and much clearer vocals, mids, and tones.
OneOdio Pro 10 vs A71
If you talk about OneOdio Pro 10 vs A71, then I will say that the major differences are in both of their designs, mic, diver size, and obviously price.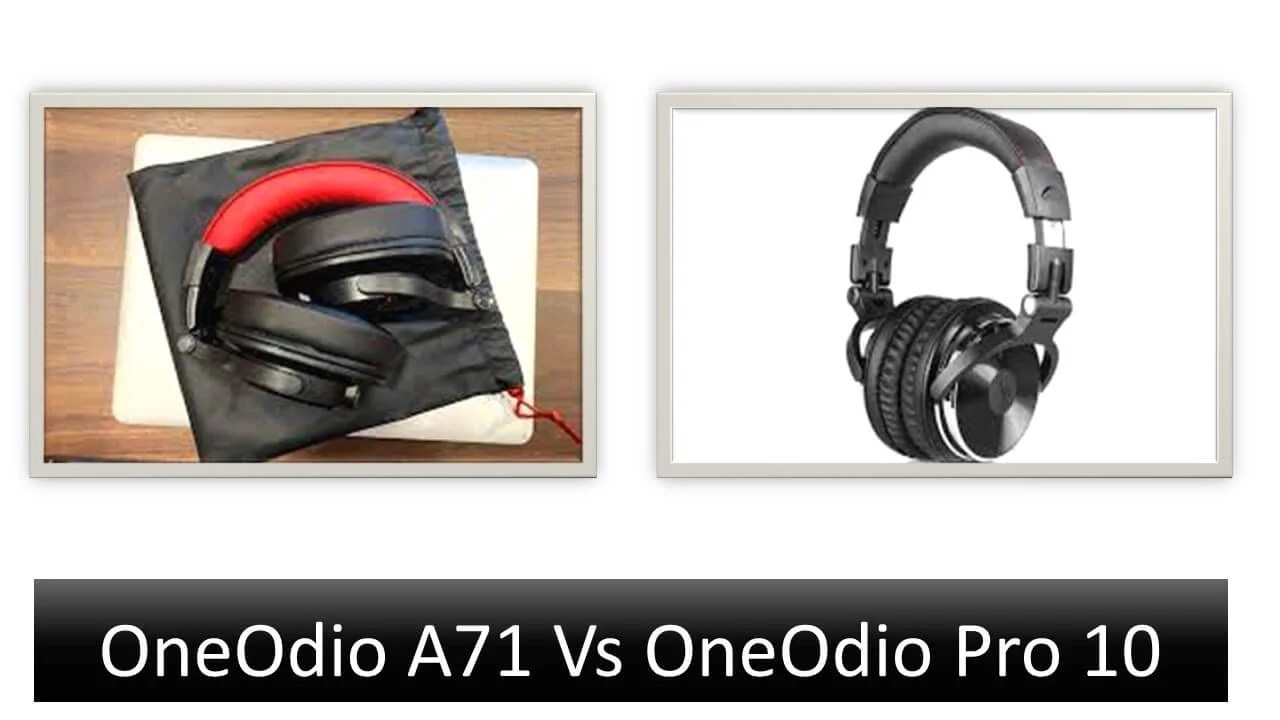 The headband of the OneOdio A71 DJ Monitor Wired Headset is similar in design to that of Pro 10 stereo headphones.
But the earcups on the A71 is oval-shaped, hence I am sure that this headphone will be slightly more comfortable to wear than the Pro 10 Over-Ear Headphone.
The build quality of both these stereo headphones is of good quality and the audio quality on both these headphones is good.
But, A71 sports a 40mm diver whereas, Studio Pro 10 Over-Ear Headphone sports a 50 mm diver. Does this make a difference? Well, yes!
OneOdio A71 wired headset comes with a boom mic which the Pro 10 lacks. So if you are a mic lover, the former can be your choice!
Finally, the price! A71 is currently priced at 2,899 INR on Amazon, whereas the Pro 10 is between 2,050 to 2,200 INR (OneOdio Pro 10 Red costs 2,050 INR) on Amazon.
My verdict is – Go for Pro-10 simply because of the sound quality and price tag.
CLAW SM50 vs OneOdio Pro 10
CLAW SM50 is another stereo headphone and an alternative to Pro 10 stereo headphones. Here I will share information about Claw SM50 vs OneOdio Pro 10 here: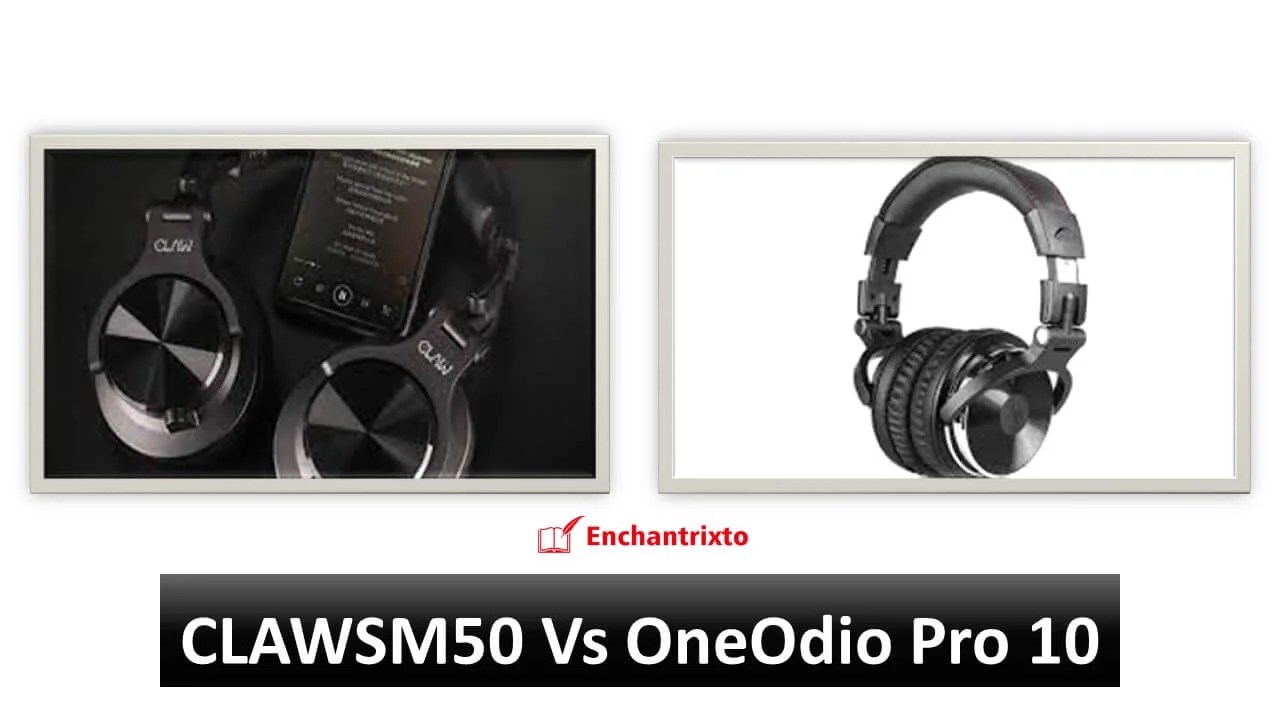 The CLAW SM50 stereo headphone has clear audio clarity with a 40 mm driver. The driver size of the Studio Pro 10 stereo headphone is 50 mm.
The earcups of CLAW SM50 are foldable up to 90 degrees for single-ear monitoring. Same with the latter as well.
The wired stereo headset comes with a 2.8m coiled cable and a 1.2m straight cable with a microphone.
The earcups of the CLAW SM50 headphones are oval-shaped in contrast to the round-shaped ear cups of the latter.
The price of CLAWSM50 is 1,902 INR on Amazon. The OneOdio Price on Amazon is 2,050 INR at present (Prices are variable).
My verdict is – If you talk about, CLAW SM50 vs OneOdio Pro 10, CLAW SM50 is slightly ahead in comfort. But, the latter stereo headphone is better in audio quality.
My Final Opinion on OneOdio Pro 10 Wired Stereo Headphones
Well, within a tight budget, Pro 10 wired headset offers superior sound quality with deep bass and clear vocals. These stereo headphones are nicely built and can be used during light workouts.
So, if music is your priority on a budget, this is the one to choose. It has more pros than cons (which may be negligible to most users).
The wired headset is compatible with most devices, and the possible drawbacks that I have noticed may not be a drawback at all to others. The idea was to present an honest OneOdio Pro 10 Review for those who are in search of a quality product at 2,050 INR.
In case you are interested, you can get these wired stereo headphones from the link shared below. Also, drop in your queries related to the product in the comment section and I will be glad to cater to them.
---
Convinced Now? Then grab this amazing DJ Monitoring Wired Studio Headset here 👇
Oneodio Pro 10 Wired Stereo Headphone Frequently Used Questions (FUQ or FAQ) –
1) Can we use Studio Pro 10 for gaming and does it has a mono audio feature?
Yes, you can use the mono audio feature while playing games on the OneOdio Pro 10. Thus, it is good for gaming.
2) Where is this wired headset manufactured and what is the real price of this wired headset?
The Pro 10 is manufactured in China. On the official website, it is priced 2,100 INR. But on Amazon and other websites it is varying between 2,050 to 2,200 INR.

3) There are no Oneodio service centres in India, so what to do if I face issues?
Well, this is a concern really. But the company assures 100 percent assistance. You can email them incase any issue arises. There is 30 days free return shipping.
4) Does the Pro-10 Over-Ear Headphone have a mic for calls?
Yes, the Oneodio pro-10 over-ear headphone has a mic for calls.
5) What is the OneOdio Pro 10 Amazon price as there are various price tags for the same product?
The red coloured stereo headphones are available at 2,050 INR. But the black, blue, gray, and pink ones are priced between 2,000 – 2,200 INR.
6) Does the Studio Pro-10 Over-Ear Headphone has a mic?
Yes, this wired headset has an in-line mic on the audio cable.
7) Is Google Assistant available on these DJ Monitor Headphones?
Yes, by long pressing the multipurpose button on the audio cable you can avail Google Assistant feature.
8) Does the OneOdio Pro-10 Over-Ear Headphone has memory foam?
Well, it is built with Premium Leather.
9) Are these Wired Stereo Headphones closed back?
10) Is this wired headset compatible with PC?
Yes, the Studio Pro 10 is compatible with PC and Laptop.
11) Can we connect to TV?
Yes, you can connect the Studio Pro 10 wired headset to your tv, if it has a headphone port
12) What the package contains?
You will receive –
a) 1 Headset
b) 1 User Manual
c) 1 two years Warranty Card
d) 1 Gift card
e) 1 DJ cable
f) 1 Audio Cable
g) 1 carrying pouch
13) Does these stereo headphones come with warranty?
Yes, they come with 2 years warranty.
14) How does Hanuman Chalisa or Spiritual Songs sound?
These wired stereo headphones sound superb while hearing spiritual songs and Hanuman Chalisa as well. Thus, this DJ Monitor Stereo Headphone attracts deep bass lovers and also those who want to listen to mild and soothing music like Hanuman Chalisa!
15) OneOdio Pro 10 VS Pro 50, any difference?
With respect to Pro 10 vs Pro 50, the major difference is the build quality. The latter has softer earcups, superior build quality, and slightly more balanced audio quality.
16) OneOdio Pro 10 VS A71, any difference?
Comfort-wise maybe A71 stereo headphones are ahead of the Pro 10 wired headsets. But if you are looking for superb audio quality on a budget, Pro-10 is for you. But the A71 does come with a boom mic, so if you are a mic lover, you can choose this over the Pro 10 Over-Ear Headphone.
17) How is Pro 30?
The Pro 30 is a good choice with a 50 mm diver and comfortable memory foam. It is a slightly refined version of the Pro-10 Over-Ear Headphone with respect to building quality and comfort.
18) Is the OndOdio Pro 10 wireless?
No, OneOdio Pro 10 Studio Monitoring Headphone is not a wireless headset.
19) Which are the best OneOdio headphones?
Pro-50 Studio headphones are the best with regard to audio quality and comfort. But this DJ Monitor Stereo Headphone is about 1,700 INR more expensive than the Pro-10 headphone. But Studio Pro 10 DJ Monitor Headphone is a good choice with respect to audio quality at 2,000 INR. Pro-30 is a good choice but slightly over-priced.
A freelance blogger and travel enthusiast!