Do you want to recover deleted photos from WhatsApp? This article will guide you on how to recover deleted photos from WhatsApp easily. WhatsApp is used as digital communication and interaction medium nowadays. Every day, we do WhatsApp as our common communication channel.
Often, we had to delete our social media chats along with photos either maybe for some privacy problem or some other issues. Later, we are searching for that deleted photo. And when we can't find the photo, we get disappointed. So, on behalf of Enchantrixto Tech, I will show you how to recover deleted photos from WhatsApp here.
However, here are 4 tips on how to recover deleted photos from WhatsApp easily.
4 Tips to Recover Deleted Photos from Whatsapp
1) Does anyone have that media on their phone?
This is the most common and easiest way to recover deleted photos from WhatsApp. Ask the sender person to send that photo again. Sometimes these things may annoy you for asking again that photo. But if that photo is especially important, then that will be the easiest way to get WhatsApp images easily.
In the group, if you lost that particular photo and couldn't find it, ask the sender in person so that he or she can forward that picture again. Remember that pressing on "Delete for me" does not mean that your files have been deleted completely from the WhatsApp server. So, follow the next step to recover deleted photos from WhatsApp if this process does not work for you ☹
2) Recover deleted files from WhatsApp backup
If someone fails to transfer that image, they can easily recover deleted photos from WhatsApp and other files by simply restoring the old backup. But for accessing this step you need to Enable the WhatsApp Backup option. This functionality works both on Android and iCloud.
If you don't know to Enable chat backup, don't worry! We are here to guide you on how you can enable WhatsApp Chat Backup.
At first, Navigate to the Setting > Chats > Chats Backup. Click on the Backup button. Now it will ask your Gmail account for storing your WhatsApp backup. Select your Gmail account and select the interval of backup like daily, monthly, and when I tap. Prefer to use daily backup and it will automatically take the backup and store it in your google drive. Thus, it is one way to recover deleted photos from WhatsApp.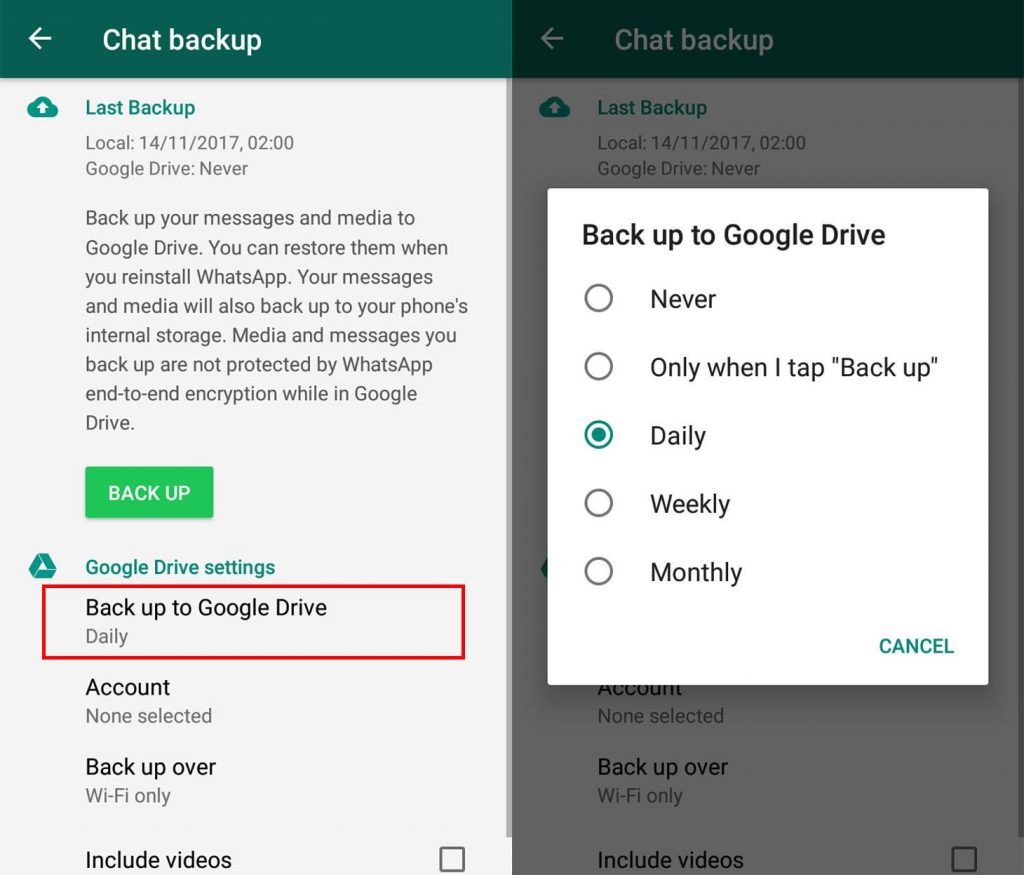 Now if you had already backup, navigate to the Setting > Chats > Chats Backup and check your last backup date and time. If you have recently deleted photos after the last backup you can recover that photo after uninstalling and reinstalling the process.
After making sure, you can uninstall that WhatsApp and reinstall it from the Google Play Store. During the fresh installation, provide your WhatsApp number and another option will be popped up informing you that "Restore your data from backup." Press on the Accept and wait for a few minutes, it will download all your previous data from your WhatsApp backup.
Please note that:
During this fresh installation of WhatsApp, you might lose your last recent messages. Along with that please consider before approaching this method:
Check your deleted photo is neither too old nor the latest one.
Check have you enabled WhatsApp backup or not?
3) Go through WhatsApp Folder on your Android Mobile
All the images and documents on WhatsApp are saved in the local mobile folder. If you had deleted any photo from the WhatsApp chat, most of the time it had not been deleted from local storage.
Go to the Internal Memory > WhatsApp > Media > Whatsapp images and check for your deleted photos. If you had sent that photo to the user, check the Sent folder.
This option is not available to iOS users because they don't have any process to browse the entire directory.
Read About: Whatsapp tips and Tricks
4) Final Method to Recover Deleted Photos from WhatsApp – Using a dedicated application
Till now, if you can't be able to restore your photos from your device, you have to look for a dedicated application as a recovery tool. There are plenty of applications available on the google play store. Not all the applications will not be beneficial for your recovering images.
Those WhatsApp image recovery tools need root access for your device. Some of the applications also suggest Root your device. But be careful, Mobile rooting is not safe for your device security.
Recovering WhatsApp images: Final thought?
Once you have deleted any text of files from WhatsApp, restoring from old backup is the safest way in this digital era. Although, several recovering tools provide their recovering service which is particularly good. But the question is about the security and privacy of the data. So, the above process can be applied easily to recover deleted photos from WhatsApp.
If you have planned for reaching out to the WhatsApp support team for backup, they can't help regarding this issue. As WhatsApp informed, they don't save text and pictures on their server. All of the things are stored in your local folder along with your google drive.
So, recovering from your google drive or saved local files is the only safest way to recover WhatsApp photos. We hope that you understood how to recover deleted photos from WhatsApp. Please like and share the information with like-minded people.
---
Read More ????
How to Recover Deleted Photos from WhatsApp – FAQ (Frequently Asked Question)
1) Are all WhatsApp recovering applications safe to use?
All the WhatsApp recovering application is not developed or promoted by the WhatsApp application. Those application are built by team of developers from other company. If they get access of your device storage, there will be raised question about internet security and privacy.
2) What is difference between "Delete for me" vs "Delete for everyone"?
In the WhatsApp, "Delete for me" allows to delete that conversation from the users end only. Let's take an example: you have sent an image to your friends' group, and you tap on the "Delete for me" option. Now, that image has been deleted from your conversation, but that image is already sent to your friends' group and they can preview that image.
On the other hand, if you press "Delete for everyone", that image will be deleted for both parties – sender and receivers.
3) How to recover photos from WhatsApp easily?
The easiest way for recovering photos from WhatsApp is restoring data from google drive. Another solution you can try to ask your sender to send that image again, and that will be the best easiest way
4) Suggest some WhatsApp recovering tools.
You can go with Recuva software. They are providing better performance along with best possible result for recovering anything like images, documents.
5) Is it mandatory to Enable Chat Backup option?
It's completely depending upon you. If you are daily user and having some important conversation, you must keep a backup of your conversation. So, Enabling Chat Backup can be a mandatory things for you.
Somnath is an Entrepreneur by his passion and love to write content related technology tips and tricks. He starts his day from turning on Laptop and offs his night by pressing "shut down" of his laptop.