First introduced in Brazil in the late 2019s, Instagram Reels has become a global name now. The Reels is hot in demand especially among millennials and Gen Z audiences. However, this feature has become popular in the business and entertainment sectors.
Recently, Instagram Reels has been a golden opportunity for brands and businesses. A well-executed strategy and systematic Instagram Reels can boost your business visibility.
But, it will help if you have unique ideas and a well-crafted storyline to make your business visible using reels. According to Social Media Manager Christine Colling, IG has increased its growth up to 280% since the launch of IG Reels.
In this ultimate guide to Instagram Reels, I will tell you about all vital aspects of Instagram reels, the algorithm of IG, how to create your reel, do's and don'ts of IG, reel ideas for businesses, and Instagram reels FAQs.
What Is Instagram Reels?
Instagram Reels is a short video creating a feature on the Instagram app. It is available in 50 countries including the United States.
Instagram users can record videos of 15 to 60 seconds and edit the video clips with music. Later, they can share them in their Stories, News Feed, and the Reels tab.
On the Reels tab, you can see not only the short videos of the accounts followed by you but also watch various other popular content. You can find these videos on the 'Explore' page visible on top of the new Reels tab.
While creating a Reel, you can either record a video clip on the spot or upload a pre-captured video from your gallery. Then, use the draw and text tools to edit the clip and choose stickers from Instagram. When you are happy with the edit, post it with captions and hashtags.
You can also download your favorite Instagram Reels using downloaders from here.
How Do the Instagram Algorithm Works?
Before knowing how to create Reels and use them for businesses, let's tackle the Reels algorithm. Although I am still searching for details of how it actually works, some general guidelines are there about this feature to make short video content.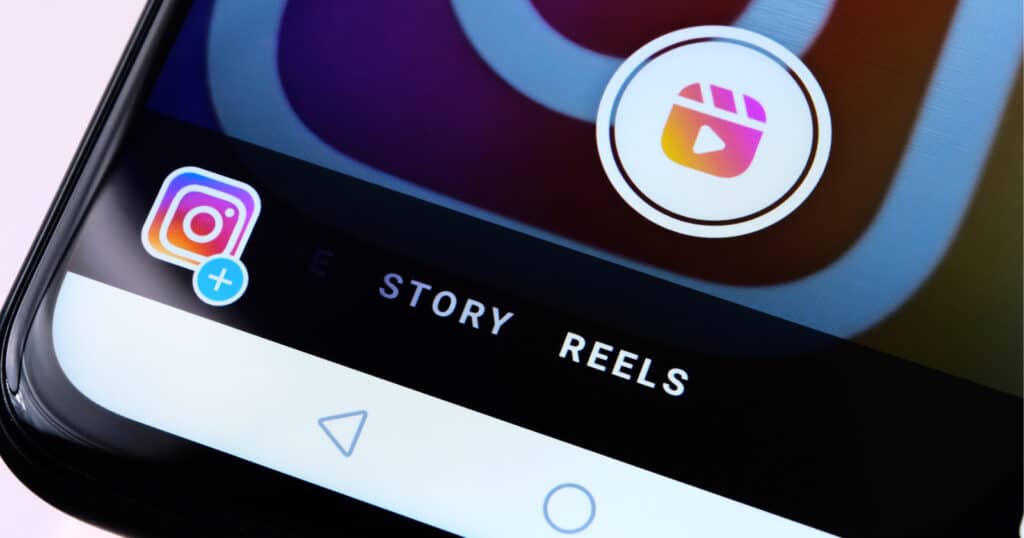 In a nutshell, it is pretty similar to TikTok. TikTok is popular for its short video content and creations. After the ban of TikTok, many users searched for TikTok alternatives.
Here, Instagram Reels offers an opportunity to people. Let's take a look at the dos and don'ts to make you better understand what works and what doesn't in Instagram Reels.
IG Reels Dos:
✅ It helps to create an entertaining and funny video. Videos on a popular topic or some challenge, or any product launch are usually grabbing the attention of people.
✅ You will have to shoot the video in vertical mode.
✅ It offers to join the following trend and also recreate (Remix) the other's video.
✅ Also delivers a ton of camera effects, filter tools, and text editors.
✅ You can add music either from the Instagram music library or from your own collection.
✅ Try to be original and authentic.
IG Reels Don'ts:
✅ Do not post without following the Community Guidelines of Instagram.
✅ Do not videos are posted in low resolution and lousy quality.
✅ Posting videos with borders around the frame.
✅ The image with too many texts.
Ultimate Guide to Instagram Reels – How to Create Instagram Reels?
You can create such short videos from the Reels tab, the Instagram home screen, and the Instagram Stories camera.
✅ Tap the camera icon on the top right in the Reels tab.
✅ Tap the "+" on the top right in the home screen of Instagram and scroll down to the screen of the Reels tab.
✅ To create an Instagram Reel using the Instagram Stories camera, you should open the Instagram Stories camera first.
✅ Then, find the Reels icon either positioned in between Create mode and default Normal mode or next to 'Story' at the bottom.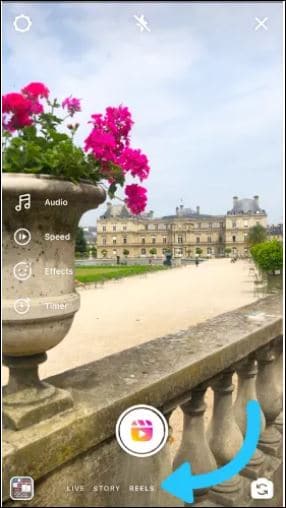 ✅ You can select audio from this screen by tapping the music icon.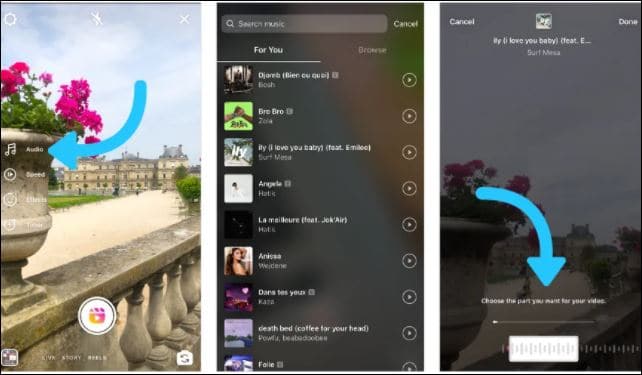 ✅ By pressing the play icon, you can select the speed of your video.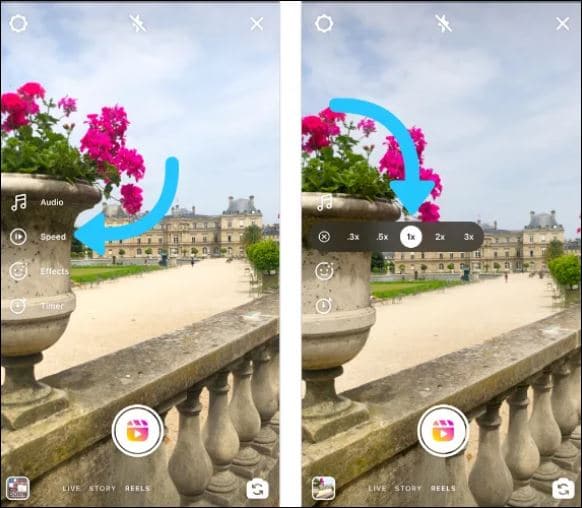 ✅ Tap the 15-seconds circle on the left-hand side to decide the duration of your video. It shuffles between 15, 30, and 60 seconds while pressing.
✅ After deciding the length of the video, you can choose the duration of your clips by selecting the stopwatch icon.
✅ There's a countdown of 3-second and 10-seconds before starting the recording.
✅ You can change that duration by tapping the "Countdown".
✅ You can add such effects and AR filters to your Instagram Reels which is available in Boomerang mode.
✅ Also, you can choose any previously saved filters. By clicking "Browse Effects", you can see all the available filters.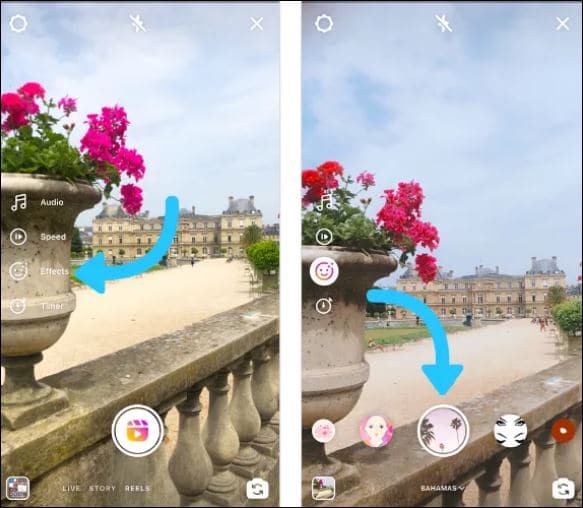 ✅ To capture footage and upload video footage from the camera, hold down the record button.
✅ By pressing and holding the record button, you can start and stop recording multiple times during your video.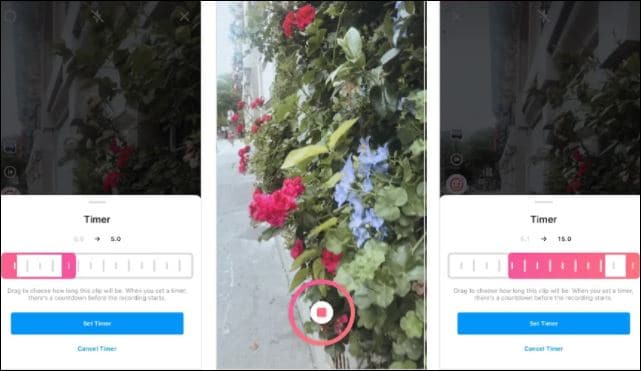 ✅ If you want to trim or delete a clip then go back and select the clip. After that, tap the scissors to trim or the trash to delete.
✅ Once you've done, use the draw and text tools and select Instagram stickers to finish the editing.
✅ Add closed captions to the videos while creating a video with a voiceover or dialogues. It will help those who watch the video without sound. Also, it's been helpful for Deaf people or people having hard of hearing.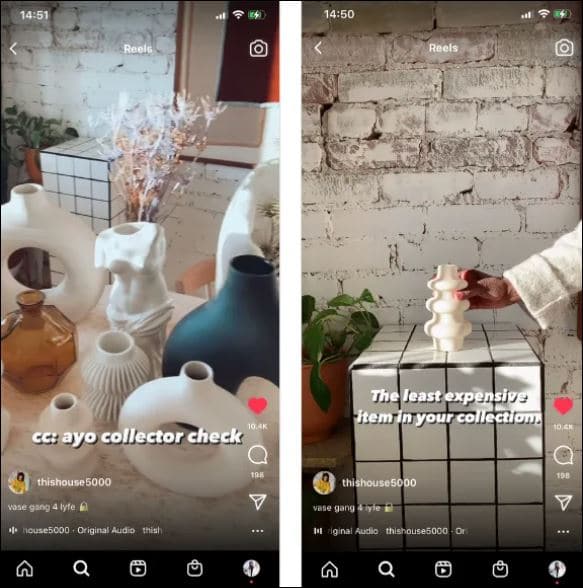 ✅ The addition of text into your clip should be well placed because Instagram will crop it to 4:5 dimensions while sharing. Try to keep the important text in the middle of the clip, so that it won't be cropped.
✅ After that, edit a cover photo either from your camera or from a video thumbnail. Upload an on-brand image to keep your Instagram aesthetic.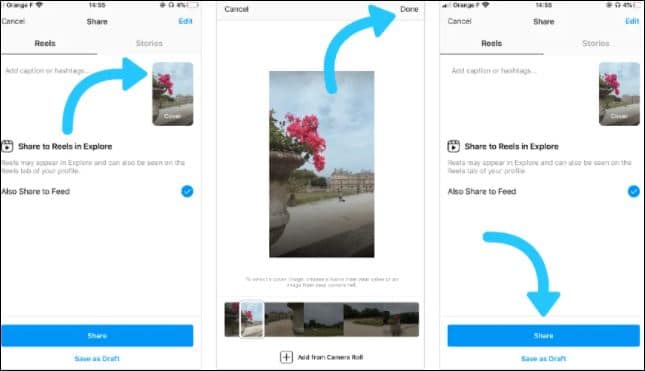 Finally, you are all set to share your creation. Now, you can share the Reel to the Newsfeed, to your Stories, and the new Reels tab.
Instagram Reels vs TikTok
Both the Instagram Reels and TikTok offer to create and share short videos. Users can deliver messages through motion videos and audio using Reels and TikTok. Thus, Instagram Reels and TikTok are pretty much similar, there is a specific difference between them that separates these two rivals from each other.
✅ Instagram Reels is a part of the Instagram eco-system whereas TikTok is a platform of short videos. This is one of the slight differences between the two.
✅ Another difference is the time limit. You can create a video of a maximum 60-sec duration in the Instagram reels. But, in the case of TikTok, you can create a video for up to 3 minutes.
Difference between Instagram Reels and Instagram Stories
Reels and Stories are also similar, but you will get several features in Reels instead of Stories.
✅ Reels offers more editing options including AR effects, transitions, and speed manager.
✅ Reels can be posted on the newsfeed whereas your Stories don't feature on the feed. It's a major difference between them.
✅ Reels have a dedicated tab on your profile.
✅ Your recorded audio and content can be used by other creators. You'll get attributes for that.
Also, you can download others' content using Instagram Reels Downloader.
How to Use Instagram Reels for Business?
Instagram Reels helps to build your community. It grows your reach on Instagram. It offers to share original and creative content to people in a funny and engaging way.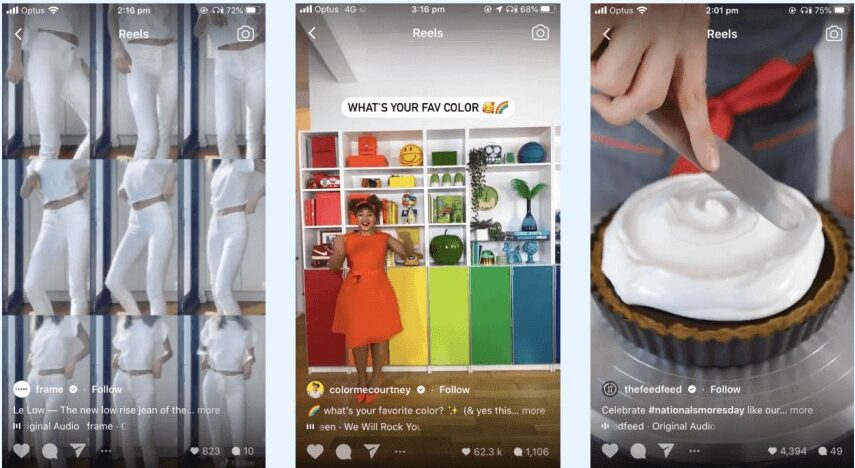 If you're using Instagram for your business, then Instagram Reels may be worthy to try. You can use Instagram Reels in three ways with your marketing strategy.
1. Create Authentic Content
Instagram Stories have successfully created fun since its release in 2016. Now, Instagram offers Reels that has become a new trend.
This new video-making feature is designed to be fast and fun. These are loaded with full of special effects to create captivating and authentic content easily. It offers a great opportunity for businesses. It helps them to build genuine relationships and strengthen the customer community and fanbase.
You can showcase all your personality on Instagram. Your followers can see your videos by sliding to the new Instagram Reels tab.
Also, you'll reach out to new people by doing it. Your short videos will be available on the users' Reels tab and they will be able to follow you by tapping the follow button.
2. Share Educational Content
Posting educational content in Instagram Reels is a great place to start. You can provide how to write a perfect caption, top five travel tips, how to shoot the perfect photo, and show how to style a skirt five ways to your followers.
Educational content can help you to earn a position as an expert or Influencer on the topic. You may become a go-to voice within your community on a particular niche or skill.
3. Showcase Products
Instagram Reels offers a huge opportunity for brands and businesses to create awareness and sales. Businesses can showcase their products and tag them directly. With the product selling features updated there, many Instagram creators have increased their sales and traffic in their businesses.
Users can purchase the showcased products within 3-clicks from the video directly. Also, a user can tap 'View Products' and learn about the product in detail. It is possible to save products for later, and the go-ahead to purchase the same.
Ultimate Guide to Instagram Reels – Concluding Words
Instagram Reels have set their place on Instagram. With time it has become an integral part of Instagram. We may expect to see more video editing tools, algorithms, and insights in days to come. There's an opportunity waiting for advertising your brands and businesses with Instagram Reels.
That's all for now! Hope you will know about Instagram Reels, how to create Reels, and use them in business. If you like then share it with your friends and help them to know about the same. Make a comment about your experience of using Instagram Reels.
FAQs on Instagram Reels
1) How long Instagram Reels can be?
In the beginning, the length of the Instagram reel was 15 seconds. But, with the upgrade, Instagram Reels improvised the reel length up to 60 seconds. Now, you can choose among the time of 15 seconds, 30 seconds, and 60 seconds.
2) What is the best time to post Reels on Instagram?
According to Influencer Marketing Hub, the best time to post reels on Instagram are as follows.
a) Sunday: 7 AM, 8 AM, 4 PM
b) Monday: 6 AM, 10 AM, 10 PM
c) Tuesday: 2 AM, 4 AM, 9 AM
d) Wednesday: 7 AM, 8 AM, 11 PM
e) Thursday: 9 AM, 12 AM, 7 PM
f) Friday: 5 AM, 1 PM, 3 PM
g) Saturday: 11 AM, 7 PM, 8 PM
Based on some factors like active users and available audiences affect the reels posting time on Instagram.
3) How to download Instagram Reels?
To download Instagram Reels, you need a video downloader for Instagram. Go to Play Store and choose a video downloader. Then, click to install it. You can download the videos by pasting the reel link on the downloader.