Want to download old PC games for free? Here are some of the sites where you can download old PC games for free. The selection of free games available today to players is unmatched. The free-to-play concept is frequently used by the most well-liked online games to draw players. Free games are available on Steam, in browsers, and on mobile devices.
However, you may not constantly desire the most recent AAA release or a free battle royale. You wish to satisfy your nostalgia. Fortunately, there are several websites dedicated to the love and preservation of ancient games. Here are the 5 best sites where you can download old PC games for free.
Also, Read...

11 Best Horror Games On PC – The Scariest Games To Play Right Now!
Sites where you can download old PC games for free
We have prepared a list of the best 5 sites where you can download old PC games for free. Check out the list of the sites where you can download old PC games for free given below.
1) Abandonia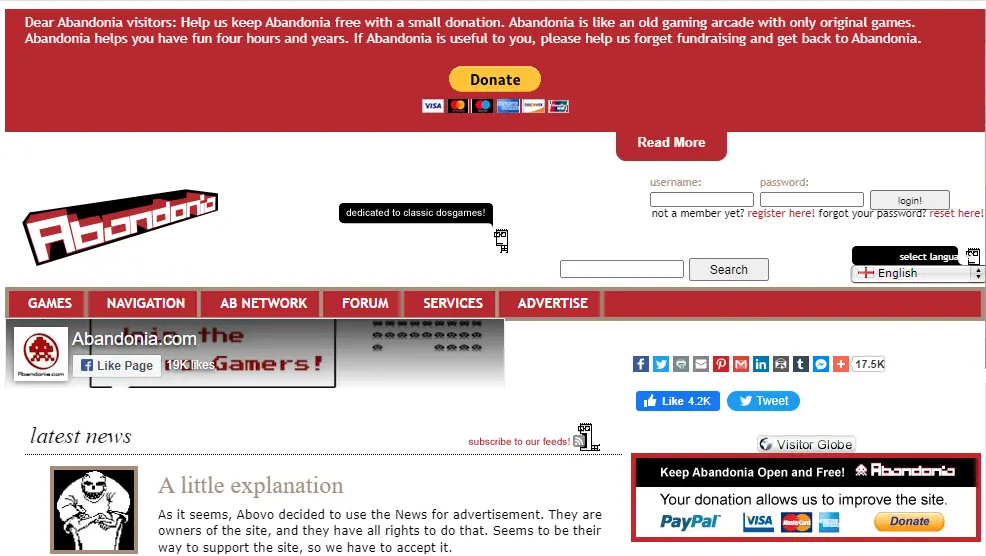 An index of abandoned software called Abandonia is "dedicated to old DOS games." Games with expired copyright or vintage titles that the publisher no longer supports are classified as abandonware.
When Abandonia was established in 1999, the idea of abandonware had only been around for two years. After a few years of inactivity, Abandonia grew into one of the top websites for downloading your favourite vintage games. At the time of writing, Abandonia has over 800,000 users and close to 1,400 downloadable games.
Abandonia provides each abandonware game with a detailed review, screenshots, and an editor and user rating. You may search for and download ancient PC games by name, year, rating, and category. Because the site focuses on DOS games, you won't find any "newer" abandonware titles here, but the enormous DOS library should fulfil the majority of your old gaming demands.
2) Abandonware Dos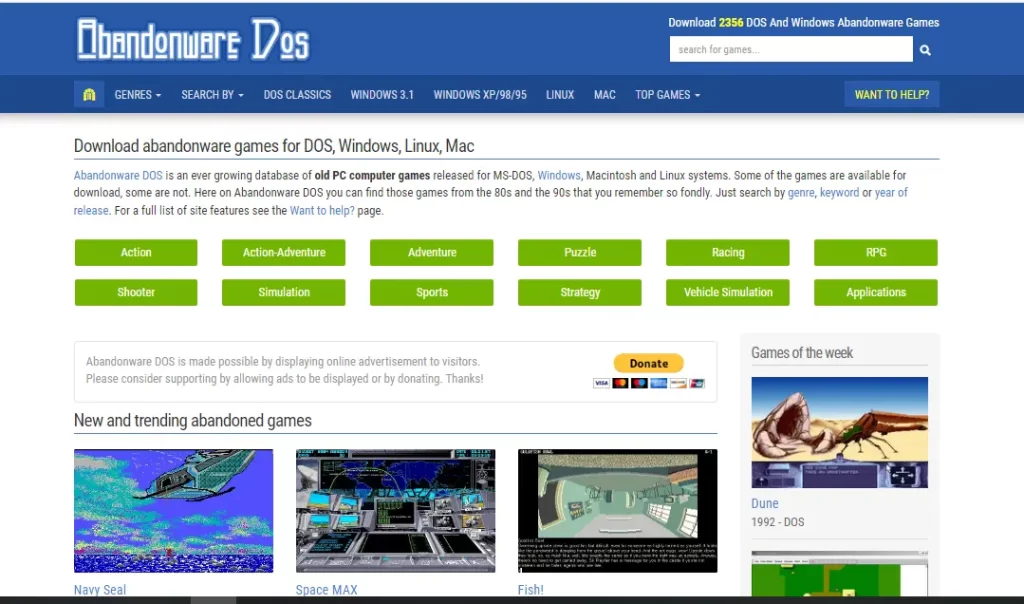 Abandonware Dos is another website that specialises in outdated DOS games and is abandonware. It also offers a respectable selection of Windows games, albeit nothing new. Classics such as Sid Meier's SimGolf and Star Wars: Galactic Battlegrounds may still be available beyond 2002, but more recent games are beginning to appear.
Abandonware Dos is also a very active website. Each title includes a site rating, title specification, release date, screenshots, a current video play-through, and game-related data.
What I admire about Abandonware Dos is its honest attitude toward its abandonware site status. The site owner expresses their willingness to comply with take-down notices. Furthermore, the site has direct access to GOG.com. These may be found on the main game page, as well as highlighted titles on the site homepage.
When you first start creating your abandonware library, it might be tough to keep track of each title. If that describes you, check out these video game launchers that allow you to add the games you wish to play.
You May Also Like,

Best VPN for PUBG Lite & PUBG Game on Android and PC
3) RGB Classic Games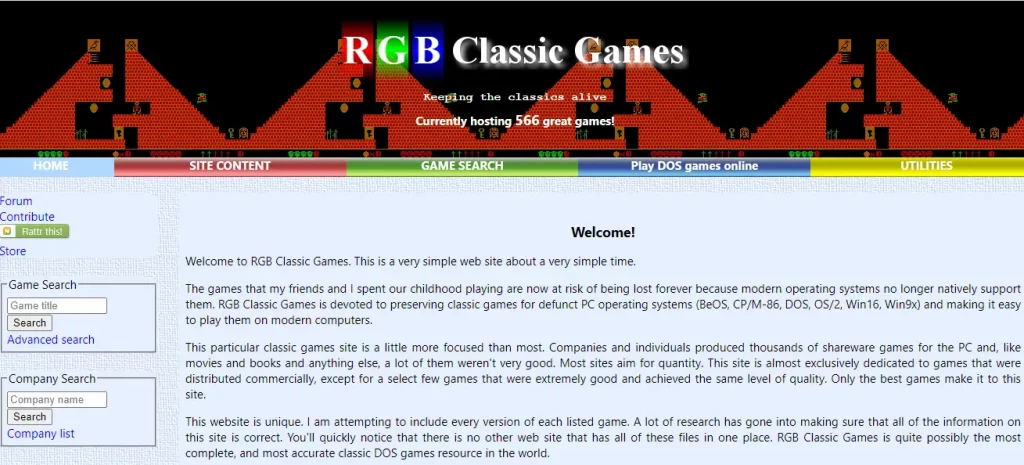 Numerous vintage DOS games, unreleased games, and even some "current" DOS games are available on RGB Classic Games. The whole website is "committed to preserving vintage games for obsolete PC operating systems" such as DOS, CP/M-86, OS/2, Win16, and Win9x, as well as making them simpler to play on contemporary platforms. RGB Classic Games is a fantastic choice if you're looking to download classic DOS games.
You may look for games by genre, operating system, business name, legal status, year published, and, curiously, video mode. Furthermore, as a tribute to RGB Classic Games' purpose, you may play a considerable number of titles on a site-hosted emulator, including Keen Dreams, Hexen, and Transport Tycoon, one of my all-time faves.
4) My Abandonware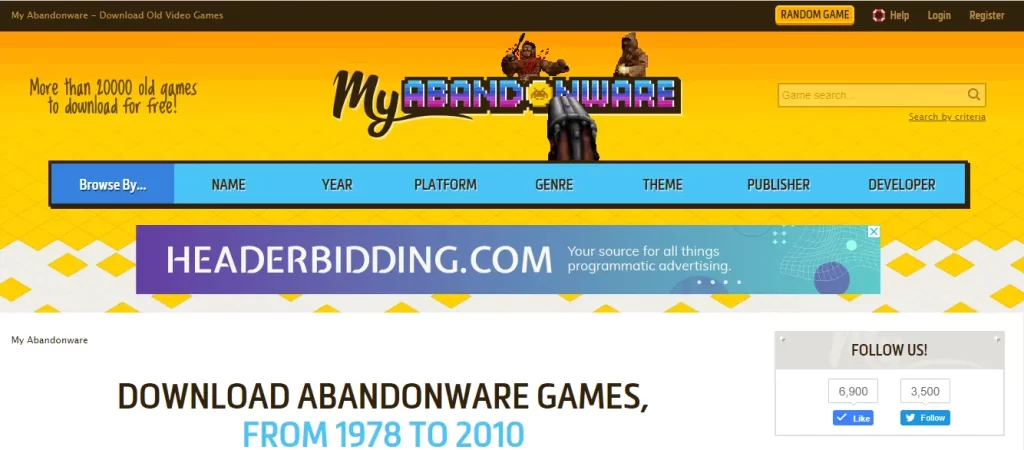 Old PC games may be downloaded from My Abandonware along with some of the list's more recent entries. Over 15,000 titles are included, some of which are "extremely unusual titles uncovered in the deep web" and others which have been "submitted by our great guests."
The tiny crew that runs My Abandonware continuously maintains the website, adding fresh content, abandonware games, vintage DOS games, and more. The variety of search possibilities is one of the finest My Abandonware features.
You may search the enormous game collection by name, year of publishing, game platform, genre, game topic, publisher, and even developer. The developer option is wonderful because if you enjoy a game, you can look into other games from the same development company. You may also download some ancient DOS games.
You May Also Like,

To Read How to Download Call of Duty MOD APK
5) Games Nostalgia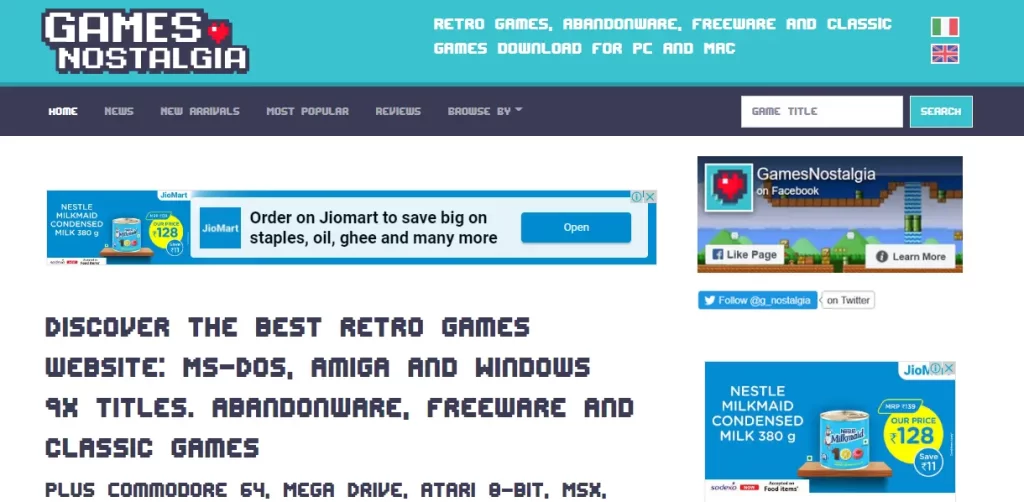 Games Nostalgia is the last destination on our tour of your youth. Hundreds of fantastic games that were released between 1985 and 1995 are included in Games Nostalgia. You may browse games on the Games Nostalgia website easily by genres, categories, new releases, popularity, and other criteria.
Additionally, Games Nostalgia goes above and beyond by providing each game in a separate emulator that is compatible with both Windows and macOS. By eliminating these extra procedures, Games Nostalgia makes it easier to play your favourite classic games.
Download it, unzip it, and then launch the game. It is much simpler to play these classic and vintage games when they are packaged neatly in a container, which might be a problem on current devices.
Honourable Mention: The Internet Archive
The Internet Archive is a non-profit organisation devoted to preserving one of the internet's central tenets: free and open access to all knowledge. The Internet Archive agrees that old video games ought to be preserved.
The Internet Archive made 900 classic arcade games available in our browsers in 2014, preserving some of the greatest ancient games. The Internet Archive stated a year later, in 2015, that it will archive over 2,300 ancient DOS games.
Unfortunately, the classic titles are not available for download. The Internet Archive, on the other hand, offers an integrated version of DOSBox, so you can play any game right in your browser.
Wrapping Up
There are several outstanding vintage PC games. Finding the time to play them all is the issue. The ancient classics are kept alive and well through abandonware and retro gaming. The simplicity of playing and downloading vintage PC games contributes to the revival. Downloading and playing your favourite vintage games is now simpler than ever thanks to websites like Games Nostalgia that package downloads with emulators.
That's all for today. I hope you will like this article and these sites will help you to download old PC games for free. Share your user experience in the comments. Please share this article with your gaming lover friends. Stay tuned for more interesting topics like this. And, thanks for reading.!
Frequently Asked Questions
Is it illegal to emulate old games?
If you have a physical copy of a game, you most certainly have a ROM of the game. However, there is no legal precedence in the United States to suggest it is prohibited. There is no record of any corporation going to court over emulators or ROMs and their use.
Can I download PC games for free?
There is a sizable selection of games that you may download for free, while some of them must be bought.
Is Downloading abandonware legal?
The short explanation is that abandonware is illegal. Even if the author abandons a copyrighted work, it does not immediately become public property. The copyright on the work lives until the copyright expires, the length of which varies by nation.