New Budget Phone vs Old Flagship Phone, in between two types of devices which one would you prefer? Well, if you want to choose between a new budget phone vs old flagship phone, this topic will help you to figure out the right one. There are so many smartphone manufacturers that launch new budget phones every month. And, old flagship phones are already available in the market.
Suppose, you are going to the market for buying a phone. According to your budget, a new phone and an old flagship phone fits your budget. So, which one will you choose? Which offers more value? What are the compromises you will have to make if you choose a new one over the old one or vice-versa? Let's find it out in the new budget phone vs old flagship phone.
New Budget Phone vs Old Flagship Phone: What You Will Get in Older Flagship Phones
Apart from being older for a one-year or two-year, older flagship phones are still valuable. These old flagship phones have several benefits over the new budget phones, and here are the biggest benefits of purchasing an older flagship phone.
A More Powerful Processor
The new budget phones will probably have the latest mid-range processors. Whereas, the older flagship phones came with a significantly more capable processor in terms of performance. If you are a power user, and playing games on mobile, an older flagship phone is a better option compared to the new budget phones. However, the powerful processor will allow you to multitask and run graphic-intensive games on high to max settings easily.
Also, Read...

Our Blogs on Tech Gadgets, here.!! 
Better Build Quality
Flagship phones are made of stronger materials to survive an accidental drop and look premium. Nowadays, flagship phones come with Gorilla Glass Victus protection, but the new budget phones won't provide such a pricy protected screen. However, the old flagship phones come with either Gorilla Glass 5 or GG 6 protection.
The old flagship phones are getting a premium glass finish even at the back. But there's a plastic back in the new budget phones. Also, a flagship phone always comes with an official IP rating for water and dust resistance. Moreover, a superior vibration motor in the flagship phone offers better haptic feedback.
A Better Display
Most flagship phones come with a Quad HD display instead of the Full HD+ display you will get on budget phones. QHD screen is sharper than FHD display and helps to improve multimedia and gaming experience.
Even the flagship phones offer an AMOLED display with a 120Hz fast refresh rate, HDR10+ for more vibrant colors, and higher peak brightness for better outdoor visibility. However, some new budget phones come with these features, but you have to find them.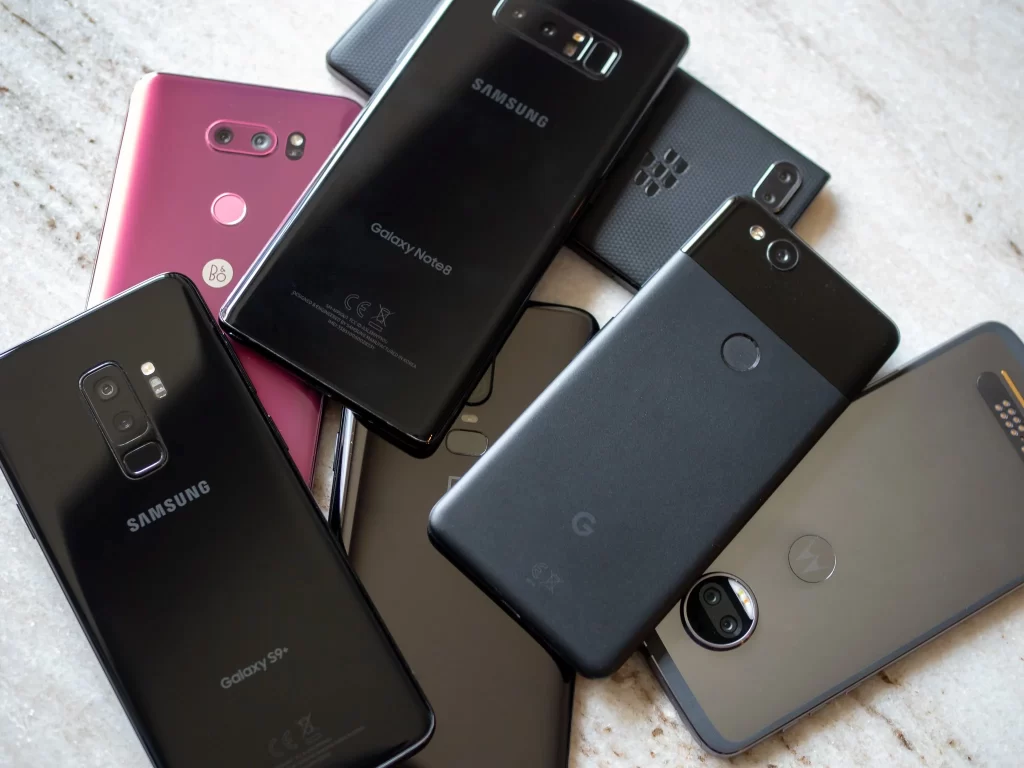 Better Cameras
You can get a clean shot and experience better photography with OIS, better dynamic range, better color science, faster shutter speed, smoother video, and better edge detection on older flagship phones. Even budget phones deliver clear pictures but you will not get so many features like old flagship phones.
During nighttime photography, the old flagship phones result incomparably better than any budget phone. Because the flagship phones have better image processing algorithms which help to take brighter and more detailed photos at night.
However, the new budget phones come today, have multiple cameras but, they serve no real purpose. With a quad camera set up or triple camera set up, companies are just attracting people, but actually, there are not many features and clarity with those camera lenses. Whereas, every camera on a flagship phone serves a useful purpose.
Faster and Wireless Charging
Flagship phones and budget phones offer nearly about the same battery size, but flagship phones support fast charging. They also support wireless charging and offer reverse wireless charging. However, nowadays new budget phones offer fast charging support, but there's no option for wireless charging and reverse charging. So, an older flagship phone will be valuable for you if it's within your budget.
You May Also Like,

Read Our Blogs on Tech Hacks, here.!!
New Budget Phones vs Old Flagship Phones: What You Will Get in New Budget Phones
Similarly, there are some factors in new budget phone for which old flagship phone might not be right to choose even if it's available at the same price. Let's look at the reasons behind buying a new budget phone is better.
The Latest Software and Longer Support
The most notable advantage is the software updates. The new budget friendly phones have the latest android versions and claim to deliver upcoming two major OS upgrades and security patches for longer. It keeps your device up to date and secures for longer support.
But an older flagship phone has already got its all updates, and might not receive any updates further. In such case, with time the phone will slow down, and takes much time for performing tasks. However, eyeing a new Samsung phone that offers the same number of OS updates on its budget phones as its flagship phones.
Better Battery Life
When it comes to battery life, the new budget phones offer a bigger lithium-ion battery compared to the older flagship phones. Even, new budget phones come with fast charging support, so they can charge your phone faster. Also, a new budget phone with 100% of its battery health will last longer compared to the old flagship phone on a single charge.
Charger in the Box
Most flagship phones don't have a charger in the box. So, you have to waste more money buying a charger separately. Whereas, new budget phones come with a charger in the box. But Samsung has stopped including chargers in the box for all of its budget models from 2022. Not having a charger is a major inconvenience for buyers.
Better Customer Support
When you buy a new budget phone, the companies will deliver customer support if you face any problems with your new budget phone. Whereas an older flagship phone isn't profitable, so the company isn't actively supported. So, it surely won't get much attention as new phones from customer service representatives.
A Headphone Jack
After removing the charger, the older flagship phones are also removing the 3.5mm headphone jack which is painful for many users. And, it is spreading fast, but hasn't trickled down to the new budget phones yet. A wired headphone is cheaper than a Bluetooth headset. So, this will force you to spend more money.
New Budget Phone vs Old Flagship Phone: Which offers more value?
Finally coming to the most valuable phone, older flagship phones have more features and you can use them for a long time. Whereas, the new budget phones have limited features at an affordable price and aim to provide fewer problems with a well-rounded experience.
If you are a power user, gamer, and photography enthusiast, go with an older flagship phone with few compromises. Similarly, if you choose a new budget phone, you have to make compromise powerful processor and a better camera option. But you will get the latest OS, a bigger battery, and better customer support.
Now, the choice is yours. As per your need, choose the suitable smartphone from this comparison of a new budget phone vs old flagship phone. I hope this article will be helpful for you and you can make a clear decision by reading it. Please share this article to make others aware of the new budget phone vs old flagship phone. And, don't forget to share your thoughts in the comments below.