How long we will be depending on Facebook, Twitter, Instagram, and others to make use of social media? Why not use our "Make in India" Twitter alternative rather? So, I thought of writing this Koo App Review which can be the Indian alternative to Twitter. Here, I will answer your question – Is the Koo App a great Indian Alternative to Twitter?
The Google Play Store has announced the Koo App as the winner of the "Best Apps of 2020" as a Indian Twitter Alternative in the category of Everyday Essentials from India.
The Koo App was selected from among various apps on the PlayStore in India while Google was about to announce these awards last year to celebrate the user's most favorite app. Scroll down to know more about my Koo App Review.
What is Koo App as an Indian Alternative to Twitter?
Koo App has emerged as a perfect Indian alternative to Twitter off late. Koo is a 'Made in India' microblogging platform available in English and Indian languages. The Koo App is available to users in a variety of regional languages – Hindi, Telugu, Kannada, Tamil, and Marathi. The Koo app is now in direct competition with Twitter as a microblogging site where you can share news and content on Politics, Sports, Technology, Vlogs, Blogs, GK Facts, and any other things which boost expression.
One good thing about the Koo App is that it is available in various Indian languages as 90% of India doesn't speak in English. Therefore, you will find very little content in regional language in social media these days. The Koo App gives the speakers of vernacular languages a platform to express what they want to say in their mother tongue.
This Indian Twitter alternative will initiate communication among team members in the language of their preference. Though many regional languages like Bengali, Tamil, Hindi are available on Twitter, but the creators of Koo (Twitter alternative) say that the immersive Indian vernacular language experience is unmatched on any other microblog.
The Koo App has also won the "Aatmanirbhar App Challenge" and is also endorsed by Mr. Narendra Modi. According to Mr. Aprameya Radhakrishna (CEO and Co-founder of Koo) –
Mr. Mayank Bidawatka (Co-founder of Koo App) says that the social media platform is the voice of India and Indians. The alternative to Twitter will champion the cause of Freedom of Expression according to Mr. Mayank Bidawatka. He also added that the Koo Team is committed to the Aatmanirbhar Mission of Mr. Narendra Modi.
Koo App Review: What I felt after using this Indian Twitter Alternative?
Well, nothing can be guaranteed unless you are using the same. So I decide to make an account on the Koo App to experience the UI and its features. Check my detailed review here on this alternative to Twitter.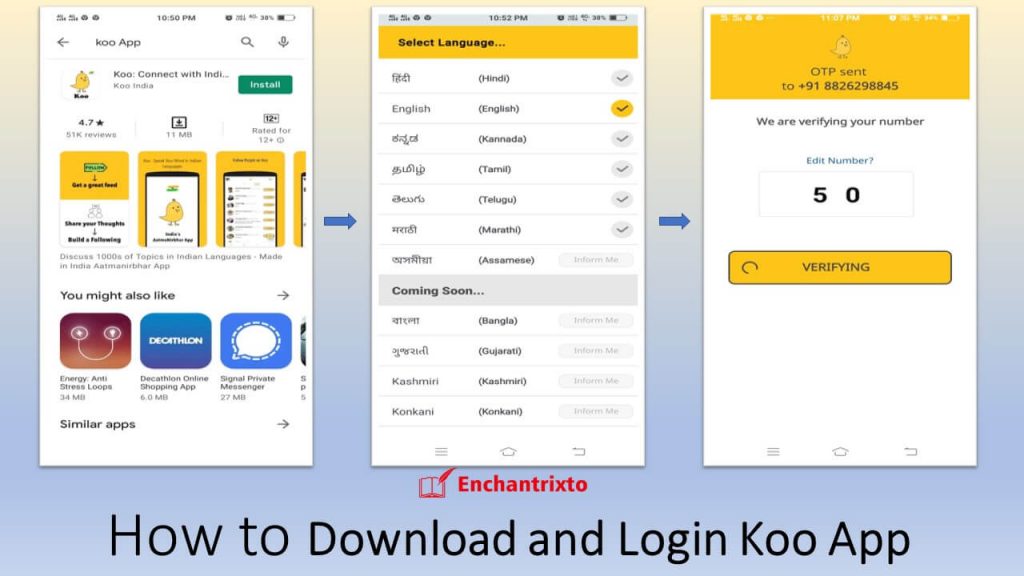 How to Download Koo App?
Well, if you are thinking of how to download Koo, the process is very simple. Just go to the Google Play Store and search for 'Koo App'. You may see several results. But you can identify the app with a beautiful deepish yellow colored bird as its logo. After that, you can simply complete your Koo App download and install the same.
How to Login Koo App?
After the Koo App Download (Twitter Alternative) and installed, open it.
First, multiple Language Options will appear. You can choose your preferred language. Then this Indian Alternative to Twitter will ask for your Mobile No. to verify.
Enter your mobile no. on which you will want to receive an OTP sent from the Koo App Team.
If your Contact Details are correct, the OTP will automatically verify you so that you can start using the magic of this Indian alternative to Twitter free.
How many Languages does the Koo App support?
If you talk about Koo vs Twitter, Twitter is ahead in the languages part as it is a much older and established organization. The Koo App has currently 5 regional languages – Hindi, Telugu, Kannada, Tamil, and Marathi. It also supports English. Many other Koo App Languages are in process and will be updated later.
Koo App: How is the UI on this Indian Alternative to Twitter and what to do on this Twitter Alternative?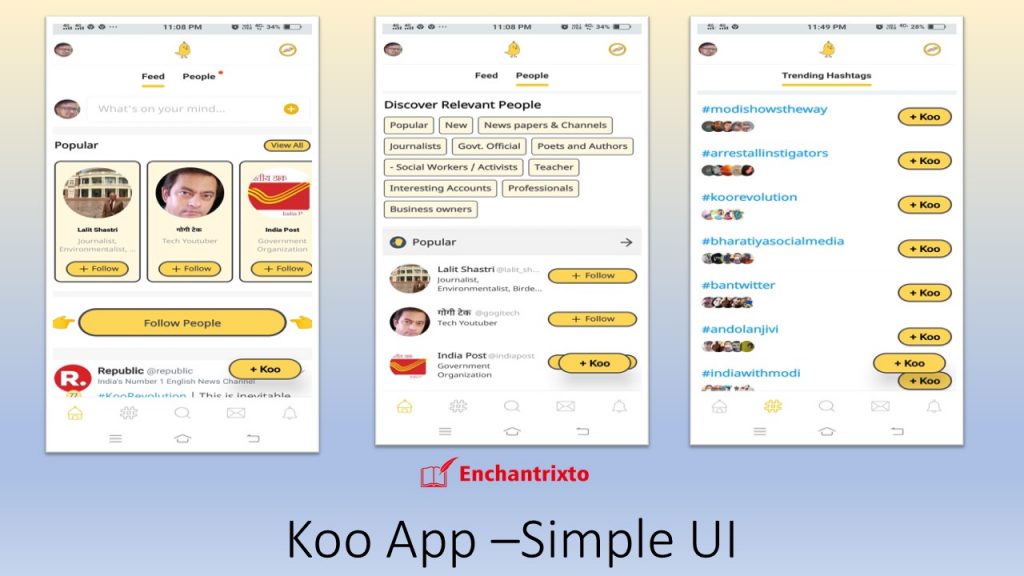 Well, the color of this app is quite nice with this deep yellowish look. After that, you can see the homepage with 'Popular Personalities' to follow, beneath that you will find trending 'Koos' which are equivalent to Tweets on Twitter. There is an option to create your own Koo (Just like Tweeting on Twitter).
What you can do with the Koos on this Indian alternative to Twitter? Well, you can like, share, comment, and Re-Koo (with or without quote) just like you re-tweet on Twitter. There is an additional option to share a Koo on Facebook and Twitter.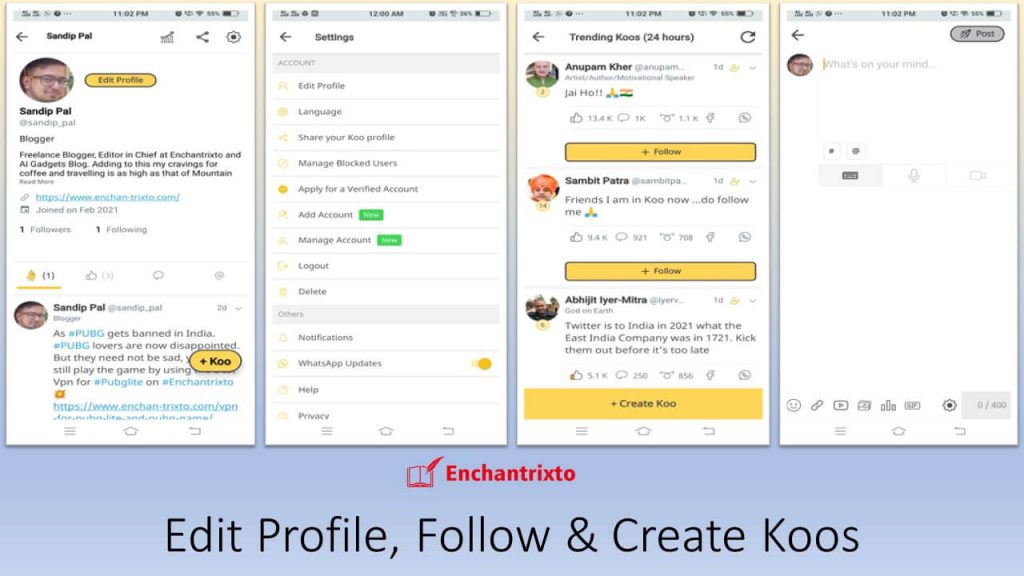 In your Koos, you can share blogs, vlogs, content on Politics, Sports, Defense, Movies and many more on this Twitter alternative.
Just like Twitter, the Koo App as a Twitter alternative also gives you an option to Unfollow a particular Koo so that you do not receive notifications from that person again. There is also an option to block and report users.
Twitter has few other options like Muting the User or the Tweet itself, Adding or Removing the Tweet, an Embedding the Tweet. You can also check the analytics of a particular tweet (Means the User Reactions to your Tweets).
But Twitter does not have a direct share option (You will have to copy the Tweet Link and then share). Neither there is an option to share on Facebook or Whatsapp like that on Koo App.
There is a #Hashtag option (Trending ones) just like Twitter. You can directly Koo in your preferred language (which you have chosen while login in) following those hashtags. You can also proceed further to search a particular person or personalities or Hashtags or Koos from the Search option. So, the UI is quite simple I will reckon.
There is also an option to see received messages of those who you follow and also a notification option to check the latest notifications from the Koo App Team or from the persons or entities you follow or followed by.
The Koo App Account Profile has a minimalistic design with your Profile DP at the top followed by your bio and Koos. There are also options on the right-hand corner which are – Analytics of your profile (The analytics option is also there besides the Tweets on Twitter), Sharing your profile on Twitter, Facebook & Whatsapp, and Settings option to change your Profile.
From the account settings of this Indian alternative to Twitter, you can do a hell lot of things:
Edit your Koo App Account Profile
Change Your Preferred Language on this Indian Twitter alternative.
Share Your Koo App Profile on any Apps.
Manage Blocked Users.
Apply For Verified Account (It improves your authority on Koo App as your Account is Verified).
Add an account like Twitter (You can do it by providing a different Contact No.)
Manage or Delete Accounts on this Indian alternative to Twitter.
Signing Out.
Turn on or off Whatsapp Updates.
Check Notifications.
Read Privacy Policies.
Read Help for any queries (It will take you to Koo App FAQs – Frequently Asked Questions).
Read various terms and conditions about this Indian Twitter alternative.
Please Note: If you change the preferred language then you will find Hashtags and Koos in that language only.
For example – I have chosen English, first, my mode of communication, and all the Koos are in English. As soon as I chose Hindi, everything changed into that language. Check this out on the Koo App: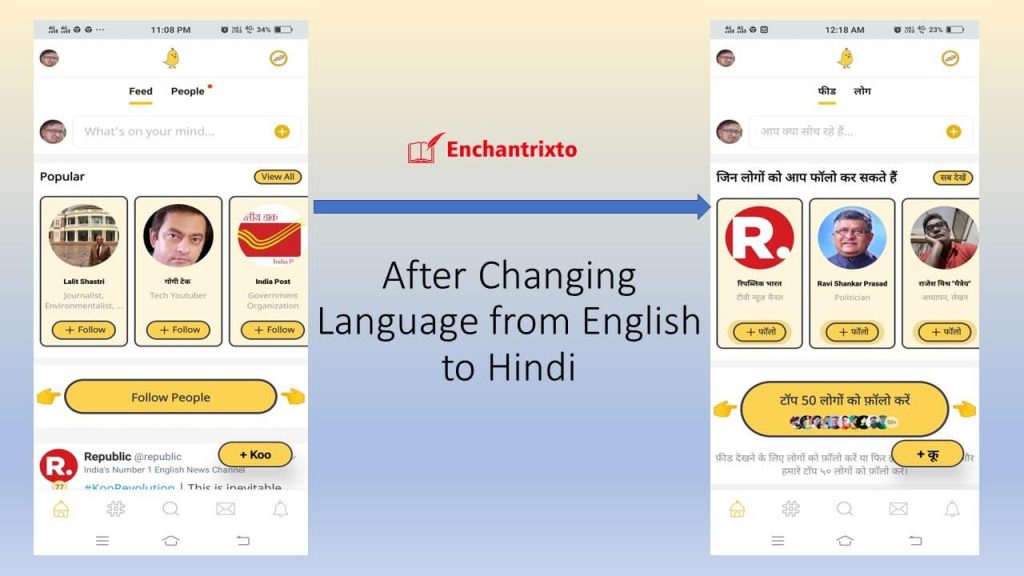 Indian Alternative to Twitter: Koo App Vs Twitter
Well, there is nothing that Twitter does not have that Koo App has or vice versa. Only thing is Koo is a very new platform and honestly though it sounds promising but still it has to prove is mettle down the line. Twitter is already an established platform with proven security.
But at times Twitter is found at the receiving end for not able to stop spreading hate on Twitter. The Capitol Hill event which was allegedly orchestrated by Donald Trump, his account was blocked only after the event.
In the recent Farmer's Protest India, Twitter got back the malicious accounts spreading lies and hate only after minor suspension. All these have created doubts upon Twitter's policy off late.
Koo App being a completely Indian Twitter Alternative can not only encourage more innovation in creating such apps and will also help people not to rely upon Twitter only.
Otherwise, Koo vs Twitter really does not work as Twitter is far ahead in technology and experience as well. But if this Indian Alternative to Twitter keeps striving hard for more improvements and features, can be the best-proven Twitter alternative.
Koo App – My Final Take on this Twitter Alternative
This Indian Alternative to Twitter is quite impressive with all the features. After using this app what I felt is the UI on this social media app is simple and has better share ability options than Twitter. This is the reason it has 4.5 rating and 1 million plus downloads on Play Store. It also encourages people to express who are proficient in mother tongue only. But sometimes I felt that the app lagged a bit after I clicked on submit button or any other option.
Also, sometimes it took some time to refresh new Koos and comments. I am sure with time the makers of this Indian Twitter alternative will correct these minor issues and add few more features like – a much Robust Technology, analytics for each Koos, the option to mute any particular Koo, and a lot more regional languages as well as Foreign Languages to make it a Global Social Media Platform.
---
Koo App Frequently Asked Questions (FAQs)
1) Is Koo App a completely Indian Twitter Alternative?
Yes, the Koo App is a homegrown Twitter Alternative.
2) How to download Koo App?
You can download this alternative to Twitter from the Google Play Store easily. This completes your Koo App Download
3) How to Join Koo?
Simply, choose your preferred language and then provide your contact details. An OTP will be sent, after further verification, you will be able to signup.
4) Can we have multiple accounts on this Indian alternative to Twitter?
Yes, you can have more than one account with different mobile number.
5) How many languages are available on this Twitter Alternative?
You will have 5 regional languages on this Twitter Alternative – Hindi, Telugu, Kannada, Tamil, and Marathi. Rest of the languages – Bengali, Gujarati, Konkani, Kashmiri, Oriya, Punjabi, Sanskrit, Urdu, Manipuri, Nepali, Malayalam are coming soon.
6) Is it possible to share your Koos on Facebook?
Yes, there is Facebook icon available with any Koo on this Indian alternative to Twitter. Through that you can share your Koos.
7) What to post on Koo App?
You can post on various trending topics related to politics, vlogs, personal experiences, technology, news, GK Facts, Finance, Blogs, etc.
8) Will my contact no. be visible on this Twitter alternative?
No, your mobile number will not be visible on this twitter alternative unless you toggle show in your profile settings.
9) How to verify your Profile on this Indian Alternative to Twitter?
On the Koo app, just got settings and click on verify account. After that a google form will open where you will have to share few details like – Name, Mobile Number, Designation (profile) and Email id. After that you will have to submit the form for verification.
10) Is Koo App Free?
Yes the Indian Alternative to Twitter, i.e., Koo App is free.
A freelance blogger and travel enthusiast!