Are you looking for necessary travel gadgets for traveling in the holidays? Enchantrixto presents a list of the top 7 smart travel gadgets to add to your travel essentials list.
Among all travel gadgets, some are basic and necessary for a trip. We will focus on smart travel gadgets. We have hand-picked 7 of the coolest smart travel gadgets that you can buy. Stick till the end to know about them.
Also, read 👇

13 Amazing Top Travel Apps in India If You Are Wanderlust!

17 Cool Tech Gadgets That Will Impress You Straight Away!
List of the Smart Travel Gadgets in 2022
We have prepared a list of 7 necessary smart travel gadgets among so many travel gadgets. You can't go for a short or long trip without having these travel gadgets. Now, head straight to the list.
1) Amazon Kindle
Your travel journey is incomplete without Amazon's Kindle! You can quickly skim through short stories, novels, and others during your leisure hours while traveling. Kindle comes with various versions like Amazon Kindle Paperwhite and Amazon Kindle Oasis.
This smart travel gadget comes with a 6 – 6.8 inch low-bezel screen with 4G connectivity. Paperwhite boasts USB-C type charging, longer battery life, and waterproofing. Kindle Oasis is a much more higher-end smart travel gadget with a 7-inch display, e-ink technology, thinner bezels, waterproofing, and much more.
| | |
| --- | --- |
| Pros | Cons |
| IPX8 rated – completely waterproof. | Nothing as such. |
| Thinner bezels. | – |
| Build for comfort and safe to use. | – |
Features
✅ Comes with a lightweight and compact design.
✅ Comes with waterproofing.
✅ This smart travel gadget boasts 6 – 7 inches of thin or bezel-less screen.
✅ Offers a massive selection of books to read.
✅ Offers Screen customization.
Price
The prices vary according to the versions. The cost of an Amazon Kindle ranges from 8,000 – 22,000 INR.
2) GoTrippin Metal Luggage Weighing Scale
GoTrippin Digital Weighing scale is another must-have smart travel gadget to buy if you are planning the next trip. This smart weighing scale comes with a Tare function that helps to know the weight of your empty bag and its contents.
| | |
| --- | --- |
| Pros | Cons |
| Made of steel and ABS plastic. | May not be suitable for weights of more than 40 kgs. |
| Lightweight and portable. | – |
| Multi-function LCD indicators. | – |
| Easy to change weight units. | – |
Features
✅ Comes with a sturdy stainless steel top and ABS plastic bottom.
✅ Comes with an auto-lock display, auto shutoff, an indicator for the battery.
✅ The LCD indicator is easy-to-read and is equipped with a backlight for night vision.
✅ Built for multiple usages while traveling, in the kitchen, during flights, etc.
✅ Saves hassle while traveling at airports.
✅ Easier to limit your luggage weight.
Price
These smart travel gadgets are priced at 850 INR. Price is variable.
3) Netgear Mobile Wi-Fi Hotspot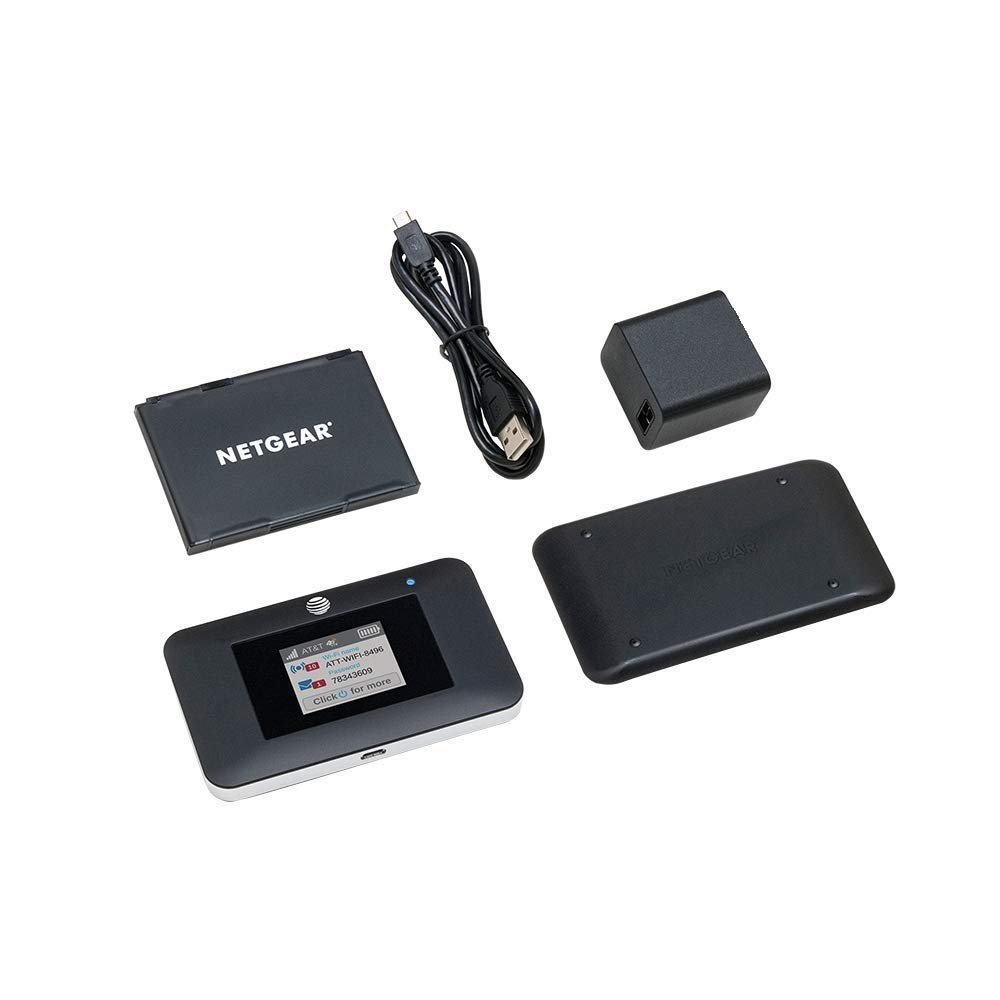 During international travel, use a mobile hotspot to save your money from data charges. Netgear Mobile Wi-Fi Hotspot is capable of broadcasting secure Wi-Fi signals without worrying about public Wi-Fi in any country.
It comes with an AC797-100NAS that delivers up to 400 Mbps download speed. It allows you to create your own secure WLAN while traveling for a business trip or a holiday trip.
Your home DSL coverage can be replaced while going outdoors. Moreover, it helps to connect multiple devices with 3G/4G LTE Wi-Fi internet access of your provider's SIM card. And, it has a 2930mAh rechargeable battery used for up to 11 hrs.
| | |
| --- | --- |
| Pros | Cons |
| Simple and intuitive display. | Too expensive. |
| Business or personal travel, fully connected. | – |
| Fast 4G LTE speed with a reliable network. | – |
| Long battery life. | – |
Features
✅ Fast and secure wireless internet everywhere.
✅ Stay wirelessly connected on the go.
✅ Connect up to 15 devices at a time.
✅ A large color touchscreen display brings data usage, mobile signal strength, and network management to your fingertips.
Price
It costs 15,999 INR on Amazon.
4) Bose QuietComfort Noise Canceling Earbuds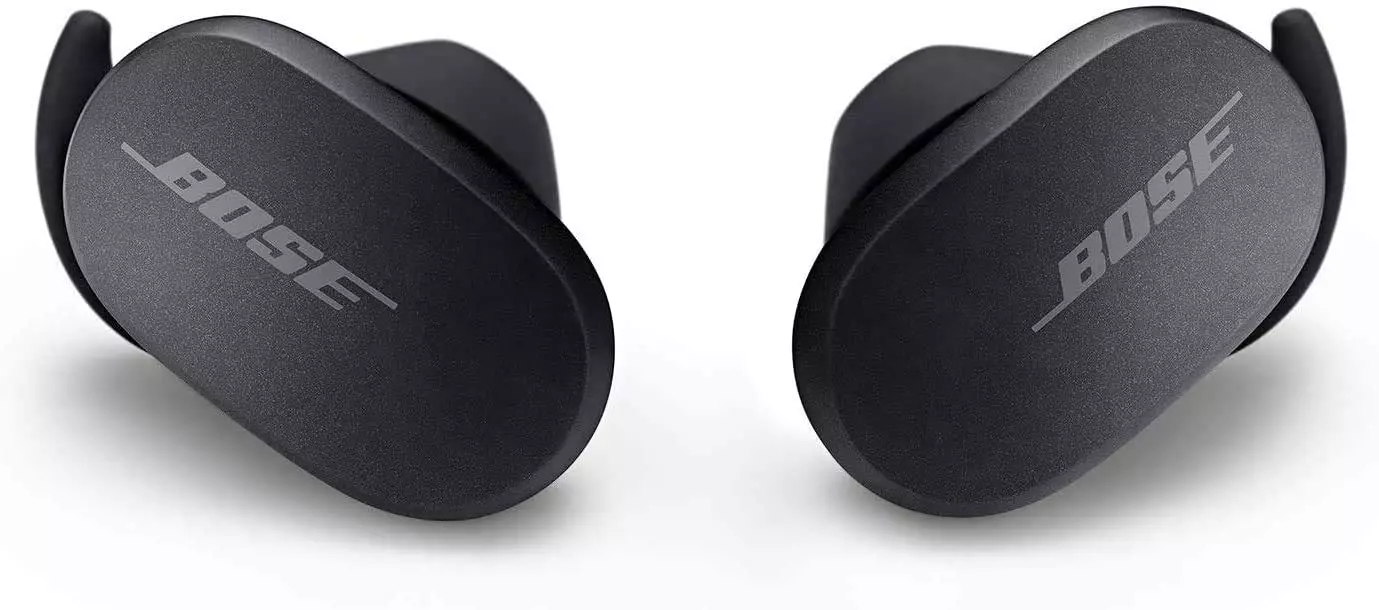 Bose QuietComfort Noise Canceling Earbuds are designed with acoustic noise-canceling technology. Even these noise-canceling earbuds deliver a lifelike sound. It's one of the best options for taking a noiseless sleep, doing focused work, and reducing background noise.
Transparency mode feels you don't even wear earbuds. Moreover, it allows you to control the amount of noise-canceling to eliminate distractions. It helps to recalibrate and balance the sound with the volume change automatically. It would help if you lowered the noise-canceling level while making a conversation.
| | |
| --- | --- |
| Pros | Cons |
| Personalize your noise-canceling level. | Too much expensive. |
| The perfect balance of comfort and stability. | – |
| Allows taking clear calls. | – |
| Long battery life. | – |
Features
✅ Sleek design with acoustic innovations.
✅ It produces low, deep, and exciting lifelike sounds.
✅ Best possible fit, comfortable to wear for hours.
✅ Designed with a special microphone to pick up calls and make a clear voice by rejecting most noises.
✅ Offers 6 hours of playback for a full charge and charging for 15min runs for more than two hours.
Price
It costs 26,900 INR on Amazon.
5) Ambrane 27000mAh Power Bank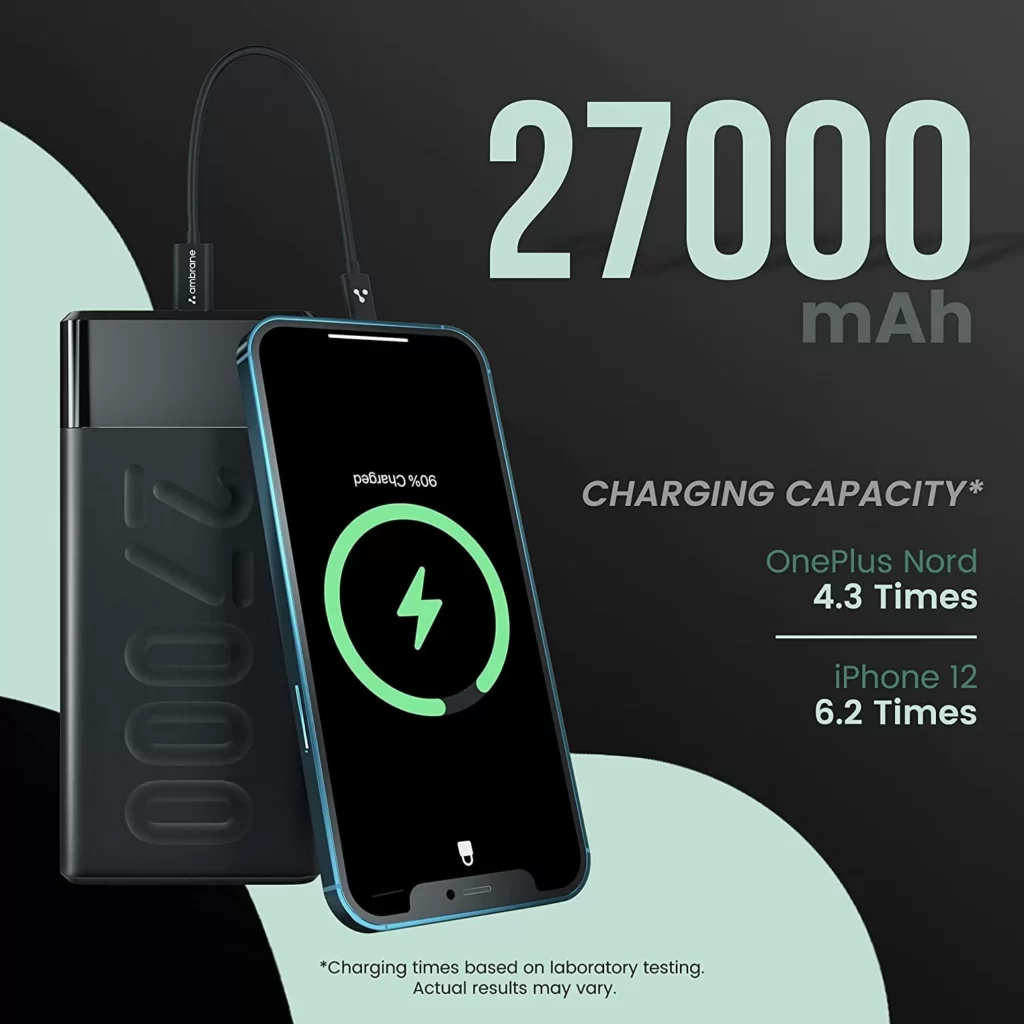 Portable chargers are essential to smart travel gadgets. All of a sudden, your phone's battery will be dead at mid-flight or mid-trip; carry a Power Bank for peace of mind. Ambrane 27000mAh Power bank, along with its massive battery, will be a handy gadget.
It has a thunderous 20W PD and 3.0 QC output port to boost the charging speed. Even you can charge three different devices at a time, including iPhone. Must carry a power bank on a trip, don't take the risk, and give yourself peace of mind.
| | |
| --- | --- |
| Pros | Cons |
| Compact, stylish, and reliable. | Heavy. |
| Massive 27000mAh battery. | Costlier. |
| 12-layers of advance protection. | – |
| Support fast-changing. | – |
Features
✅ Robust build quality with massive 27000mAh battery.
✅ Support 20W fast charging.
✅ Compact, reliable, secure, and compatible for any traveler.
✅ It takes 12-13 hours to be charged itself and charge your phone up to 50% within 30 min.
✅ It offers 12 layers of advanced chipset protection.
✅ It is certified by the Bureau of Indian Standards.
Price
The price of the massive powered travel gadget is 1,999 INR on Amazon.
6) Go-Pro Hero9 Black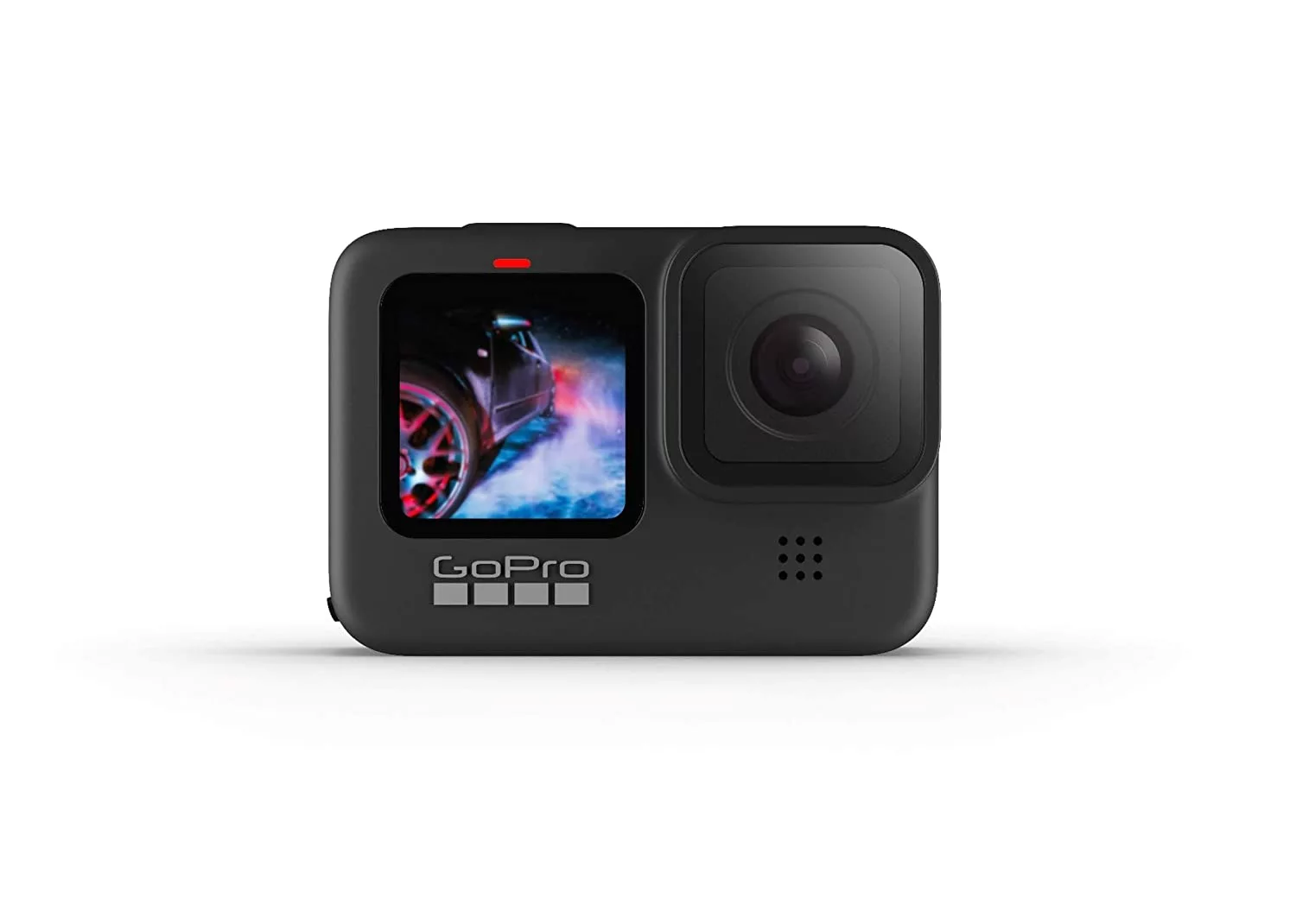 Want to record outdoor activities and adventure while hiking or traveling? GoPro Hero9 is the best option with laser-crisp resolution and Wide FOV. It features natural sharpness fluid motion and offers in-camera horizon leveling to impress.
It is one of the best smart travel gadgets offering a complete package of essential accessories to deliver fun while recording videos. However, SuperPhoto helps to pick the best image processing.
It can also capture the mesmerizing time-lapse moment, 8x slow-motion video with widespread effects, and hindsight to capture a video from 30 sec before you press the button. And, 1720mAh battery boosts the battery life up to 30% longer.
| | |
| --- | --- |
| Pros | Cons |
| Easy framing and intuitive camera control. | Too much expensive. |
| Support 5K and 4K recording. | – |
| HyperSmooth 3.0 and Time Wrap 3.0. | – |
| Dual Screen with 1080p live streaming stabilization. | – |
Features
✅ Waterproof action camera with touch screen.
✅ Offers 5K and 4K video recording at 30 and 60 fps, respectively.
✅ Screen touch and compatible with Quik app.
✅ Features HyperSmooth, Time Wrap, 8x slow-motion, and hindsight.
Price
The cost of Go-Pro Hero9 is 39,999 INR on Amazon.
7) DJI Mavic Mini Nano Drone
Mavic Mini Nano Drone is one of the best smart travel gadgets on our list. It is the best option to capture the breathtaking shots and angels from above while traveling mountains or waterfall or hiking. It supports 12MP aerial photos and 2.7k HD videos. With the lightweight, it's easy to carry on a trip.
Moreover, it has a 3-axis motorized gimbal that delivers superior camera stability and helps to take clear & ultra-smooth footage. However, you don't need a license to fly a nano drone. With a fully charged battery, you can fly it for 30 min.
| | |
| --- | --- |
| Pros | Cons |
| Compact and powerful enough. | Very expensive. |
| Lightweight to carry. | Risk to get damage in bad weather. |
| Simple and intuitive user experience. | – |
Features
✅ Features Flight Tutorial to help you get started with it.
✅ Delivers QuickShot modes, including Dronie, Circle, Helix, and Rocket.
✅ As light (weight less than 250gm) as a smartphone.
✅ Compatible with all the Android devices having v6 and above & all the iOS devices above the v10.0.
Price
It costs 59,990 INR.
Last Words on Cool Smart Travel Gadgets
These all are the essential travel gadgets you need during a short or long trip. We hope Enchantrixto's this topic will help you get the best smart travel gadgets while planning a trip.
Comment and share your thoughts about these smart travel gadgets. Also, let me know about your likes and dislikes about today's topic. And share this article with your traveling lover friends. That's all for now. See you soon, till then stay safe.
FAQs on Cool Smart Travel Gadgets
1) Which are the basic things for a trip?
While going on a trip, you need a backpack, water bottle, power bank, headphones, camera, and many more essential items. The best smart travel gadgets are described above. Please read it.
2) Which things can't you carry o an airplane?
In the plane, you cannot carry any explosive and flammable objects like fireworks, flares, gas torch, any fuel, aerosols, etc.
3) What is the 3-1-1 liquid rule?
Each passenger may carry liquids, gels, and aerosols in a travel-size container with 3.4 ounces or 100 milliliters. Everyday travel items must comply with the 3-1-1 liquids rule, including toothpaste, shampoo, conditioner, mouthwash, and lotion.
4) Does rolling clothes save space?
Rolling clothes will save space in your backpack if you have hand luggage. Thus you can organize in a better way.
5) Is it better to roll or lay flat when packing?
As a rule of thumb, always folding clothes are always natural. A flat fold will take space, but it keeps your clothes fresh and wrinkle-free. Whereas the rolling will take less space and cause a wrinkle.
6) Does the GoTrippin Digital Weighing scale measure weights up to 50 KGs?
No, this smart travel gadget can not measure weights of 50 KGs.
7) What is the price of Amazon Kindle Oasis?
The price of Amazon Kindle Oasis is about 22,000 INR. The price range remains within this range. It varies from time to time.