Are you looking for the best illustration websites for your website design? If yes, this article is for you. From simple icon fonts to dynamic shapes and full-fledged web design illustrations that strengthen the brand image. Our article will help you to find the best illustration websites for your website design project.
Web illustrations add visual appeal to a site and help users understand the content more quickly. There are difficulties to create if you are not a designer. Fortunately, there are several stock sites where you can get free ready-to-use illustrations. Continue reading to have fun and get inspired to create beautifully illustrated web designs.
Best Illustration Websites for Web Design Illustration
We've compiled a list of the best illustration websites that provide a variety of stock illustrations in various styles with current web design trends. All of the web design illustrations listed below are free to download, though you may need to purchase the original vector files in some cases. So, check them out.
Humaaans – Best Illustration Websites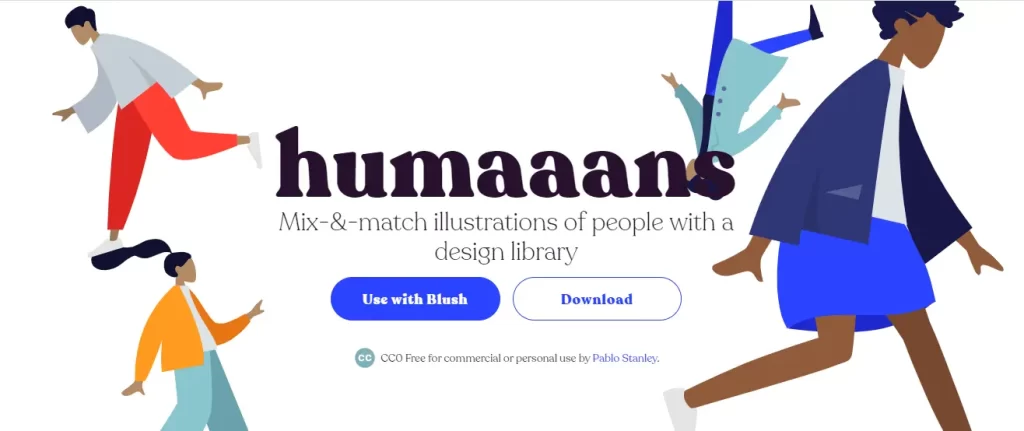 Pablo Stanley created Humaaans, a free web illustration library. But, unlike most illustration libraries, it specialises in illustrations of fully customizable humans. The best part is that there are so many assets to choose from that you can make almost any human you want.
Designers have complete control over the illustrations, which include combining various body parts, positions, colours, clothing, hairstyles, and even a few background scenes.
Features
This resource is completely free for personal and commercial use. Attribution is required.
You can change Humaaans illustrations to a limit. There are customization options for hairstyles, clothing, and whether the person should stand or sit.
Aside from designing people, you can add elements to an illustration and create different scenes by adding background charts, plants, or other characters.
unDraw – Website Illustration for Web Design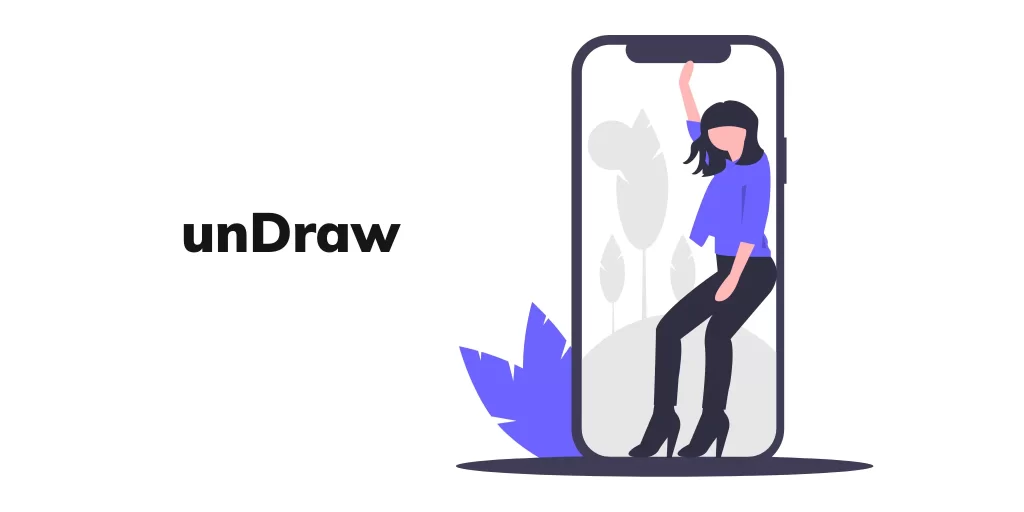 UnDraw appears to have an infinite number of web illustrations suitable for a wide range of content. Katerina Limpitsouni, the creator and founder, has you covered when it comes to branding, podcasting, online transactions, app development, and data analysis. The website is simple to use.
Features
Personal and commercial projects are both free. No credit is required!
You can change the colour of the illustrations in Undraw. Select from the top-right corner of the website to change the colour.
The illustrations are available in SVG and PNG formats.
Also, Read Our Technolgy Related Articles Here...
DrawKit – Best Illustration Websites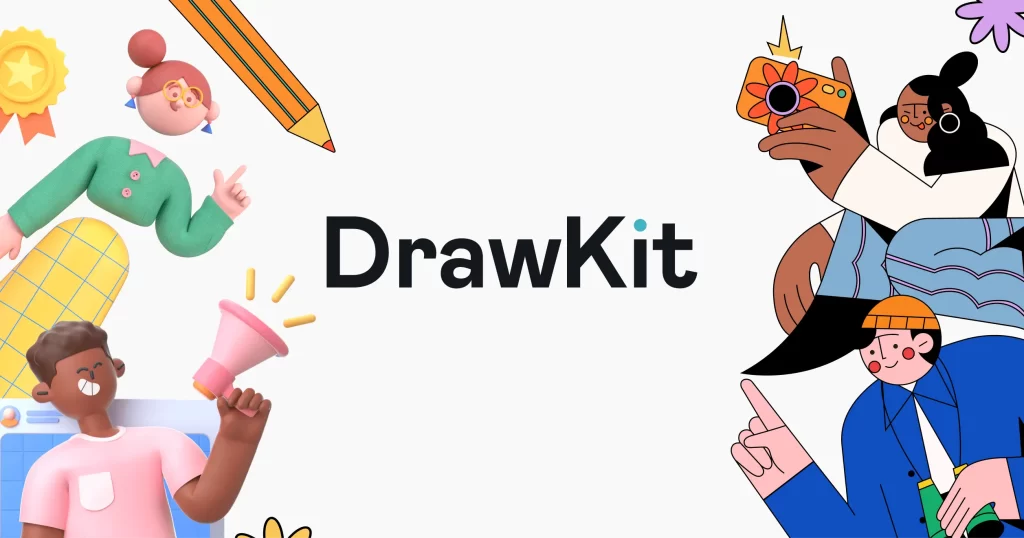 James Daly created DrawKit to make it easier for designers and startup founders to design their projects quickly. More than 50 free illustrations in two different styles are available on the website. For your websites, apps, and other graphics, Drawkit provides free hand-drawn vector illustrations. You can always find fresh inspiration for your project because the website updates the illustrations once a week.
Features
Drawkit's illustrations appear hand drawn, adding a more personal touch.
Illustrations are organised into packs such as working from home, digital marketing, and device mockups to make it easier for you to download the suitable one.
The majority of the illustrations are free for personal and commercial use, but some are behind a paywall.
Many categories are available under the MIT licence (ideal for personal and commercial use), and you can download fully editable SVG and PNG files.
Ouch – Illustration Websites for Web Design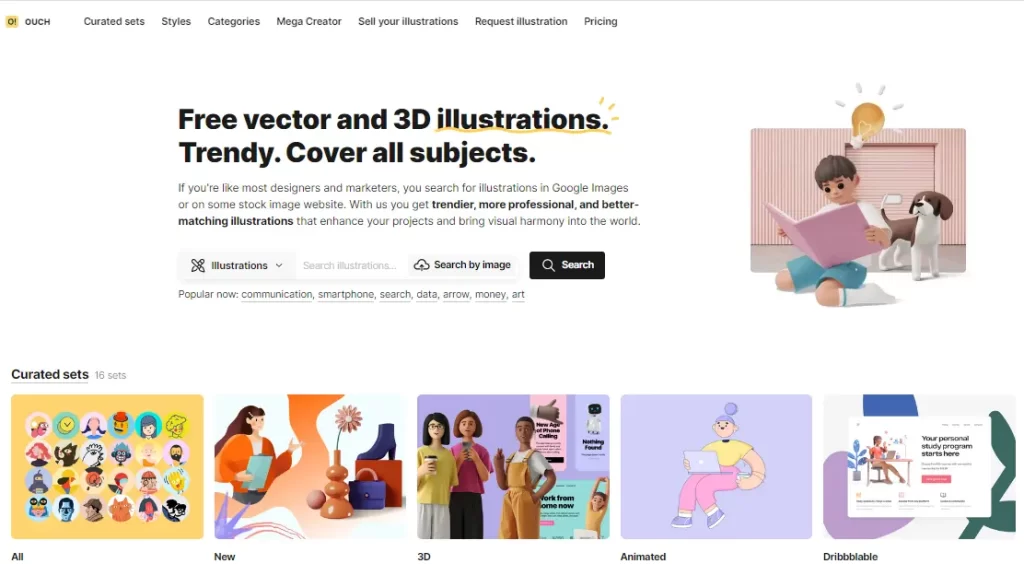 Icons8 created Ouch that provides beautiful product illustrations to spice up your interfaces. Ouch! is jam-packed with unique and creative vector graphics for your next web design illustration project. Check the pricing options for SVG vectors directly on the site. All of the characters are drawn in a flat style. The illustrations are very expressive, so you will get the exact look you want for your website design with a lot of personality by different illustration styles.
Features
The illustrations are organised into categories. You can search the website for those that correspond to your brand and industry.
All illustration files are free to use for personal and commercial purposes, but credit is required.
You have to buy or subscribe to the illustrations to use an illustration without attribution.
ManyPixels – Website Illustration for Web Design
ManyPixels is a great resource that is similar to unDraw. Because the designers of both resources are different, the designs will be distinct. ManyPixels offers over 2500 royalty-free illustrations for use in your website, landing page, blog post, or other digital graphics. Before downloading any of the free illustrations, you can set a default colour and download full SVG format files.
Features
All of the illustrations are colour-customizable, making it simple to create a unified website. Create a colour palette in Adobe Illustrator and then search ManyPixels for matching illustrations.
Illustrations can be found by category or type. You can, for example, look for outline illustrations in the tech category.
The illustrations by ManyPixels are free to use in both personal and commercial projects. The only limitation is that you may not recompile the files and sell them elsewhere.
You May Also Like To Read Our Articles on Tech Gadgets
Interfacer – Best Illustration Websites
Interfacer is a hand-picked design resource library. It includes fonts, UI kits, icons, and illustration packs. Interfacer has over 300 design resources, including illustrations from various designers. All you have to do is type "illustrations" into the search box at the top of the home page. Each free resource directs you to a download page or a different website.
Features
Due to various designers, all the illustrations on Interfacer have distinct styles.
The illustrations are hosted in various locations, and you will be redirected once you select the pack you desire.
The illustrations can be used for both personal and commercial purposes.
Charco – Illustration Website Design
Charco is a set of free illustrations for your web and app projects created by Bangalore-based designer Karthik Srinivas. You will get a collection of graphics including, to name a few, themes for 404 pages, failed connections, no service, and under construction. The hand-drawn and abstract style is fantastic!
Features
You can use "Blush" to change the background of the illustrations.
The illustrations are named in such a way that you can easily select one that best suits your needs.
A collection of 16 PNG illustrations is available for personal and commercial use. To customise the illustrations, however, you must buy the PSD files.
Stubborn – Website Illustration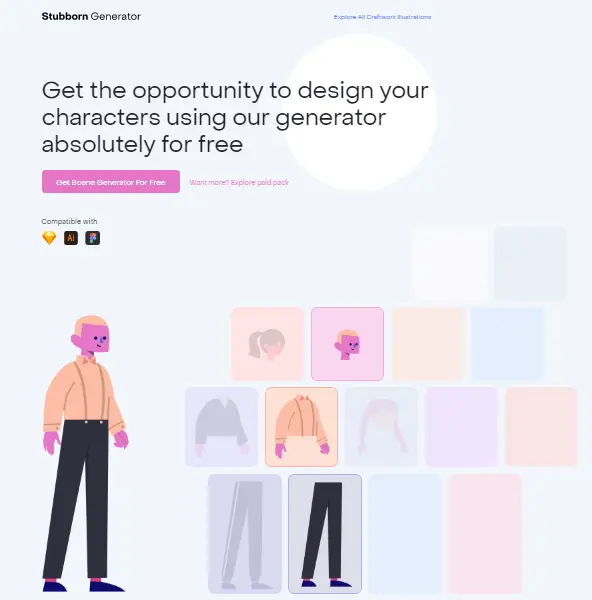 Craftwork created Stubborn, one of the customizable websites for web design illustrations. This platform allows you to create various illustrated scenes by combining different characters, colours, backgrounds, and other variations. With their tool, you can mix and match ready-made elements to create custom characters and scenes. It's simple to get creative and quickly illustrate the ideal scene for your web page.
Features
You are in charge of creating your illustrations. All of the elements are provided by the website, and it is up to you to be creative with them.
To customise stubborn illustrations, you can use Figma or Sketch.
Stubborn also sells ready-to-use illustration packs for a fee.
The illustrations are available for both personal and commercial use.
Purchase unlimited access to thousands of vector illustrations and UI/UX kits.
Pixabay – Best Illustration Websites
With over 2 million copyright and royalty-free vector images, Pixabay is one of the best illustration websites for web design illustrations. Because the website hosts images from hundreds of other websites, there is a wide range of stock images and illustrations available. The user interface of the website is straightforward, and you can search for anything using keywords.
Features
Pixabay stock images are free and open for commercial use.
This reduces the usual licencing and purchasing hassles associated with illustrating your content to a nice, healthy zero.
Pixabay's never-ending collection of vector images varies greatly in style and tone. So, you can add spice up some charts for a work presentation, create icons for your website, or make cute videos for your brand's Instagram story, Pixabay has the solution for you!
Freepik – Website Illustration
Freepik is yet another one of the best illustration websites for free stock images and web design. The website contains thousands of free vector images, covering everything from greeting card templates to brochures, pamphlets, PSAs, and brand announcements. Freepik also includes a template editor for customising templates based on your content and ideas.
Features
You can download illustrations in a variety of formats on Freepik, including SVG, AI, and EPS, catering to a wide range of content illustration requirements!
Furthermore, vectors and illustrations on Freepik are open-source and do not require attribution.
The website is extremely user-friendly, requiring you to create an account before you can begin downloading free stock images.
Absurd Illustration – Best Illustration Websites

Diana Valeanu launched the Absurd Illustration on Dribbble. These illustrations are ideal if you want a hand-drawn, black-and-white look. The illustrations are also fairly abstract, which means they can be interpreted and used to visually communicate a variety of messages.
Absurd Illustrations shows how to use imperfection as a "perfect" design feature. These profitable, highly creative, and seemingly outlandish illustrations will undoubtedly leave your visitors in awe and wonder.
Features
The project emphasises playfulness as a means of inspiring imagination.
You must include a link back to the project.
Although it is available for free, there are some restrictions.
You'll be limited to PNG files.
If you have design skills, you can upgrade to a premium ($19) membership. You will get access to many images but in different formats.
Final Words
Illustrations can bring a website to life, and the best part is that you can get them for free on the stock sites listed above. Were you taken aback by the sheer volume of the best illustration websites made available by other designers? Let us know in the comments. Of course, these aren't the only options. If you use any other illustrations, share the name in the comments. And, please share this article with your friends for website design.
Frequently Asked Questions
1) What are the best illustration websites?
Humaaans, unDraw, DrawKit, Pixabay, Stubborn, and Ouch, are some of the best illustration websites you should try. Including that, we have covered a total of 11 web design illustrations in the above article. So, read till the end.
2) What app do professional illustrators use?
Adobe Illustrator is the most used app. Besides that, professionals use Humaaans, ManyPixels, DrawKit, Interfacer, unDraw, and so on illustration websites.
3) Is canvas or Illustrator better?
Canva is the best tool for quickly creating images, videos, and presentations for use on the web and social media. Illustrator is ideal for creating high-quality images and graphics that can be scaled and used for both web and print.
4) What is trending in illustration?
Incredible textures have quickly become one of the top illustration trends. Textured illustrations are popular on websites, mobile apps, and even in packaging design.
5) Are illustrators in demand?
Illustrators are in high demand, particularly in creative industries as technology advances and more people become able to create content.